If you are experiencing a medical emergency, please call 911 or seek care at an emergency room.
Anthony Phillips is a self-described risk taker. He adeptly juggles his responsibilities as a restaurant manager and his skills as a savvy stock market investor. But when his clear vision of the world literally became distorted, he was very concerned. "I've had an astigmatism for years and worn corrective glasses," Anthony explains. "But about a year ago, I began having double vision. I thought it was the disorder progressing and decided it was time for LASIK." 
A visit to a center close to his Germantown, Md., home included a battery of tests—and a surprising revelation. Anthony had a disease called keratoconus—a progressive thinning of the cornea that causes it to bulge outward and form a rounded cone shape. This abnormal curvature can cause double or blurred vision, nearsightedness, astigmatism, and increased sensitivity to light.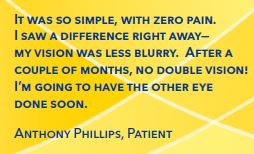 "The ophthalmologist knew that there was now a way to treat the disease, and he referred me to Dr. Jay Lustbader at MedStar Georgetown University Hospital," Anthony says. 
Stopping Disease Progression
"Unfortunately, keratoconus often goes undiagnosed until there are significant vision changes," explains Dr. Lustbader, chair of the MedStar Georgetown Department of Ophthalmology. "Until very recently,
there was no way to treat it. Corneal transplantation was often required in more severe cases."
"But last year, the Food and Drug Administration approved the use of a remarkable new therapy called corneal collagen cross-linking," he adds. "While it isn't a cure for keratoconus, it can stop the progression of the disease. Mr. Phillips was a perfect candidate for the procedure."
"I was thrilled that there was something I could do to help myself," says Anthony.
Painless Office Procedure 
The relatively simple office procedure combines ultraviolet (UV) light and a photosensitizer to strengthen chemical bonds in the cornea. Dr. Lustbader and his team numb the eye, use a tool to clean cells from the surface of the cornea, and put in a riboflavin solution with eye drops. The solution is absorbed into the collagen of the cornea to tighten it and ultimately prevent further thinning. Then a simple UV light system is used to activate the solution. The procedure takes a little over an hour to complete.
"It was so simple, with zero pain," says Anthony. "I saw a difference right away—my vision was less blurry. After a couple of months, no double vision. I'm going to have the other eye done soon."
It's estimated that one to two people in 1,000 suffer from keratoconus, although many people aren't diagnosed until they notice significant deterioration of their sight. "And people who have been diagnosed with the disease may not know that we now have a technique to halt future damage to the cornea," says Dr. Lustbader. "I encourage anyone who notices changes in their vision to talk to their ophthalmologist."
"The scary thing for me is that if I hadn't decided to have LASIK I would not have known about the keratoconus," Anthony says. "I am so grateful to the doctor at the LASIK center for diagnosing the disease and to Dr. Lustbader and everyone at MedStar Georgetown for literally saving my sight."
Stay up to date and subscribe to our blog