Your team of experts in the Baltimore, Washington, D.C. area
Our cardiac surgeons are part of a team of experts focused on you. MedStar Health's cardiac surgery program at MedStar Heart & Vascular Institute includes cardiologists, interventional cardiologists, critical care physicians, cardiac imaging specialists, nurses, and other clinicians. Together, we work as a team—your team—to help take care of you.
Cardiac surgeries are performed at MedStar Union Memorial Hospital located in Baltimore, MD, and at MedStar Washington Hospital Center located in Washington, D.C. Cardiac surgeons also see patients pre-and post-operatively at our Reston, VA office.
2,000+ cardiac surgeries per year

MedStar Heart & Vascular Institute is one of the highest volume cardiac surgery centers in the country. That translates into teams with surgical experience in techniques that treat all types of heart conditions. Especially yours. So, you receive the least invasive surgical option that will also bring the best long-term results.
Our comprehensive scope of cardiac surgery services include:
Aortic surgery describes a number of procedures to treat conditions that affect the aorta. The aorta is the body's largest blood vessel, and it carries oxygen-rich blood away from the heart as it's pumped to the rest of your body. Conditions that affect the aorta can be very serious and even life-threatening without expert surgical care.

Our aortic disease program in one the largest in the mid-Atlantic region and our teams perform more aortic interventions that any other program in the region. We treat the most complex cases with the full spectrum of available options, including open, minimally invasive, and transcatheter approaches. Patients benefit from a team that is truly multidisciplinary, through a partnership with our vascular surgeons.

Coronary Artery Bypass Graft

Your doctor may recommend coronary artery bypass graft surgery (CABG, pronounced "cabbage") if narrowing or blockages in one or more of your coronary arteries reduce the flow of oxygen-rich blood to your heart. This surgery restores normal blood flow by using a healthy blood vessel taken from your leg, arm, or chest to create a detour around the problem area. It's not uncommon to bypass two, three, or more coronary arteries during surgery.

Coronary artery bypass graft is one of the most common heart surgeries our cardiac surgeons perform. Many of these procedures are off-pump bypass surgery also known as beating-heart bypass. With this method, we use special tools to stabilize a portion of the heart to allow it to keep beating while we bypass the blocked artery. Traditionally, it is performed with the assistance of a cardiopulmonary bypass machine, which temporarily takes over the function of the heart and lungs. This is known as on-pump surgery. Additionally, we have the application of "bloodless surgery" protocol. While this has long been an offering for our Jehovah Witness patients, we now apply the same techniques to avoid transfusion when possible, optimizing care for all patients ,regardless of faith. Robotic-assisted CABG may also be an option for some patients.

We were the first-and remain the most experience-health system in the region to offer Hybrid AF™ Convergent Therapy for treatment of longstanding, persistent atrial fibrillation (AFib). A new FDA label expands this approach to first-line therapy for patients who otherwise face uncertain futures dealing with AFib. Our electrophysiologists and cardiac surgeons work together to perform this complex procedure. A cardiac surgeon will make a small incision in the chest and place a scope beneath the breastbone, allowing the team to see the heart during the procedure. The electrophysiologist will insert an ablation device to send a mild, painless burst of heat or cold in order to create a pattern of scar tissue on the epicardium, the protective outer layer of the heart. Once the epicardial ablation is completed, the incision will be closed. The electrophysiologist will then perform a traditional catheter ablation, in which they will thread an ablation catheter through a blood vessel in the arm or groin to the heart to scar the endocardium, or inside layer of the heart. You'll likely need to stay in the hospital for two to three days after the procedure for recovery and monitoring.

Our surgeons also perform the MAZE procedure. Other minimally invasive procedures for heart rhythm disorders including the treatment of inappropriate sinus tachycardia syndrome (IST) and postural orthostatic tachycardia syndrome (POTS).

Heart failure can progress to the point where your heart is no longer able to pump enough blood for your body. Heart transplantation allows us to replace your failing heart with a healthier heart from a donor. Your doctor may recommend a heart transplant if other heart failure treatments have been unsuccessful. We perform a thorough medical and psychosocial evaluation, including blood tests and imaging studies, to make sure you will benefit from a heart transplant. You will meet with several members of the transplant team, including the coordinator, surgeons, cardiologists, social workers, and financial counselors.

If heart transplantation is a good option for you, we'll place your name on the national waiting list for a suitable donor heart. The wait time to receive a heart can be lengthy, and you may be admitted to the hospital while you wait for a heart. Our team of coordinators will work with you and your family to prepare and support you through the transplantation process and recovery.

Mechanical Circulatory Support

If your heart if failing or you have recently undergone heart surgery, your heart may need time to rest or recover. Extracorporeal membrane oxygenation, or ECMO, pumps your blood through a machine so your heart doesn't have to work as hard to deliver oxygen-rich blood to the rest of the body.

People with end-stage heart failure may need mechanical assistance for the heart to do its job. In 1988, we became one of the first centers in the world to implant a ventricular assist device. Our expert surgeons can implant a left ventricular assist device (LVAD) that helps circulate the blood with a small pump. The surgeon will attach the LVAD to your heart's bottom left chamber this pump will continuously move oxygen-rich blood from the left ventricle into the aorta, which delivers blood the rest of your organs. The pump will be connected to an external controller with a wire under your skin. The controller will alert you when the batteries need to be changed or if your device requires maintenance. You can wear the controller in a pack around your waist.

Our team includes experienced LVAD coordinators, along with dedicated pharmacists, physical therapists, nutritionists, and other advanced heart failure specialists.

Heart valve disease occurs when at least one of your heart's valves doesn't open or close properly, disrupting blood flow. A person can be born with or can acquire various heart valve conditions over time. We combine the expertise of cardiologists, cardiac surgeons, interventional cardiologists, and cardiovascular imaging specialists to diagnosis and treat patients with a wide spectrum of heart valve conditions. Each patient receives a customized treatment plan.

Our valve disease experts offer patients access to the most advanced treatments for aortic, mitral, pulmonary, and tricuspid valve disease. We have been at the forefront of, and served as a clinical testing site for, nearly every major U.S. trial for valve repair and replacement solutions. Our physicians offer the latest minimally invasive procedures, such as transcatheter aortic valve repair (TAVR), open, minimally invasive, and robotic-assisted heart surgery, and medical therapies.
Robotic Cardiac Surgery
Robotic cardiac surgery combines the agility of robotic instruments with a high-definition 3D camera which allows surgeons to perform heart surgery procedures through very tiny incisions in the chest wall. A highly specialized approach, it can provide patients with enhanced recovery, shorter hospital stays, and fewer complications compared to conventional methods. Robotics may be applied to treat mitral and tricuspid valve conditions, atrial fibrillation, and cardiac tumors, for low-risk surgical patients as well as high-risk patients with complex comorbidities.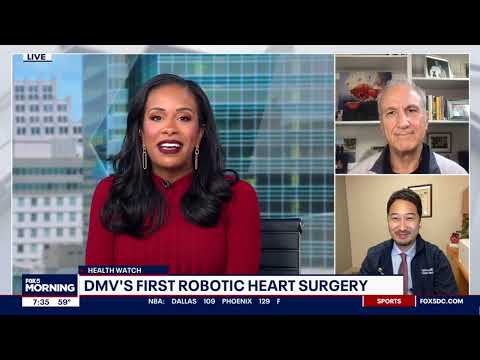 Dedicated multidisciplinary approach
Cardiac surgeons at MedStar Heart & Vascular Institute work collaboratively with a team of cardiac experts.
"Dr. Shults was great from the get go explaining the surgery, risks, recovery. Feel great today and even went on a scheduled vacation to the Galapagos less than 3 months after the surgery. My surgery scars are really hard to see (hairy chest helps)."
- Richard B.
MedStar Health Cardiac Surgery Hospital locations
MedStar Washington Hospital Center Awarded