Problem
When nurses are feeding neonates, who can have breast milk or formula via feeding tube, a large syringe is held above the baby and gravity feeds the milk into the stomach. For patients in a Drager Isolette, the nurse must hold the syringe by hand. This is quite time consuming. Older model isolettes or open cribs do not have a place to attach a syringe that provides gravity feeding.
MInnovation
The Gravity Feed Syringe Holder has been designed to be secured to the Giraffe Isolettes through the small hole in the top of the isolette. The nut is removed, screw inserted through the top of the syringe holder and through the isolette top hole. The nut is then replaced and tightened. The syringe holder will hang from the top of the isolette and will securely hold many sizes of syringes. The use of this device minimizes or eliminates the need for the use of a pump and is portable, increasing mobility with transportation. Gravity feeding is beneficial to patients that are able to handle the flow of a gravity feeding. Patients with feeding tubes, G tubes and other implanted feeding assistance devices may benefit from this device.
The Gravity Feed Syringe Holder can be used in various hospital and residential settings compared to syringe holders that are specifically made for isolettes. Users (patients, healthcare providers, caregivers) of the device should be educated on how to properly and safely use the patient's feeding tube, G tube, how to provide gravity feedings and attaching the syringe or extension tubing to the device.
Tiffany's Gravity Feed Syringe Holder won the first Cool Ideas prize sponsored by Protolabs and Cleveland Clinic Innovations.
Materials
Please contact MInnovations to place an order for 3D printed Gravity Feed Syringe Holders and directions for use.
NOTE: You may need to get approval to use this device from your department or facility.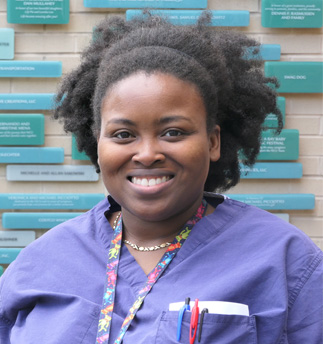 Meet the MInnovator
Tiffany Morris, RN
MedStar Franklin Square Medical Center
Why did you go into Healthcare?
Science and medicine have always interested me. My decision to go into healthcare was a combination of my two biggest interests in addition to my strong nature to care for people.
What would you do if you weren't doing this?
If I wasn't a nurse, I would work as a biologist at the CDC.
What recent experience made you laugh or smile (at work)?
The most recent experience that made me laugh or smile at work probably had to be the funny behavior of one of the babies I was taking care of. Little humans are funny at times.
What is your most memorable patient experience?
During my first year of nursing school, I had the experience of cleaning up a patient who needed to go to the bathroom and her call bell had gone unanswered. When I walked in the room I instantly knew what the issue was and ensured the patient that I would take care of her. I looked for her tech to assistant me, however, she informed me that she was too busy. I grabbed my classmate and arms full of supplies and got the patient cleaned up. The patient was very thankful and apologetic. I made sure she knew she had nothing to be sorry for and to let me know if she needed anything. That experience showed me how far my concern for a total stranger would go.
Cats or dogs?
I love cats!
Who do you look to as a role model?
My mother.