Problem
Vascular Access Nurses utilize a variety of products many of which are wrapped in clear wrappers that can be disposed of in the regular trash. Frequently the garbage cans can be difficult to locate so the vascular access cart tends to accumulate these wrappers and can cause clutter on the cart.
MInnovation
Attach a plastic bag onto the edge of the cart to place clear waste while making rounds. If possible, the plastic bag should be recycled from packaging of another product such as TPN, IV tubing or other products. At the end of the round, the entire bag can be disposed of. Alternatively, a MInnovation Tote bag can be attached to the cart and a clear plastic bag inserted in the tote bag to conceal the waste bag.
Materials
Clean, clear plastic bag that would have been discarded in trash (ex: TPN packaging bags)
Or, a MInnovation Tote Bag (contact Minnovations for a free bag)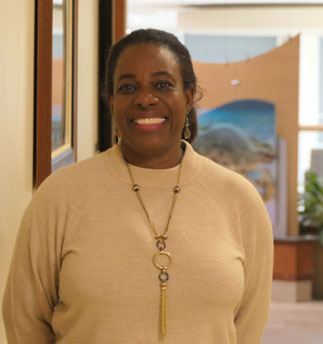 Meet the MInnovator
Debbie Rouse, BSN, RN-BC, VA-BC
MedStar Franklin Square Medical Center
During Debbie's career as a registered nurse for over 25 years, she has consistently displayed her passion for innovation and caring for patients. Debbie served as chair and co-chair of the Evidence-Based Practice and Research Committee for two years and has represented the Research Committee at the corporate level. In 2016 Debbie received MedStar Franklin Square Medical Center's Distinguished Nurse in a Support Role Award and Baltimore Magazine's Nursing Excellence Award.
One word to describe my MInnovation is?
Debbie: Creative
Have you shared this with others? What did they say? Are they using it?
Debbie: I have shared this with my co-workers, and some say they like it and those who like it are using it.
Why did you go into Healthcare?
Debbie: I got into Healthcare because I wanted to help people and make a difference in people lives.
What would you do if you weren't doing this?
Debbie: If I was not doing this I think I would have been a teacher.
If you could give your patients one gift, what would it be?
Debbie: If I can give my patients one gift, it would be good health and strength.
What's the one project that you keep putting off?
Debbie: One project I keep putting off is getting rid of unnecessary papers I no longer need.
Where do you find your inspiration?
Debbie: I find my inspiration from all around me, in everything I see, do or experience. It depends on where I am and what I am doing at that particular time.
Where/when do you do your best thinking?
I do my best thinking and brainstorming in my bedroom by myself in bed.