Problem
Shoelaces in the behavioral health unit can be a suicide risk. Patients who are deemed a suicide risk are relieved of their shoelaces. Frequently patients already have ill-fitting clothing and removing the shoelaces can increase fall risk.
MInnovation
Standard medical tape can be folded in half lengthwise a few times to create a length of "string" sturdy enough to use as shoelaces but would break if significant force is applied.
Materials
Standard medical tape or any tape that will tear when reasonable force is applied.
Note: DO NOT use silk tape or any other tape that will not tear when reasonable force is applied.
Procedure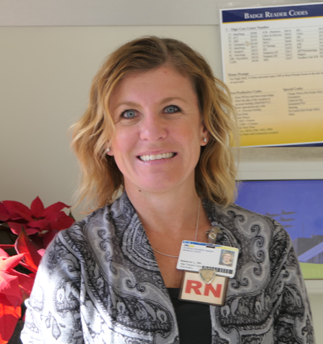 Meet the MInnovator
Rebecca Landreth, MS, BSN, RN
MedStar Franklin Square Medical Center
How long have you been a nurse and how long at MedStar?
Rebecca: 21 1/2 years as a nurse and 24 years at MedStar Franklin Square Medical Center. I was a prn medical tech while in Nursing school.
Why did you choose Nursing instead of other clinical positions?
Rebecca: My father was a medivac pilot and as a little girl listening to his stories I wanted to help people get better. I felt being a nurse provided direct contact to the person in need of help and care. (Interestingly enough, after my father retired as a pilot, he went back to school and became a nurse himself...after I did).
What would you do if you weren't doing this?
Rebecca: Before the decision of becoming a nurse, I thought about being a flight attendant.
What recent experience made you laugh or smile at work?
Rebecca: The departmental holiday celebration. It was so nice to have fellowship with the entire department, let our hair down and enjoy each other's company. And as a leader, it was nice to see the smiles on everyone else's faces.
Other MInnovations from this MInnovator