Human Factors Experts, Case Studies | MedStar Health
This collection of case studies demonstrates the profound impact of human factors expertise within the healthcare domain. The MedStar Health National Center for Human Factors in Healthcare draws from a deep understanding of usability, task analysis, and user interface design to provide solutions that enhance patient safety, optimize healthcare workflows, and improve healthcare outcomes. From evaluating the design of medical devices and electronic health records to the development of user-friendly patient interfaces and streamlined clinical processes, we strive to create tangible, positive changes within our healthcare system as well as organizations nationally.
How can we facilitate more impactful conversations about cardiovascular disease between physicians and patients with improved technology?
We designed a clinical decision support (CDS) tool embedded in the electronic health record (EHR) that integrates with primary care provider and cardiologist workflow and facilitates conversations with patients about cardiovascular risk.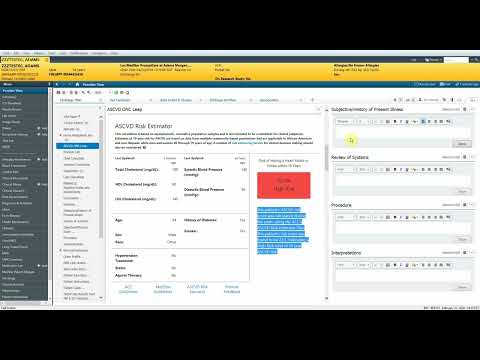 Patient facing component of cardiovascular disease risk calculator tool that is embedded in the patient's chart and can be used by physicians to facilitate discussions about cardiovascular risk
We partnered with Centra Health, CareJourney, Asymmetrik, and physicians and Information Services team members at MedStar Health to transform the stand-alone Million Hearts® risk calculator for heart disease, stroke, and cardiovascular disease into an app integrated into the EHR (using SMART on FHIR). Known as the Atherosclerotic Cardiovascular Disease (ASCVD) 10-Year Risk Calculator, the tool estimates the risk of having a heart attack or stroke within 10 years. Physicians described the tool as useful, but inconvenient to access because it required them to navigate to an external website and enter patient information manually. We conducted workflow observations, process mapping, and interviews to inform the design of the application. We identified patterns in when and how ASCVD risk was typically talked about during exams. These findings informed decisions about how best to design and integrate the application in the EHR to suit physician workflow and facilitate organic discussions with patients.
"The dream for any EHR is to have this kind of tool integrated without hard stops. I like that you don't have to go somewhere to look at it--on a busy day you don't have time to navigate around…we need things like that"
- Cardiologist
After two rounds of user testing the application launched in February 2020 to 575 primary care physicians, cardiologists, and endocrinologists and 1,500 medical residents.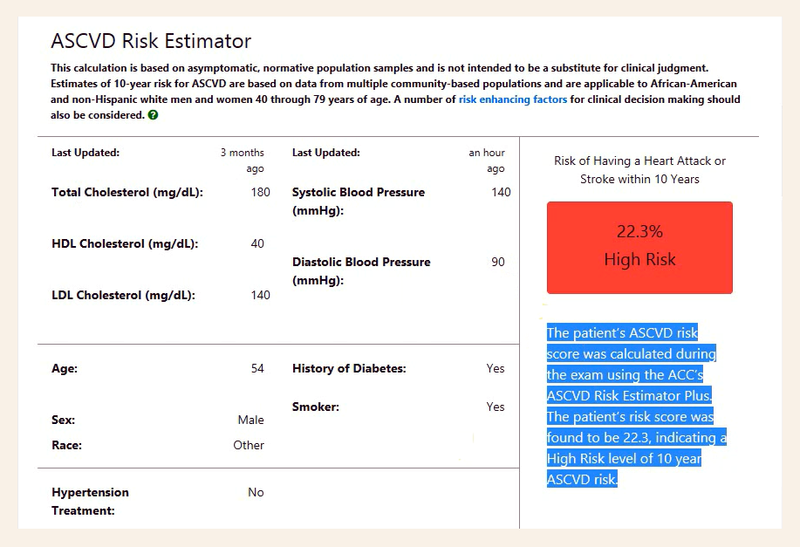 Cardiovascular disease risk calculator that is embedded in patient's electronic charts and automatically calculates risk

The tool was featured on local TV news and in articles in Becker's Healthcare Review, Fierce Healthcare, and ONC Health IT Buzz. The source code for the application is available on GitHub. Physicians' continued use of the tool demonstrates that we successfully integrated a CDS tool into physician workflow in the EHR that facilitates meaningful conversations between clinicians and patients to help patients reach their health goals.
This project was sponsored by a $2 million award from the U.S. Department of Health and Human Services (HHS) Office of the National Coordinator (ONC) for Health Information Technology to accelerate health information technology (health IT) interoperability as part of the Leading Edge Acceleration Projects (LEAP) in Health IT opportunity.
Did the rise of telehealth increase patient's use of primary care services?
We identified national patterns of telehealth usage to inform future research and healthcare policy.
We created a dataset of over one million patients from three large healthcare systems and analyzed these data to identify patterns of patient's telehealth usage in primary care.
We found that the use of telehealth provided a faster path to access care for many patients and did not result in patients seeking additional primary care above and beyond what they would see with in-person only encounters.
While this study demonstrated that telehealth did allow a faster path to care for many patients, it also highlighted important health equity issues of access specifically for Black and Medicaid populations. We presented our work to appropriate federal stakeholders to guide telehealth legislation. We plan to continue our research and policy initiatives to improve digital health equity and are currently developing a toolkit that will provide guidance for health system leaders on best practices to address clinical, technical, and social factors influencing telehealth use. We published our findings in the Nature Partner Journal Digital Medicine.
How can we help doctors and nurses detect sepsis before it becomes fatal using clinical decision support?
We used a rigorous human factors approach to inform the design and development of a clinical decision support tool to detect sepsis.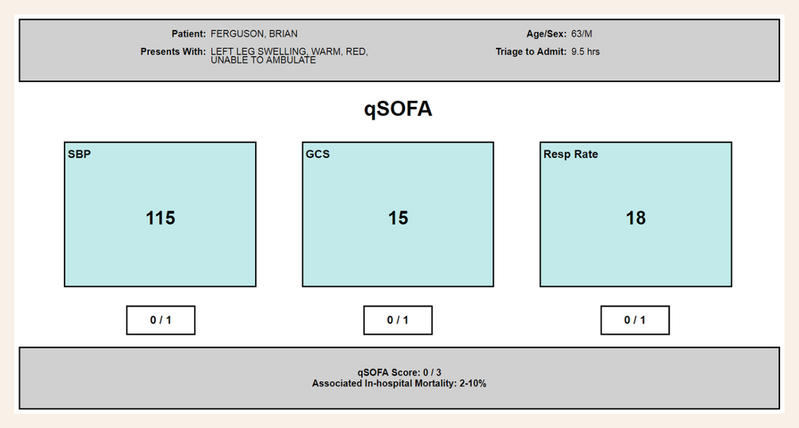 Prototype of a visual display of a simulated patient's Quick Sequential Organ Failure Assessment (qSOFA) score. This scoring system is used to identify patients with suspected infection who are at high risk of dying in the hospital

Despite an increasing number of cases—a quarter of which result in death—many septic patients are not diagnosed at an early stage when aggressive treatment is most effective. Effective clinical decision support must be designed and developed appropriately to support physician workflow and decision-making. We developed and tested multiple enhanced visual display models that integrated patient data into validated Sepsis staging scores. As of 2021, we completed usability testing with 190 clinicians across 12 different hospitals and analyzed results on clinician preference, performance, and usability of the different enhanced visual displays. The ultimate goal of the research was to inform the development of future real-time clinical decision support tools that optimize the organization, management, presentation, and utilization of information. We shared our findings in multiple news articles and journals, including Becker's Health IT & CIO Report, the Health Informatics Journal, the International Journal of Medical Informatics, Critical Care Nursing, the Journal of Critical Care, the American Journal of Hospital Medicine, and the Journal of the American Medical Informatics Association.
The results of our study helped identify gaps in novice understanding, aided in the evolution of novice to expert thinking, and identified potential improvements in the clinical decision-making process.
This project was sponsored by a four-year Research Project Grant (R01) from the National Institutes of Health (NIH) to develop a framework to optimize Sepsis alert design.
How can we provide important information about product usability during the device procurement process for healthcare systems?
We collaborated with emergency medicine (EM) physicians to develop a rapid, repeatable process for evaluating the usability of medical devices to assist with procurement decisions for a large healthcare system.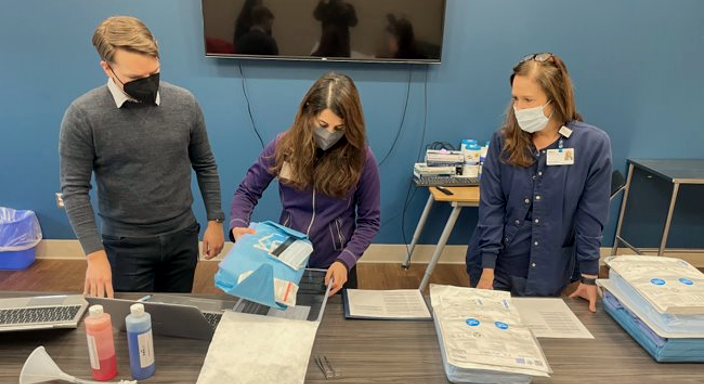 Human factors scientists conducted a heuristic analysis of central venous catheter kits

In healthcare, the usability of medical devices may make the difference between life and death. In EM there are certain lifesaving procedures that physicians don't perform very often, but when they do, they must be completed quickly and flawlessly. These procedures can be classified as low frequency, high-risk procedures. It is widely recognized that the skills of medical professionals can decay when they are not practiced frequently. Well designed, intuitive devices support physicians to perform difficult procedures safely and successfully in the face of this skill decay. We collaborated with EM physicians to design a rapid, repeatable approach to thoroughly evaluate the usability of several high-risk, low frequency use medical devices to facilitate an informed decision on the safest, most welldesigned products to select for the system. This project involved a mixed-methods approach which included a review of safety literature, a heuristic analysis of the products, user testing in which participants interacted with the devices in a simulated environment, and a survey to understand their preferences. So far, this approach has informed three procurement decisions, and counting!
"Working with the human factors team was a delight...They made suggestions we didn't consider. They helped navigate multiple competing interests and served as a valuable sounding board when decisions were necessary. They turned things around quickly, were reliable, and exceptionally professional partners throughout this iterative process. Their involvement made the final product substantially more usable."
- Dr. Munish Goyal, Director of Faculty Education & Research Director, MedStar Emergency Medicine Physicians
To date, the system has procured and standardized well-designed supraglottic airway devices, central venous catheter kits, and video laryngoscopes as evaluated by human factors experts and tested by EM physicians at discounted bulk prices.
When making decisions about tools and technology implementation is it possible to prioritize cost savings without compromising safety?
We evaluated a new cost saving medication labeling technology to ensure that anesthesia safety and workflow in the operating room would not be disrupted while the product was being implemented.
A large healthcare system was considering a significant cost saving effort to transition away from the use of pre-filled syringes of anesthesia medications in the operating room. The transition involved phasing out the pre-filled syringes and replacing them with medication vials that the anesthesia team would draw from to prepare syringes manually. To ease the transition, the system planned to implement a new medication labeling technology that would allow users to scan vials and automatically print corresponding syringe labels. Because this was a significant workflow change, the organization's pharmacy leadership wanted to ensure that the new labeling technology and associated workflow would not introduce new safety risks. We conducted a usability and workflow analysis and identified a critical risk – there were occasional delays in updates to the medication database that the labeling technology accessed to print labels. This could have led to anesthesia team members using an inaccurate printed label or to a workflow disruption if the team member stopped to write the label by hand. Once this risk was identified, the organization's pharmacy leadership was able to work with the labeling technology vendor to receive more timely medication database updates before the technology was implemented system wide.
"The human factors evaluation allowed us to quickly identify the potential for risk and [their] recommendations for change were key to a successful conversion. I was impressed with the comprehensiveness of the review, which included end user interviews as well as direct observation. Prior to [their] review, we were unaware of the delays in [the device's] medication database updates. That was a key finding and we were able to quickly address the issue..."
- Senior Director, Clinical Pharmacy
The organization safely implemented the new labeling technology system wide. Transitioning away from the use of pre-filled syringes yielded a cost savings of $1.7M.
What is the impact of involving the frontline in the design of healthcare spaces?
We developed a comprehensive design workshop facilitator guide that was teachable to unskilled facilitators, general enough to be repeatable, yet specific enough to solicit targeted recommendations for the design of patient exam rooms for a Heart and Vascular Institute.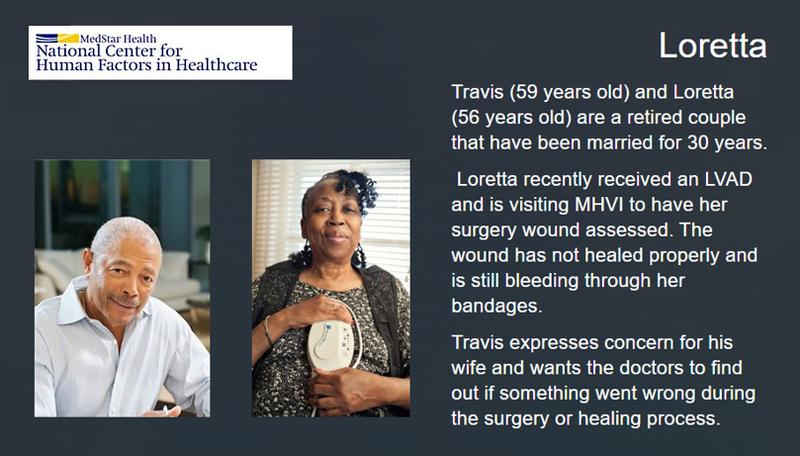 Patient personas developed by the human factors team that were used by the Heart and Vascular Institute to simulate workflow for various types cases in their mockup of exam rooms

The Heart and Vascular Institute at a large healthcare system tasked their Process Improvement (PI) team with gathering frontline user feedback on the design of a suite of new patient exam rooms. We developed a design facilitator guide that walked the PI team step-by-step through how to set up and run a series of design charettes and discussions with care teams including clinicians, nurses, and medical assistants. We incorporated evidence based environmental design evaluation tools, user personas, and workflow simulations into the facilitator guide to solicit meaningful user feedback from multidisciplinary groups on a tight timeline that accommodated the demanding clinical schedules of the participants. The PI team successfully guided participants through a series of workflow simulations in a mocked-up layout of the proposed new patient room design. The PI team then held short debriefing sessions asking questions we recommended to solicit actionable feedback. With our guidance, the PI team synthesized their observations from the workflow simulations and summarized key themes from the debrief sessions. Although the architectural team was experienced in designing healthcare spaces, the frontline users who participated in the workshop offered insights nobody else could.
Several design changes were made because of the feedback they provided. The final design provided a more ergonomic and functional layout that better matched the clinical workflow for both routine exams and emergency situations.
How did High Reliability Organization (HRO) principles contribute to designing safe and efficient workflow at a high-capacity COVID-19 community vaccination site?
We applied the HRO principles of Deference to Expertise and Preoccupation with Failure when multiple disciplines worked together to design a workflow that managed patient throughput, vaccine preparation, and administration of over 15,000 doses of two different COVID-19 vaccines simultaneously and safely.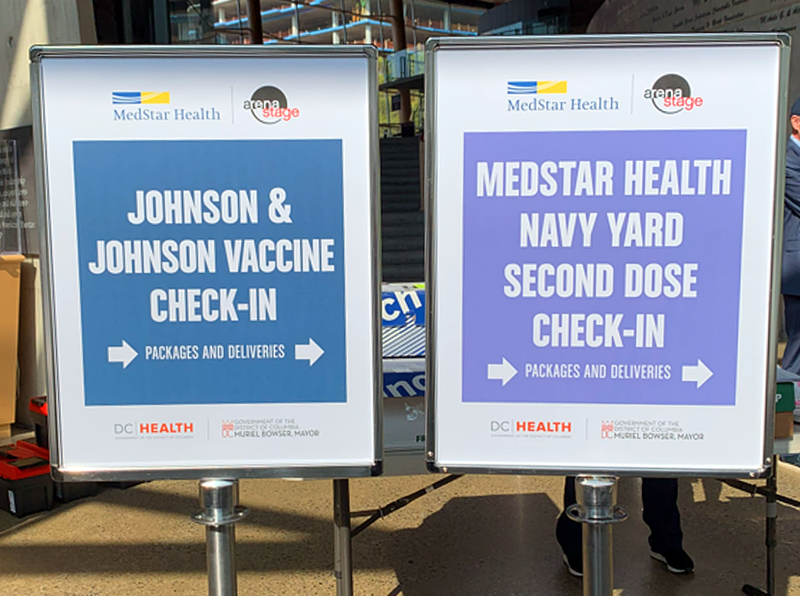 Color coded signage with wording familiar to patients directed them to the correct vaccination stations

In April 2021, MedStar Health was authorized to rapidly stand up a high-capacity COVID-19 vaccination site at the Arena Stage Theater in Southwest Washington, DC. The site was required to manage the administration of second doses of the Pfizer vaccine as well as single doses of the Johnson and Johnson vaccine (before mixing vaccines was approved by the Centers for Disease Control and Prevention [CDC]). Due to constraints on the space, all patients were processed through a single point of entry, a single vaccine administration space, and a single vaccine preparation space. Applying the HRO concept of Preoccupation with Failure, clinical and operational leaders recognized that space and time constraints could increase the risk of vaccine administration errors. Applying the HRO concept of Deference to Expertise, they pulled together a multidisciplinary team including pharmacists, physicians, nurses, process improvement, operations, and human factors experts. The entire team walked through the space and completed a workflow simulation together with each team member pointing out risks and potential failure modes according to their area of expertise. We (Human Factors team) focused on the physical layout of the space and the tasks associated with directing patient flow, preparing, and administering the two vaccines simultaneously. Our recommendations included implementing color coding that was consistent from patient check-in through to a sticker on the vaccine syringes; physical separation of storage, preparation, and administration through the use of partitions; and the assignment of pharmacy and medical staff to prepare and administer only one vaccine or the other. When the site opened to the community, we were on the ground observing workflow and recommending optimizations to clinicians and process improvement experts in real-time. No vaccine administration errors occurred at the site.
"When the Arena Stage Vaccination site was opened, the clinical staff recognized the risks of stocking, preparing and administering two different vaccines...The Human Factors team was engaged to evaluate the physical set-up and workflow to consult on safety and error prevention...a number of recommendations were provided and implemented...More than 15,000 total doses were administered, and there were no errors related to wrong vaccine administered."
– Assistant Vice President, Pharmacy Services
Over 15,000 vaccines were administered safely.
What insights can be gained when patterns in patient safety event data are analyzed for an entire state?
We provide ongoing analysis of patterns in patient safety event data for the state of Pennsylvania and disseminate this knowledge through publications, education, and toolkits.
Pennsylvania is unique in that it requires its healthcare facilities to report all safety event reports to a central authority, the Patient Safety Authority (PSA). Founded in 2002 by the Pennsylvania Medical Care Availability and Reduction of Error Act (MCARE Act), the goal of the PSA is to prevent recurrence of safety events by identifying trends and disseminating lessons learned through journal publications, education, and toolkits to healthcare facilities throughout the state. Our team has an exclusive multi-year contract with the PSA to help them realize their strategic vision of improving safety event report data quality through the identification and dissemination of significant safety trends. Our multidisciplinary team of nurses, physicians, pharmacists, data scientists, and human factors experts designed a qualitative coding system to analyze, track, and trend over 30,000 patient safety events and provided insights for where the PSA should focus safety interventions state-wide.
Insights from our safety event analysis have led to the development of multiple toolkits, delivery of 10 safety education sessions based on the Agency for Health Research and Quality's Communication and Optimal Resolution (CANDOR) principles, and publishing of 8 manuscripts in Patient Safety including topics: