Shoulder and Elbow Surgery | Washington DC, Maryland, Virginia | MedStar Health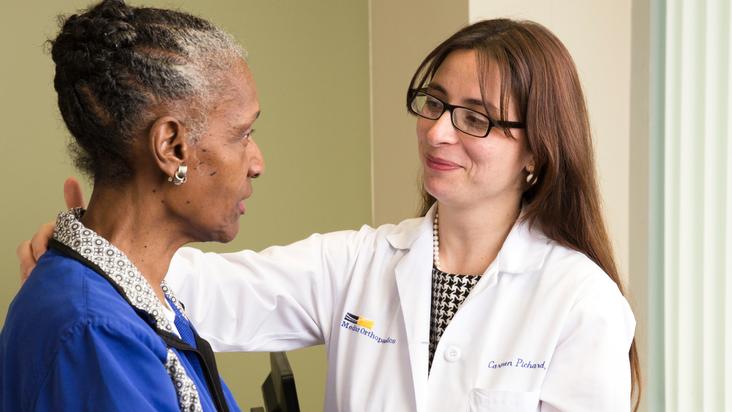 The shoulder and elbow are two of the most complex joints in the body, and as such, require the care of experienced orthopedic specialists. Our specialists have extensive knowledge and skill in treating a wide range of shoulder and elbow conditions, giving athletes and active patients the best chance for a safe and healthy return to normal activities.
When you are having surgery, you want to know you are in the best of hands. Our surgeons teach other orthopedic surgeons across the United States how to perform shoulder and elbow surgery, and are involved in cutting-edge research to perfect and refine many of these procedures. You should also know that the majority of the shoulder and elbow surgeries are performed using arthroscopy, a minimally invasive technique with smaller incisions that reduces recovery time and risk of infection.
Shoulder and elbow evaluation
Every patient has an evaluation to determine the exact nature of the problem, which consists of a personal medical history, imaging studies (X-rays and MRIs), and a thorough physical examination. After the evaluation, your shoulder and elbow specialist will make a recommendation for treatment.
Consider these facts:
Our fellowship-trained surgeons are nationally renowned in performing both complex and routine shoulder and elbow surgical procedures

Our shoulder specialists perform the majority of our surgical cases using arthroscopy, a minimally invasive technique, using small incisions and a tiny camera to make repairs

Our surgeons teach other orthopedic surgeons across the United States how to perform these procedures. These surgeons often visit our hospitals to learn how these procedures are performed

We lead cutting-edge research in new techniques for elbow reconstruction, rotator cuff tendon healing studies, and outcome studies for shoulder replacements

Arthroscopic surgical procedures are performed using the latest equipment and techniques

We are home to two shoulder and elbow fellowship-trained surgeons, who are among a few surgeons nationwide who perform reverse shoulder replacement, a relatively new procedure for patients with severe shoulder damage
Shoulder and elbow surgeries
The majority of arthroscopic shoulder surgeries at MedStar Health are performed on an outpatient basis using regional or general anesthesia. Very tiny incisions are made in the shoulder by our shoulder and elbow specialists. Using this minimally invasive, muscle-sparing approach minimizes complications, reduces pain, and the risk of infection.
The distal biceps tendon connects the bicep tendon to the bone at the elbow. It can tear because of heavy lifting and most patients report hearing a pop as the tendon is ruptured. Our shoulder and elbow specialists repair the tendon through a small incision in the forearm to return patients' elbow strength and mobility.
Our surgeons perform elbow ligament reconstruction to repair dislocated elbows. MedStar Health surgeon Anand M. Murthi, MD (Chief, Shoulder and Elbow surgery) has developed a local rotational graft that is taken from muscles near the elbow. Using this graft, he can stabilize the elbow. After surgery, your arm will be in a sling for four to six weeks and you will participate in physical therapy for approximately three months.
Reverse shoulder replacements are performed for a unique group of patients who cannot raise their arms and have torn rotator cuffs and arthritis, including rotator cuff tear arthropathy, shoulder fractures in the elderly, failed shoulder replacements, or failed rotator cuff surgery.
This is a complex procedure performed by our shoulder specialists for a condition that previously had no effective treatment. For a month after surgery, you will wear a sling and then your surgeon will give you a physical therapy protocol to perform at home.
The Tommy John surgery (named for a famous baseball player) is a medial collateral ligament reconstruction. This ligament, on the inside of your elbow, is responsible for the motion you make when you throw a ball. The reconstruction includes using a tendon to stabilize and repair the elbow.
If osteoarthritis and rheumatoid arthritis have worn down your shoulder joint, a total shoulder replacement may be necessary. During this procedure, the diseased portion of the shoulder joint is removed and a prosthesis is used. We offer a patient-centered program that focuses on faster recovery by managing all aspects of the patient experience.
Videos
Meet Dr. Anand Murthi - Chief of Shoulder and Elbow Surgery at MedStar Union Memorial

Meet Dr. Jason Stein - Orthopedic Surgeon at MedStar Union

Meet Dr. Brent Wiesel – Chief Shoulder and Elbow Surgery at MedStar Orthopaedic Institute at MedStar Georgetown University Hospital
Online courses
Shoulder Surgery at MedStar Health Timonium

This online pre-operative class is designed for patients preparing to have shoulder surgery at MedStar Health – Timonium's outpatient surgery center.

Shoulder Surgery at MedStar Union Memorial Hospital

This online pre-operative class is designed for patients preparing to have shoulder surgery at MedStar Union Memorial Hospital