Continuing a tradition of caring for the community in all stages of life
Since their founding, MedStar Good Samaritan Hospital and MedStar Montgomery Medical Center have been dedicated to caring for its community, particularly its senior population. In 2016, MedStar Good Samaritan opened the Center for Successful Aging, an outpatient practice to care for older adults with complex medical and social concerns. Using the Baltimore site as a model of care, MedStar Montgomery recently opened their outpatient site. Both Center for Successful Aging locations provide the latest in geriatric care and resources for patients and their loved ones through:
Comprehensive cognitive, functional, and medical assessments
Diagnosis and treatment of complex medical conditions
Medication management
Connection to social and medical resources to help maintain your comfort at home
Support for emotional and social health needs, as well as practical assistance
Navigation and guidance assistance within the largest health system in the region
Caregiver support
About the Center for Successful Aging
Our highly-skilled team has a deep respect for the people they care for and are committed to working with patients, family members, and caregivers to ensure quality of life and health. At the Center for Successful Aging, you'll also find:
Board-certified geriatricians, nurse practitioners, social workers, physical therapists, and pharmacists to meet the needs of aging adults
Seamless coordination with a care team that values what matters to you and your family
Comprehensive resources to help you and your loved ones successfully manage your severe chronic conditions at home
From diagnosis and treatment to education and support services, we offer a holistic approach to caring for age-related conditions, including:
Behavioral changes, including depression or anxiety
Chronic conditions, such as diabetes, heart failure, stroke, and more
Confusion or memory problems
Decreased mobility
Dementia and Alzheimer's
Impaired vision or hearing
Medication management
Urinary incontinence
What to expect
At your first appointment, our experts will thoroughly assess your health by reviewing your medical history, health needs, and potential risks for age-related conditions. Next, we'll create a personalized "Care Plan" designed to help you manage your physical, mental, and emotional health, often in partnership with your primary care provider.
A specialized care team will work together to carry out this plan and may include:
Geriatricians
Nurse practitioners
Pharmacists
Physical therapists
Social workers
Other healthcare professionals
Your Care Plan will also consider the needs of you and your loved ones to ensure everyone involved has support.
For more information, call
MedStar Good Samaritan Hospital at
443-444-4720
or MedStar Montgomery Medical Center at
301-570-7400
Continuing a tradition of care
If you're the caregiver or primary care provider of an older adult, we're here to support you, too. Successful aging takes teamwork, and together, we can help older adults age with dignity at home.
For patients and caregivers
As a caregiver for an older adult patient, your needs matter, too. At our Center for Successful Aging, our team is here to provide you with information and resources, connection to support and encouragement as you help your elderly family members age safely at home.
For more information, call
MedStar Good Samaritan Hospital at
443-444-4720
or MedStar Montgomery Medical Center at
301-570-7400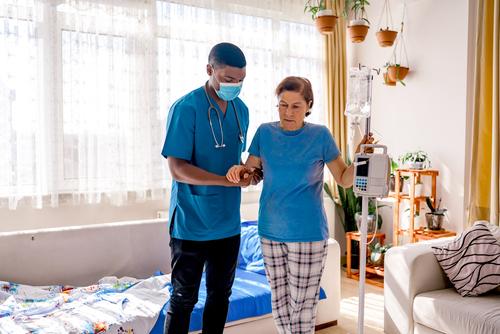 If you're a primary care provider who cares for patients with geriatric syndromes, you can request a consult from our team. We will develop a comprehensive treatment plan that is tailored to your patients' specific needs, and we will share this plan with you. It's a plan that considers:
What matters to your patient
Mental capability
Safe mobility
Medication
Keeping older adults safe amidst COVID-19
Our patients' safety has always been our top priority, and throughout the public health emergency, we've remained committed to protecting you and your loved ones. When you need in-person care, we keep your visit as short as possible and utilize a separate entrance from the emergency department to avoid any risk of exposure.
We've also added extra precautions in our office to keep you safe, including:
Requiring face masks for everyone
Frequently disinfecting and cleaning public spaces and rooms
Staggering appointments to minimize traffic in the office
Visit us today
We accept Medicare and Medicaid, along with a wide variety of health plans. Please call your insurance provider to verify coverage.
MedStar Montgomery Medical Center Center for Successful Aging
18101 Prince Philip Dr.
Olney, MD 20832
Get Directions
MedStar Good Samaritan Hospital
Center for Successful Aging
5601 Loch Raven Blvd.
Morgan Bldg., Ste. 502
Baltimore, MD 21239
Get Directions
For more information, call
MedStar Good Samaritan Hospital at
443-444-4720
or MedStar Montgomery Medical Center at
301-570-7400