Low-dose CT scans catch health issues when they are most treatable
Lung cancer is among the most common cancers in the U.S. Catching it early is key to successful treatment. Our expert medical teams can determine if you're at high risk and qualify for a screening that's often covered by insurance. This quick, non-invasive scan can provide valuable — and even lifesaving — information about your health.
20%
---
decrease in lung cancer deaths from early detection scans.*
*National Lung Screening Trial
4.4%
---
Only 4.4% of individuals eligible for lung cancer screening actually receive one.**
**CDC
70%
---
of lung cancers are found at a later stage without screening.***
***NELSON study
Is a low-dose CT Scan right for you?
The U.S. Preventive Services Task Force (USPSTF) recommends annual screening for lung cancer with low-dose computed tomography (LDCT) in adults who meet all of the following criteria:
Between ages 50 and 77
Smoking history equal to smoking a pack of cigarettes per day for 20 years, or smoking two packs a day for 10 years as an example
Current smoker or quit smoking less than 15 years ago
No signs or symptoms of lung cancer, such as shortness of breath, coughing up blood unexplained fevers, chills, or weight loss (a doctor can determine if another condition is causing these symptoms)
"I was very fortunate to get an early diagnosis so that it was operable."
- Mike Baroody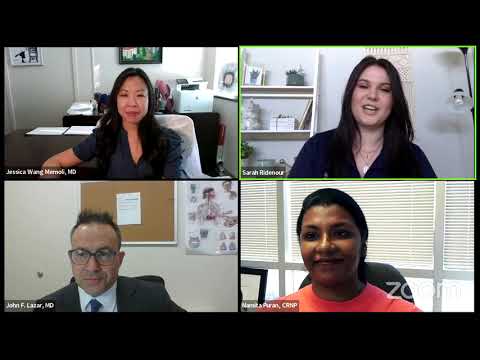 In honor of #LungCancerAwarenessMonth we were live with thoracic surgeon Dr. John Lazar, pulmonary critical care physician Dr. Jessica Wang Memoli, and the nurse practitioner of patient navigation for the lung cancer screening and nodule clinic at MedStar Washington Hospital Center, Namita Puran. Our #LungCancer experts discussed risk factors, screenings, and treatment options.
Multiple locations and flexible appointment times.

If you require follow-up care, nationally-renowned specialists from Georgetown Lombardi Comprehensive Cancer Center are here to help. Together, we will go through a shared decision-making process that considers all treatment options with compassion.

We offer tobacco cessation and other programs like genetic counseling for those at high risk.
MedStar Georgetown University Hospital
3800 Reservoir Rd., NW, Washington, DC 20007
MedStar Washington Hospital Center
110 Irving St., NW, Washington, DC 20010

MedStar Montgomery Medical Center
18101 Prince Philip Dr., Olney, MD 20832