How we can help you.
Fellowship-trained surgeons.
Your safety is our priority.
Nationally renowned foot and ankle care without the wait
For pain-free motion and peace of mind, turn to the experts at MedStar Orthopaedic Institute. Our fellowship-trained specialists have the experience to diagnose and treat the full spectrum of foot or ankle issues. Appointments are available at 10 Baltimore area locations and are usually available within days, not weeks.
Revolutionizing Foot and Ankle Care at MedStar Orthopaedic Institute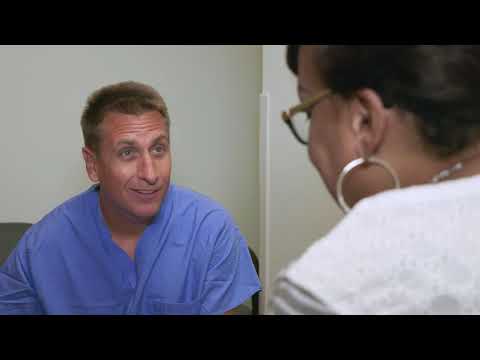 Learn more about the technology, people, and vast clinical knowledge that sets our program apart from others in Baltimore, Maryland, and the mid-Atlantic. Watch the video above.
Patient safety is our priority
MedStar Orthopedic Institute is committed to providing the care you need in an appropriate and safe setting. That's why we're offering both video and in-person visits. In some cases, an in-person visit may be best. We continue to focus on providing a safe, clean, and secure environment for you to receive your care.
Patient stories
Mother of seven Stacy Plimpton found relief from extreme Bunion Pain

Watch the video below

Local teacher and stand-up paddle boarder finally free from persistent Ankle Pain

Watch the video below

John Kauffmans experience with telemedicine

Watch the video below
Injuries can include sprains, strains, tears, twists, and even broken bones. A sprain tears the outer supportive ligaments of the ankle and can range from minor to so severe that the ligaments are torn completely, resulting in the ankle feeling loose.

If you've broken your foot or ankle, treatment depends on the nature of your injury, but may include:

Splints and casts to keep your bones in the right position as they heal.
Surgery that restores the proper alignment of the bones by using titanium screws, nails or plates to ensure the bones heal together in proper alignment. A tibial bone graft may be taken from your knee area to be used in conjunction with the screws, nails or plates. Patients generally stay in the hospital for one or two days following this type of surgery.

Treatment for ankle arthritis depends on the type of arthritis you have and its severity. Nonsurgical treatment options may include:

Medication to ease pain and swelling symptoms
Supportive shoe materials such as orthotics, arch supports or specially designed shoes
Canes or braces
Physical therapy

If nonsurgical treatment does not improve your condition, you may need surgery that includes:

Ankle arthroscopy: In this procedure, surgeons insert an arthroscope—a thin, flexible tube—into your joints. The arthroscope uses a small camera to beam images of your joints onto a screen so your surgeons can insert specialized instruments through the arthroscope into your joints to repair any damage.
Ankle fusion surgery: This procedure fuses two of the ankle bones to remove a problematic joint and minimize pain.
Ankle replacement surgery or arthroplasty: This procedure replaces the damaged joint with a prosthetic or artificial one. MedStar Georgetown University Hospital is the only major hospital in the region equipped to perform total ankle joint replacement.

Treatment for ankle instability usually depends on the severity of your ankle weakness. Nonsurgical treatment options may include:

Medication to ease pain and swelling symptoms
Ankle brace to prevent the ankle from giving way and to protect the ankle from further sprains
Physical therapy and exercises that help support increased ankle strength and ease of movement.

In some cases, nonsurgical treatment does not provide enough relief from ankle instability. If surgery is needed, our team is experienced in the most advanced and innovative surgical procedures. In fact, we specialize in the correction of failed surgery performed at other institutions.

Treatment for flat feet depends on the symptoms you have, as well as the underlying cause of your flat feet. If you have no symptoms, you do not need any treatment. If you are experiencing pain, we may recommend:

Wearing shoes fit with orthotics or arch supports
Taking medication, including over-the-counter pain relievers and/or cortisone shots
Wearing a walking cast or brace
Physical therapy

If you still experience severe pain after making these changes, we may recommend surgery. Surgery options include:

Fusing the bones together or removing a bone
Realigning the bones to a healthy position
Lengthening or replacing a tendon

Nerve disorders that can affect the feet and ankles include:

Charcot-Marie-Tooth Disease, an inherited disorder that causes severe weakness in the muscles that control your legs and feet. As a result, you can suffer serious foot deformities.
Polio, a virus that affects the nerves and can cause semi-paralysis or even complete paralysis in the legs.

The multidisciplinary care required for conditions such as these includes:

Physical therapy
Occupational therapy
Braces
Orthopedic surgery

Our compassionate staff will help manage all of these services for you and collaborate on your care with any other specialist you need.

Other Foot and Ankle Conditions

Other foot and ankle conditions include:

Bunions
Hammer and claw toes are toes that do not have the right shape.
Neuromas are swollen nerves that commonly affect the ball of the foot causing pain, burning, numbness and tingling.
Bone spurs develop when the smooth cartilage wears down and the ends of the bone rub together.

Your treatment options include:

Wearing shoes that fit well and comfortably accommodate your pain
Avoiding high-heeled shoes
Inserting extra cushioning into your shoes
Taking over-the-counter pain relievers and/or getting cortisone shots
Physical therapy
Surgery, including bunionectomy

If you've had surgery for any of these conditions elsewhere but are not satisfied with the results, we encourage you to meet our team. We perform many revision foot and ankle surgeries and can help improve your function and reduce your pain, no matter where you were treated previously.
Expect better outcomes
At MedStar Orthopaedic Institute we collaborate with every patient and achieve better outcomes. And we have the research to prove it. Utilizing Patient Reported Outcome Measures (PROMs) we have sophisticated measures of the results that matter most to patients after surgery: pain level, mobility, the ability to perform daily tasks, activity levels, and much more. PROMs track your results over time and, when grouped with other patients' results, guides improvements in the overall quality of our care. The experience to relieve your foot or ankle pain.
90,000+ surgeries.

11,000 PROMS in the past 5 years

4.7 star rating (as of November 3, 2020)