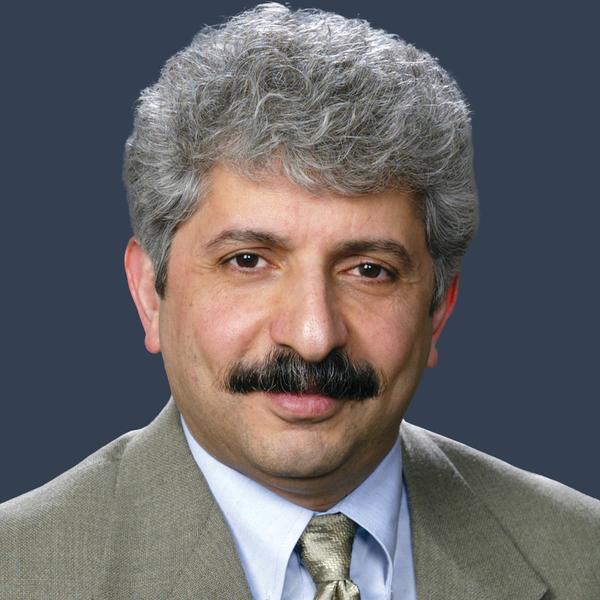 Dr. Seyed Reza Ghasemian, MD
Languages:
English, Farsi, Persian (Farsi)
Conditions I Treat
adrenal neoplasm

adrenal nodules

asthenospermia

atonic urinary bladder

atrophy of testis

Show All

Hide
Procedures I Perform
active surveillance of prostate cancer
artificial urinary sphincter
bladder surgery
botox injection of the bladder
bph surgery

Show All

Hide
About the Provider
Board-certified in urology and transplant surgery, Dr. Ghasemian treats a wide variety of conditions, often using minimally invasive techniques. Besides kidney transplants, Dr. Ghasemian offers surgical treatment for diabetes, treats urology issues for pre-and post-transplant patients as well as bladder, kidney and prostate cancers.

Dr. Ghasemian completed residency training in Urology and General Surgery and fellowship training in Transplant at MedStar Washington Hospital Center following medical school at the National University of Iran, in Tehran, Iran.

An Assistant Professor of Urology at Georgetown Medical School, Dr. Ghasemian has published peer-reviewed papers on transplantation and delivered presentations across the country.

He is also the recipient of the Meritorious Achievement Award from MedStar Washington Hospital Center for his work in transplantation services.

Philosophy of Care
Delivering the best patient care is a priority for Dr. Ghasemian. From diagnosis to recovery, he works with individuals often facing life threatening illness making sure they and their families understand treatment options and what is takes to get better.

Working in an academic medical center such as MedStar Georgetown also provides the opportunity to focus on his other priority, training the next generation of skilled and compassionate physicians as he has done throughout his long career.
Education
Residency Program:

MedStar Washington Hospital Center

(1999)

Internship Program:

MedStar Washington Hospital Center

(1995)

Fellowship Program:

MedStar Washington Hospital Center

(1994)

Residency Program:

Saadat Abad Hospital

(1988)

Residency Program:

Pahlavi Univeristy Hospital

(1986)

Residency Program:

Saadat Abad Hospital

(1985)

Medical School:

Shaid Beheshti University of Medical Science & Health Services

(1982)

Board Certification:

American Board of Urology, Urology
Publications
Multi-institutional outcomes and cost effectiveness of using alvimopan to lower gastrointestinal morbidity after cystectomy and urinary diversion. Vora A, Marchalik D, Nissim H, Kowalczyk K, Bandi G, McGeagh K, Lynch J, Venkatesan K, Ghasemian R, Hwang J, Hwang MV. Can J Urol. 2014 Apr;21(2):7222-7.
Incidence of postembolization syndrome after complete renal angioinfarction: a single-institution experience over four years.Vora A, Brodsky R, Nolan J, Ram S, Richter L, Yingling C, Venkatesan K, Ghasemian R, Hwang J, Horton K, Verghese M.Scand J Urol. 2014 Jun;48(3):245-51. doi: 10.3109/21681805.2013.852620. Epub 2013 Nov 11.
Preictors of Gleason score upgrading in a large African-American population.Vora A, Large T, Aronica J, Haynes S, Harbin A, Marchalik D, Nissim H, Lynch J, Bandi G, McGeagh K, Kowalczyk K, Ghasemian R, Venkatesan K, Verghese M, Hwang J.Int Urol Nephrol. 2013 Oct;45(5):1257-62. doi: 10.1007/s11255-013-0495-y. Epub 2013 Jul 18.
Vora AA, Marchalik D, Kowalczyk KJ, Nissim H, Bandi G, McGeagh KG, Lynch JH, Ghasemian SR, Verghese M, Venkatesan K, Borges P, Uchio EM, Hwang JJ. Prostate Int. 2013;1(1):31-6. doi: 10.12954/PI.12001. Epub 2013 Jan 21.
Alvimopan provides rapid gastrointestinal recovery without nasogastric tube decompression after radical cystectomy and urinary diversion.Vora AA, Harbin A, Rayson R, Christiansen K, Ghasemian R, Hwang J, Verghese M.Can J Urol. 2012 Jun;19(3):6293-8.
Practice Locations
106 Irving Street Northwest

Pob Ste 215

Washington

,

DC

20010

View Map

Phone:

202-877-6389

Fax:

855-778-6890

3800 Reservoir Road Northwest

Pasquerilla Healthcare Center 2nd Fl

Washington

,

DC

20007

View Map

Phone:

202-444-3700

Fax:

877-680-8192