Thriving After Pancreatic Surgery Thanks to Expert Care and Support
If you are experiencing a medical emergency, please call 911 or seek care at an emergency room.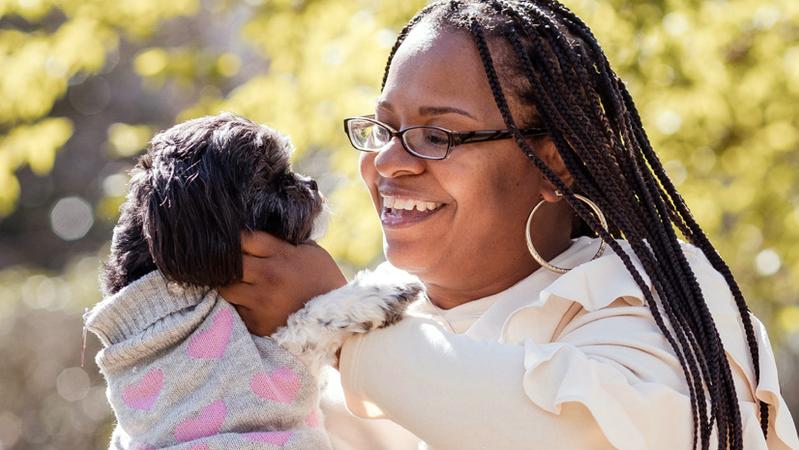 After having a mass removed from her pancreas, Myra Brown, 37, was left with a small L-shaped scar on her abdomen. Her surgeon, Emily Winslow, MD, regional chief of Hepatopancreaticobiliary Surgery at MedStar Health, mentioned that Myra could have the scar revised. "Oh, no," was Myra's surprising reply. "To me, this scar looks wonderful. This scar stands for 'Life.' It stands for 'Love.' I'm keeping it. Always."
How Myra earned that scar is a point of pride for this vivacious, 37-year-old working mother from Washington, D.C. The cystic mass on her pancreas had actually been detected 11 years ago, when a case of appendicitis brought her to the hospital. During her appendectomy, a small cyst was found on her pancreas. "At the time, I was overwhelmed with being a new mother. The cyst didn't bother me. It was 'out of sight, out of mind.' I forgot about it."
Fast-forward to November 2020, when Myra went to the emergency department because of pain in her right side. The ER doctor noticed the mass and urged Myra to see a surgeon. Her extensive research led her to Dr. Winslow. "I researched the type of patients she treated, the type of care she delivered, the number of years in her specialty, and the online patient reviews. Everything looked good and I made an appointment."
When Myra met Dr. Winslow at MedStar Georgetown University Hospital, she immediately felt comfortable. "She was honest and compassionate," says Myra. After Dr. Winslow reviewed Myra's case with a multidisciplinary tumor board, she told Myra that even if the mass turned out not to be cancerous, surgery was still the best option—specifically, a distal pancreatectomy and splenectomy.
Myra agreed, but was still apprehensive. Dr. Winslow arranged a follow-up call and encouraged Myra to invite her two aunts and her sister. As Dr. Winslow explained the procedure, Myra felt that she "was in good hands." Still, "I was scared," she admits.
On the day of surgery, as Myra entered the operating room, she says, "I heard the stereo playing Beyoncé's 'All the Single Ladies,' "one of Myra's favorite songs. "One of the nurses told me, 'We did that for you, to help calm you.' That made me smile, and then I was out!"
"Patients benefit not only from our caring staff with years of experience, but also from our multidisciplinary team approach," explains Dr. Winslow. "A successful surgical experience requires the whole clinical team to work together towards the best outcome. This includes the nurses in the operating room and on the floor, the diagnostic and interventional radiologists, advanced gastroenterologists, advanced practice clinicians, and so many others."
Upon recovery, Dr. Winslow told Myra her tumor was a rare low-grade cancer of the pancreas. Myra would need annual monitoring for five years, though the likelihood of it returning was slim. Myra is proud and unafraid after traveling this far. "MedStar Health has a great team of medical professionals. I would not dare go anywhere else. And Dr. Winslow? That lady knows her stuff."
Myra has advice for anyone traveling a similar path: "Listen to your body. Do the research. And build a relationship with your doctor where you will feel comfortable." Myra continues, "Look at me, I'm smiling. I'm loving life." And she has an L-shaped good-luck charm to remind her.
Visit MedStarHealth.org/Panc to learn more or to request an appointment with one of our specialists call 202-444-1062.