MedStar Health DocTalk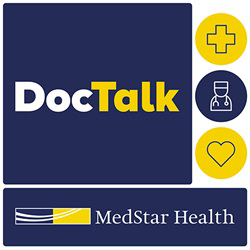 "MedStar Health DocTalk" is a podcast series which elevates awareness of the latest in medical technology, research, clinical trials, devices and surgical approaches.
New episodes will release on the first and fifteen of each month, and can be found in most podcast directories, including: Spotify, Apple, iHeart Radio, Amazon Music, Deezer, Pandora, Podchaser, Podcast Index, and Podcast Addict.
S3:E20 Endometrial cancer
What you need to know about endometrial cancer, the most common type of uterine cancer. According to the American Cancer Society, approximately 66,000 new cases of uterine cancer are currently diagnosed each year. Unlike most cancers in the Unites States, endometrial cancer, the most common type of uterine cancer, has been increasing in both incidence and death rates and there is no way to effectively screen for it. That's why it's important to understand the risk factors for and symptoms of endometrial cancer as well as how it is diagnosed and treated. During this podcast, Dr. Ali Mahdavi, a gynecologic oncologist with MedStar Health, discusses what women need to know to reduce their risk of uterine cancer and how to find it early when it is easier to treat.

For interviews with Dr. Mahdavi, or for more information about this podcast, contact Regional Media Relations Director, Debra Schindler at debra.schindler@medstar.net.