On Lit Health, we will be lighting a fire underneath the status quo of healthcare through interviews with authors, healthcare leaders, and policymakers working to create a healthcare environment that is equitable, transparent, and that welcomes the needs of every patient – especially our vulnerable populations including the mentally ill, people of color and women who feel they are at risk in our current system, the elderly, and anyone who feels bias or the isms affect their health and quality of life. Join us to stoke the fire! We want to hear the health-related stories from our listeners on both sides of the bedrail, the courtroom, and the aisle. Icon: Attached
Episode 1
America's Prescription Drug Dependence on China with Rosemary Gibson
On this inaugural episode of Lit Health, host Tracy Granzyk is joined by Rosemary Gibson, author and Senior Advisor at the Hastings Center. The pair discuss Rosemary's most recent book, China Rx: Exposing the Risks of America's Dependence on China for Medicine, which highlights the centralization of globally supplied medicines in a single country and the implications of this in the event of a global pandemic, natural disaster, or geopolitical event. Published in 2018, China Rx has been recognized as prophetic in the wake of the COVID-19 pandemic, and Rosemary's expertise has subsequently been sought by the House Energy and Commerce Health Subcommittee, the CIA, and all fifty states' emergency preparedness directors.
Episode 2
Structural Racism in Healthcare with Dr. Ronald Wyatt
Overview: The episode starts with Dr. Wyatt's story of his experience with racism during an encounter with police in 1970s Alabama, a subject on which he wrote a paper describing the event. He talks about how that experience has stayed with him and how it relates to current issues around inequity, disparity, and structural racism, particularly regarding trust. Through data and anecdote, the two discuss how important trust, respect and dignity on both sides of the bedrail are to the delivery and experience of safe, high quality healthcare.
Episode 3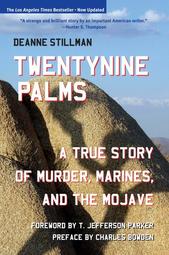 Finding 'Grace in the Carnage' with Author Deanne Stillman
Author Deanne Stillman, a widely published, critically acclaimed writer of literary nonfiction joins Tracy on the podcast today to discuss Deanne's 2001 work Twentynine Palms, an LA Times bestseller and Best Book of the Year, which Hunter Thompson called "a strange and brilliant story by an important American writer," and which was re-released in 2021 by Angel City Press. Twentynine Palms tells the story of the murders of Mandi Scott and Rosalie Ortega by Marine Valentine Underwood, recently returned from the Gulf War. Through this tragedy, the book takes a deep look at socioeconomic health disparities through the lives of those who choose to call the desert home, living in the shadows of the world's largest Marine base at the edge of Joshua Tree National Park. Tracy begins the episode by talking about Twentynine Palms' relevance to healthcare, pointing out its focus on social determinants of health, specifically the poverty that underlies the book's desert community.
Episode 4
A Walk Toward Healthcare Safety with Dr. David Mayer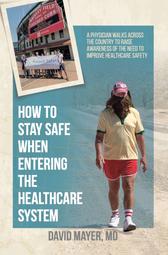 On this episode of Lit Health, Tracy is joined by Dr. David Mayer, Executive Director of the MedStar Institute for Quality and Safety, where he leads quality and safety programs in support of discovery and learning and the application of innovative methods to operational clinical challenges. A cardiac anesthesiologist by training and a medical educator by passion, Dave has spent the last three decades fighting for a safer healthcare delivery environment and recently served as CEO of the Patient Safety Movement Foundation, where he led global patient safety efforts and initiatives in sixty-four countries and over 4,800 hospitals. His memoir, How to Stay Safe When Entering the Healthcare System: A Physician Walks Across the Country to Raise of the Need to Improve Healthcare Safety, is due out in October of this year and chronicles his walk across pandemic-hit America during 2020 — his mission to keep all eyes on the continued need to make healthcare safe for patients and providers. The pair discuss how the book is a call to action for people to start rising up and asking their congressional leaders and their politicians why more isn't being done to improve patient and healthcare professional safety in healthcare. Highlights of his journey include being joined by patients and families who had lost loved ones to preventable medical harm, and reliving his love for baseball by visiting Major League Ballparks across the country to keep him motivated during one of the most difficult years in our history.
Episode5
Spit Like A Big Girl - Patient Advocate Clarinda Ross Takes Her Mission to the Stage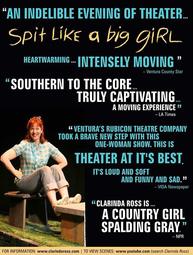 Tracy's guest on this episode is Clarinda Ross, mom of three and accomplished actress, writer, and special needs advocate. Clarinda began her journey as a patient advocate thirty-three years ago when her daughter Clara was found to have developmental delays, the experience of which she channeled into her one-woman show Spit Like A Big Girl. Clarinda begins the episode discussing her experience parenting a child with special needs and navigating the healthcare system two years before the Disabilities Act was signed into law. She describes how the challenges of getting the right care for Clara forced her to develop real gumption in ensuring that her daughter could live her best life, including letting her go when the time was right. She also discusses how forming an advocacy team, including speech and occupational therapists, helped ensure Clara's needs were understood by the school and healthcare systems.