A Welcome Alternative to a Common Procedure
Approximately 400,000 hip replacement surgeries are performed each year in the United States, making it one of the most common total joint replacement procedures. Total hip replacement surgery, also called total hip arthroplasty, is used to relieve pain and restore function to patients whose joints have been destroyed by diseases such as arthritis or trauma. It usually allows a return to daily living, walking, and life with no or minimal pain.
Yet some individuals who might benefit from a hip replacement don't consider it because they want to avoid a lengthy recovery and the required post-surgical hospital stay. Now, there is another option—outpatient hip replacement surgery.
"Traditionally, joint replacement has been an inpatient surgical procedure," says Henry Boucher, MD, an orthopaedic surgeon noted for his expertise in treating patients with hip and knee conditions at MedStar Orthopaedic Institute. "Now, for the right patient, advances in orthopaedic medicine have made it possible for a person to forgo an overnight stay in the hospital after a hip or knee replacement."
Outpatient joint replacement is the same as traditional joint replacement, but the patient is allowed to go home within the first 24 hours after the surgery. The best patients for an outpatient joint replacement are in good health with well-controlled or no major medical problems, are highly motivated for a same-day discharge, and have assistance at home.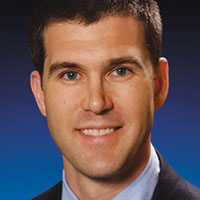 Michael Simms, who had a total hip replacement as an outpatient earlier this year, represents the model candidate. "As a former marathon runner and triathlete with no serious medical issues, he was in good shape and he fit all the criteria for the type of patient that does well," Dr. Boucher explains. "And, at 59 years old, he wanted his active life back."
"I started experiencing pain in my hip three years ago and tried all sorts of non-surgical treatments to alleviate it … medication, physical therapy, dry needling, acupuncture, you name it," Simms says. "I did a lot of research to explore my options and finally scheduled an appointment with Dr. Boucher."
In a total hip replacement surgery, the diseased parts of the hip joint are removed and replaced with new, artificial parts called a prosthesis. There are a variety of advanced techniques for total hip replacements. Dr. Boucher specializes in anterior hip replacement surgery, which differs from traditional surgery in that it involves inserting the prosthesis through an incision on the anterior, or front, of the hip. This makes it possible to reach the joint by separating rather than cutting the muscles or tendons.
"While this approach may not help your new hip joint function better or last longer compared to traditional approaches, it is less invasive, so it can result in less pain, a faster recovery, and a quicker return to normal activity due to less muscular damage," adds Dr. Boucher. "This makes it ideal as an outpatient procedure, given the right patient."
In February, Simms had his hip replaced at MedStar Health at Timonium, a new comprehensive orthopaedic center that opened late last year. The facility features a state-of-the-art surgical center designed specifically for outpatient procedures.
"I was very impressed with the entire experience," Simms notes. "Because it is a specialty center, I was the center of attention. The staff was focused on me and had no distractions."
After the procedure, which took about an hour, Simms spent a few hours in recovery while the anesthesia wore off. Once he was fully awake, he got up for physical therapy to make sure he was capable of performing daily activities. He was discharged by 2 p.m. and was recuperating at home later that day with the assistance of his wife, Kimberly, who is an IV therapy nurse.
"I think my wife was more apprehensive about my coming home the same day of surgery than I was," Simms says. "But we both had confidence in Dr. Boucher. He was very helpful and we were well prepared."
After three days at home, Simms was walking without support. Though he's not running marathons yet, he works out in the gym regularly and gets ample exercise tending to the miniature donkeys that he and his wife raise on their farm.
"Having a total joint replacement done as an outpatient can make for a much better patient experience," Dr. Boucher says. "Patients can play a more proactive role in their recovery because there are not as many restrictions as in a hospital. It is more convenient and less stressful. With an aging but still active population, the demand for outpatient joint replacement surgeries is growing. As one of the busiest hip replacement programs in Maryland, the expertise of our surgeons and care providers is unmatched."
To learn more about the hip and knee specialists at MedStar Orthopaedic Institute or to schedule an appointment, visit MedStarOrtho.org or call 877-34-ORTHO (877-346-7846).
Call Us Today
To learn more or schedule an appointment with a hip and knee specialist, call:
Learn More About Joint Replacement
Fast Fact:
The physicians of MedStar Orthopaedic Institute are some of the busiest in Maryland; together they performed 1,449 hip replacements last year.