Providing Comprehensive Care for Aging Adults | MedStar Health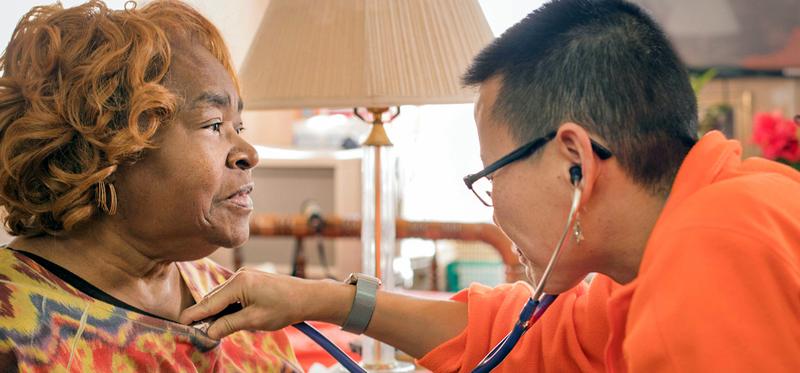 Pictured above, Lorene Franklin, a patient of the MedStar House Call Program through MedStar Good Samaritan Hospital receives a home visit from Dr. Jennifer Hayashi.
MedStar House Call Program
Since 1999, MedStar House Call Program in Washington, D.C., has been reviving the concept of house calls by providing patients who are 65 years old and older with medical care and social services in their homes. MedStar recognized the need for this program after observing that many older adults with disabilities and chronic diseases faced physical and transportation-related obstacles that often prevented them from getting the care they needed, which can cause patients' health status to suffer and result in unnecessary Emergency Department visits and hospitalization.
The program connects people to care, who otherwise may have gone without it, which is why MedStar expanded the program to Baltimore in 2016. The program brings care to patients where they live, maximizing the time spent at home with their families and freeing them from the physical and mental stress of going to the doctor's office or hospital.
The comprehensive care team includes a nurse practitioner, social worker, care coordinator, and operations manager under the leadership of medical director Jennifer Hayashi, MD. The team makes house calls for primary and urgent care services and coordinates specialty care and procedures for older adults. In addition to in-home medical and social services, they link patients and families to other health-related community resources, and support caregivers through monthly support groups and weekly meditation calls. The Baltimore office has cared for 155 patients to date.
"This program is definitely the best—and sometimes the only—way to take care of patients without moving them to a nursing home," Dr. Hayashi says. "It makes a difference for caregivers to be able to call someone and get advice so they don't have to call 911."
Lorene Franklin has been a patient of the MedStar House Call Program through MedStar Good Samaritan Hospital in Baltimore for about a year. Her daughter and caregiver, Karen, says the convenience and compassionate care provided by the program team has improved her mother's health and put her at ease.
"My mother was diagnosed with diabetes in 1988. Since she's been with the program, she's no longer on her insulin," explains Karen. "These doctors are the bridge that connects the elderly population to the care they need."
If you are experiencing a medical emergency, please call 911 or seek care at an emergency room.
Do you need care now?
Find care in your community today!
To learn more about MedStar Health's programs and initiatives across Maryland and the Washington, D.C., region that are contributing to healthier communities, contact Raquel Lamptey at 410-772-6910