Cancer Journey Turns Local Couple into Enthusiastic Supporters
If you are experiencing a medical emergency, please call 911 or seek care at an emergency room.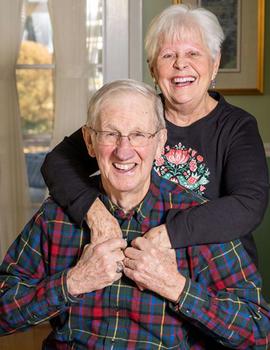 When Olney resident, Bernard "BJ" Cooney, was diagnosed with lymphoma in 2016, the busy estate attorney knew his cancer journey would be life-changing—he just didn't know how much.
He was referred to the cancer specialists at MedStar Montgomery Medical Center. His team developed a personalized treatment plan that involved six months of chemotherapy, administered in six sessions, each lasting five days. During these sessions, he had to be hospitalized.
"I quickly realized I was in this for the long haul," BJ says. "My wife, Jean, had been scheduled to have her knee replaced and she postponed that so she could visit with me when I went in for my treatments, which she was able to do twice daily since MedStar Montgomery is so close to our home. For that alone, I was extremely thankful."
During his journey, he developed many strong relationships with members of the hospital's staff. "Since I was there so much, I got to know everyone," he says. "The cancer team at MedStar Montgomery is wonderful…they did a great job."
As a result of this experience, BJ and Jean decided to get involved in supporting the hospital. They joined the Philanthropy Committee and have since made several generous philanthropic gifts to help launch the new Center for Successful Aging, which is designed to make it easier for older adults to have their medical needs met by providing primary and specialty care in one convenient location—often in one visit. Their philanthropic gifts have helped the center with supplementary needs, including equipping a community room that is a resource for patients and family members. "There is definitely a need in this community for a service like this and I appreciate the way they are approaching it," BJ notes.
Today, BJ is doing well and though now retired, remains active. In addition to his volunteer work, he swims nearly every day at a local club. Jean finally got her knee replaced and is now receiving care for a shoulder condition at the hospital. Both are grateful to have MedStar Montgomery just around the corner. "We truly appreciate having a hospital that offers the level of care they provide, right here in Olney," BJ adds.