Ice hockey player returns to the game after ACL repair
If you are experiencing a medical emergency, please call 911 or seek care at an emergency room.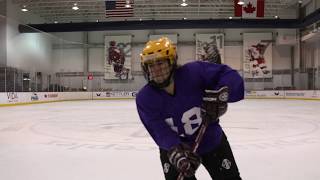 Innovative ACL repair helps Nathalie return to the ice.
After trading in her figure skates for hockey pads in the sixth grade, nothing could keep Nathalie Lawyer off the ice–except for a torn ACL.
"I was playing hockey, and someone fell on me," Nathalie said. "To be fair, I kind of pushed them onto me."
She didn't hear the classic "pop" typical of ACL injuries, but knew something was wrong after physical therapy sessions didn't provide relief. Then, a second injury made things worse.
After another visit to her primary care doctor, Nathalie knew her ACL was torn and it was time to consider surgery.
Nathalie took her search for an orthopedic surgeon online and found Wiemi Douoguih, MD."I saw he had an opening, so I grabbed it without knowing much about him," she says. It wasn't until later that she learned Dr. Douoguih not only treats amateur athletes, but he is also the Head Team Physician for the Washington Wizards professional basketball team. She knew she was in good hands.
It was important to Nathalie that her treatment plan would not only fix her ACL, but speed up recovery time, and minimize the time she would need to spend on crutches. She had just started grad school and commuted daily on the Metro. Navigating D.C.'s subway system on crutches didn't sound too appealing. Additionally, her sister's wedding was only two months away and she wanted to walk down the aisle and dance at the reception.
Dr. Douoguih recommended an ACL repair with internal brace augmentation, an innovative new procedure that he helped pioneer in recent years.
Just weeks after her surgery, Nathalie was able to put down the crutches and dance at her sister's wedding. Within months, she traveled overseas and even hiked Machu Picchu.
Eventually, Nathalie started thinking about hockey again, and was able to join pick-up games.
Thanks to MedStar Health's cutting-edge sports medicine and Nathalie's commitment to physical therapy, her recovery took months instead of years and she's back to doing the things she loves.