In gratitude for the ultimate teamwork — Gratitude story
If you are experiencing a medical emergency, please call 911 or seek care at an emergency room.
When 40-year-old Jennifer McNally started experiencing headaches so severe she couldn't sit up, she went to her local emergency department several times to be checked out. Each time she was told she was probably just having routine migraines.
"The providers she saw were very dismissive," says Jane Biagini, Jen's mom. "Yet she was in so much pain that she was only comfortable lying down flat…without a pillow."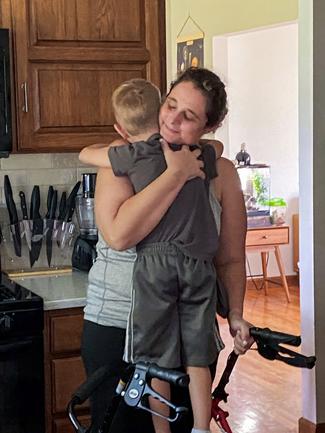 Jane called her sister and brother-in-law, both physicians living in the Washington, D.C., area, for advice. "They encouraged me to take her to the emergency department at a large teaching hospital near her home. Since I am retired, I told Jen's husband I would come help with the situation while he looked after their two children in addition to working."
In the emergency department at the teaching hospital, Jen was evaluated, as before, to determine the cause of her headaches—to no avail. They then sent her for an MRI, which revealed there was little cerebrospinal fluid (CSF) surrounding her brain and spinal cord—a fluid which provides a cushion to protect those organs from injury.
"Since cushioning was lost around her brain, this caused the brain to sag to a dangerously low level" Jane explains. 'She was admitted to the hospital and diagnosed with a high-flow spinal CSF leak."
A spinal CSF leak occurs when a hole or tear develops in the outermost membrane containing the CSF, the dura mater. This causes the pressure around the brain and spinal cord to drop, which can lead to a sudden and severe headache that typically occurs when upright, commonly referred to as a positional headache.
Treatment is essential because low pressure in the brain can lead to worsening neurologic symptoms. While most CSF leaks are treatable through a procedure called a targeted blood patch, the physicians caring for Jen did not have the advanced imaging needed to determine exactly where the leak was.
"They thought there were 3 possible sites and tried 2 blood patches, which are both painful and dangerous," Jane says. "But they didn't work. So, she lay there in the hospital, unable to lift her head or eat without help. There was no treatment plan communicated to us, so we sat there for 8 days. My daughter thought her life was over."
In the meantime, Jane's brother-in-law, an anesthesiologist, was discussing the situation with another physician. That physician happened to be married to Anousheh Sayah, MD, an interventional radiologist and expert in the diagnosis and treatment of CSF leaks at MedStar Georgetown University Hospital. That same day Jane's sister, an OB/GYN, was talking to a colleague and she recommended Dr. Sayah too. Dr. Sayah was then connected with the family.
"My sister called Dr. Sayah, who responded immediately and from that initial moment, she consulted with my sister daily about Jen's condition and care, reviewing imaging and advising on diagnostic and management recommendations. Dr. Sayah also suggested we contact the CSF Foundation to see if there was a CSF Center of Excellence close to Jen's home. When my sister reached out to the director of the only CSF care center in the state, he was most helpful and offered to assume Jen's care but was going on vacation that day for a week," Jane says.
"Upon hearing this, Dr. Sayah said, 'if you can get her here, we'll take care of her.' Before we were able to discharge Jen, Dr. Sayah put the wheels in motion to facilitate the care at MedStar Georgetown. I rented a car, discharged Jen, and took her home for a few hours to say hello to her kids. We left at midnight to drive to MedStar Georgetown with Jen lying down in the back seat. When we arrived at 6:30 am, there was a team led by Dr. Sayah and Vinay Deshmukh, MD, a neurosurgeon and CSF specialist, waiting for us."
Within hours, the specialists at MedStar Georgetown had identified the exact leak location and the cause of the tear in the dura - a bone spur on her vertebrae. More tests were performed and a few days later, at 7:30 am, his first day back from a family emergency, Dr. Deshmukh took Jen into the operating room. An additional intra-operative consult between Dr. Deshmukh and Dr. Sayah was needed prior to beginning surgery, even though Dr. Sayah was off. "This shows the level of devotion to their patients and their mission to help those with CSF leaks," Janes notes.
Jen was in the OR for 10 hours. During her procedure, her team had to remove 2 vertebrae to be able to repair the tear and remove the bone spur. They then implanted 2 rods and 4 screws in her back. She woke up from surgery headache-free but had to spend 10 more days recovering in the hospital, most of it in the ICU.
"It was amazing there was a team that worked so well together to fix Jen. There was nothing like it where she was before…rather it was up to the hospitalist on staff to direct her care. There was a revolving door of consulting physicians who had their say and went away. I sat in the hospital 12 hours a day because my daughter needed an advocate," Jane says.
"At MedStar Georgetown, we saw what a true, skilled CSF leak team could do. They were so cohesive, compassionate, and dedicated to their patients. Everyone was incredibly reassuring' it was wonderful. So, my husband, Larry and I decided that we wanted to do something to support their program to keep it going in perpetuity."
That decision resulted in the establishment of the Cerebrospinal Fluid Leak Fund at MedStar Georgetown, a gift that was made in honor of Dr. Deshmukh and Dr. Sayah for saving their daughter's life. "The care Jen received at MedStar Georgetown by Dr. Sayah, Dr. Deshmukh and their team, coupled with the continued post-op care she is receiving truly exemplifies what medicine and medical professionals should be," Jane adds.
"We have come to find out that what happened with Jen before we found MedStar Georgetown is very consistent among people with CSF leaks. The emergency room physicians are not familiar with this condition and dismiss it. Medical staff needs to be made aware of and sensitized to the disorder. If we can help save one person through our support, it is worth it."
Jen was up and walking without assistance just a month after her surgery and is now happily at home with her husband and children. "We are all so thankful!"