Pain Free at Last – and Grateful For It - Gratitude Story
If you are experiencing a medical emergency, please call 911 or seek care at an emergency room.
For years Maureen Simpson suffered with neck and back pain. "I first had neck surgery in 2001," she says. "Then several years later I started having back pain." Diagnosed with a herniated disc, she ended up having her first back surgery in 2010 after getting numerous steroid injections, that didn't work. Unfortunately, neither did the surgery.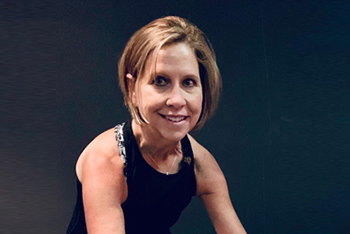 "I ended up having back surgery again in 2011, followed by another procedure on my neck in 2012," she notes. By 2014 her back problems had returned, and she had surgery for the third time. Yet, two years later, she was in the operating room for more back issues. While she felt better for a while, her problems were far from over.
"In 2018 I fell off my bicycle, and the back pain returned. I probably saw nine different doctors, all offering various opinions." Finally, she scheduled surgery once more. "I had gone through all the presurgical testing and blood work when I heard about Fred Fei Mo, MD, an orthopedic surgeon and spine specialist with MedStar Orthopaedic Institute at MedStar Georgetown University Hospital. I decided to see him for a second opinion."
From the moment she met Dr. Mo, she was impressed. "He spent a lot of time going over my films and he carefully studied my records. Then he said, 'I see exactly what your problem is.' Now, a lot of surgeons didn't want to deal with me because I had had so many procedures, but he was fabulous. He corrected some problems resulting from previous surgeries and addressed another issue that no other surgeon had ever mentioned."
Today, at the age of 60, Simpson is pain free and back to doing all the activities she used to do. "I've been riding my bike 28 miles about five times a week and when I am not riding, I take spin classes. I also take a five mile walk several times a week. I live in Northern Virginia and had to pass four other hospitals to get to MedStar Georgetown, but it was well worth it. I was so pleased with the staff there and the care I received. I am grateful to be pain free at last."