The Impact of Philanthropy | Grateful Patient Giving | MedStar Health
Gratitude Matters
It's how we treat people.
At MedStar Health, our community, grateful patients, and their families are inspirational philanthropic partners who uplift our clinicians and care teams across the health system, positively impacting our ability to meet the healthcare needs of our region.

Philanthropic partners are investing in supporting the delivery of compassionate and high-quality patient care, educating the next generation of medical teams, and advancing medical research to propel healthcare into the future. Our gratitude for every individual and organization that chooses to become a philanthropic partner at MedStar Health is both immense and humbling.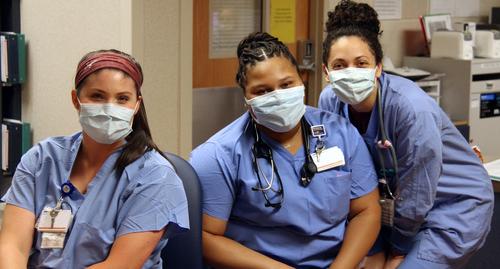 "I'm grateful for all you do for your patients. I greatly appreciate your dedication to provide the best care and concern you have shown to me this past year. Thank you."
- David C., grateful patient
Gratitude matters.
Over the last couple of years, much of our philanthropy-related efforts focused on ensuring our caregivers and associates would have the essential tools and resources they needed to physically and mentally manage the COVID-19 pandemic. A crucial priority during this time has been to ensure the wellbeing of our clinicians, care teams, and other associates. Philanthropic partners continue to make a real difference in our ability to provide care for our caregivers during this time, and we are truly grateful to all those who respond by supporting our efforts.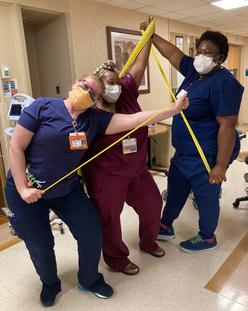 For the past two years, we focused our Power to Heal Campaign, an internal initiative for associates to express gratitude with a philanthropic gift to MedStar Health, on supporting associate wellbeing initiatives. Because of their generosity, we have created a peer support network, built recharging stations in our facilities, implemented wellness rounds, and are sharing mental health and wellness resources with our associates. Our wellbeing initiatives program is here to stay and we look forward to growing the program.
"Although the wellbeing initiatives program is in its infancy, it has a variety of facets and has already positively impacted many of our team members. As we continue to grow the program, our goal is to think bigger about the importance of wellbeing and how we create a community where associates are connected and have available creative outlets. We want our associates to come to work every day being their best selves.
Wellness is in all aspects of life. This program is allowing us to shine a light on the physical and mental health needs of nurses and associates. In turn, we are able to provide resources to help our most important assets—our people—in a customized, individual way. The wellbeing initiatives program is here to stay, and I am excited to see how it evolves over the upcoming weeks, months, and years."
Crystal Morales, MS, BSN, RN
Director, Nursing Well-Being
MedStar Health
Innovative Philanthropy, Powered by Gratitude.
At MedStar Health, we take an innovative approach to philanthropy. The true definition of philanthropy, the "love of humankind," remains at the center of all we do. Most often, the desire to practice philanthropy begins with an expression of gratitude for a care experience or an act of kindness. Each expression of gratitude is deeply meaningful and can be realized in a multitude of ways—heartfelt expressions, honoring a caregiver or investing in the mission of the organization through philanthropy. Our philanthropy professionals partner with grateful patients, their families and members of the community to uncover what's most meaningful to them, match them to the right opportunity, and, ultimately, facilitate the love of humankind from one to another.
Phi·lan·thro·py: the love of humankind
/fəˈlanTHrəpē/
noun
Philanthropic partnerships make our vision of advancing patient care and supporting our caregivers possible. Here are some examples:
State-of-the-art facilities that enable medical innovation and excellence:
Philanthropic support transformed the way care was delivered through the enhancement of our facilities in 2021.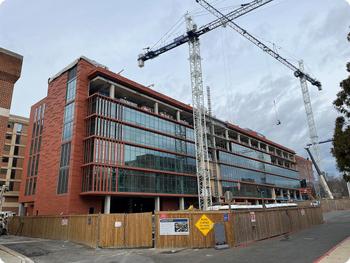 Continued construction of the Medical/Surgical Pavilion at MedStar Georgetown University Hospital, thanks to the philanthropic partnership from the Verstandig Family Foundation.

Opened the Center for Successful Aging at MedStar Montgomery Medical Center, which delivers a new model of specialized care for older adults.

The endoscopy patient tower at MedStar St. Mary's Hospital has been expanded with new equipment and software, including endoscopes and colonoscopes, and additional space to increase availability for patients.

Opened the Infusion Center at MedStar Georgetown University Hospital, which includes 47 private treatment bays, integrated bedside equipment, and a more patient-centric environment.
New clinical programs
Clinical programs were created and expanded through philanthropic partnerships in 2021.
DC Safe Babies Safe Moms initiative at MedStar Health, supported by the A. James & Alice B. Clark Foundation, was expanded to continue to improve the health and well-being of mothers and infants in Washington, D.C.

The Food Rx Program opened at MedStar Good Samaritan Hospital to provide integrative solutions to addressing chronic disease and disease management, resulting in positive clinical outcomes, increased food access, and decreased medical expenses. Funding has begun to expand the Food RX Program to MedStar Harbor Hospital in 2022.

The Angel Fund at MedStar Franklin Square Medical Center was established to support internal education and community-based domestic violence services for patients and staff. Funds help lift our community members out of domestic violence and provide them with the immediate assistance to find safe, stable living environments.

The Music Wellness Program at MedStar National Rehabilitation Hospital was created to engage patients in therapeutic and enjoyable musical activities, adapted to each patient's needs. It aims to improve specific cognitive speech, language, and sensorimotor functions of patients who have experienced a stroke, traumatic brain injury, spinal cord injury, or other neurologic disorders.
Technology, Quality and Safety, and Research:
Placing patients, safety, and innovation first in 2021.
Educational simulation training equipment was purchased to advance the level of care in the Neonatal Intensive Care Unit (NICU) at MedStar Franklin Square Medical Center. This new equipment will continue to improve our staff's processes for managing the most challenging cases to provide the highest quality and safest care for our babies and their families.

The Musculoskeletal Research and Innovation Center opened at MedStar Union Memorial Hospital. This multidisciplinary research center provides research studies and applications, cutting-edge treatments through innovation, and education to orthopaedic residents, fellows, and students.

Two functional electrical stimulation (FES) bikes were purchased for inpatient therapy at MedStar National Rehabilitation Hospital. These bikes enhance healing and recovery by targeting muscle weaknesses and strengthening specific areas in the legs, arms, and core.
The Safe Babies Safe Moms Initiative impacts the D.C. community
2021 Philanthropy numbers at a glance
Total philanthropic partnerships: $120,761,437

*This graph depicts 2021 philanthropic partners at various ranges of giving and total philanthropic commitments within each range.
At MedStar Health, every expression of gratitude matters. Grateful patients and their families, community members, foundations, and businesses make the impactful decision to share their time, treasure, talent, and testimony with our healthcare network to uplift and transform care for our region. Each philanthropic investment, regardless of size, is a symbol of trust to care for our community that we take seriously.
With a record-achieving year, all philanthropic investments and expressions of gratitude culminated to positively impact countless patients, their families, and our medical experts. Thank you to our philanthropic partners for an outstanding year.
Philanthropic gifts at all levels are valued and integral to the mission of MedStar Health. Below, you'll find examples of the positive impact our philanthropic partners have on patients at various levels of giving.
Im·pact: have a strong effect on someone or something.
/imˈpakt/ verb
Our philanthropic partners have a positive effect on our care teams and advance the health of our communities.
How your gift has made an impact
$50 funded a MedStar eVisit for a patient in need
$500 strengthened telehealth capabilities with updated technology
$5,000 funded new state-of-the-art equipment in patient care areas
$50,000 advanced research initiatives enhancing patient care