Adaptive Sports Fitness Program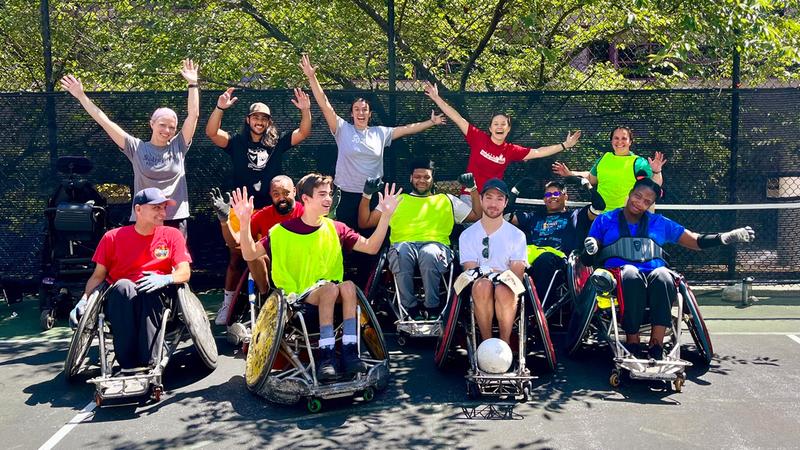 The Adaptive Sports and Fitness program at MedStar National Rehabilitation Hospital is a stellar program that helps make meaningful differences for individuals with physical disabilities.
The program empowers individuals with physical disabilities to pursue healthy and active lifestyles through recreational and competitive sports. The different programs are open to anyone in the community with a physical disability, at no cost to the individual. The adaptive sports program provides opportunities and resources for sports and recreation to athletes with physical disabilities and their families. These programs are made available at venues where participants can build self-confidence, form lasting personal relationships, improve health and wellbeing, gain greater independence, and have fun!
We provide coaching, training, equipment, and travel assistance in nine sports or activities, while hosting competitive and recreational adaptive sports tournament and special event throughout the year. Our coaching staff, personal trainers, and volunteers are highly qualified and well trained. The following sports programs and activities highlight the many areas people with physical disabilities can partake in.
Sign up to receive our newsletter about upcoming events and opportunities with MedStar NRH's sports program.
Volunteer opportunities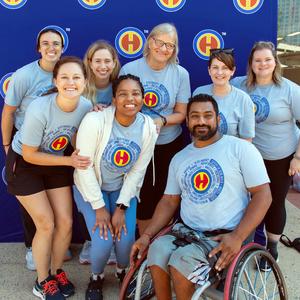 If you are interested in volunteering for the Adaptive Sports and Fitness Program, please click here to complete the application. For questions, concerns, or additional information, contact Alyssa Colbert at Alyssa.M.Colbert@medstar.net.
To donate, click on the link and select Adaptive Sports Programs at MedStar National Rehabilitation from the Choose Designation menu.
Super H™ 5K Run, Walk, and Wheel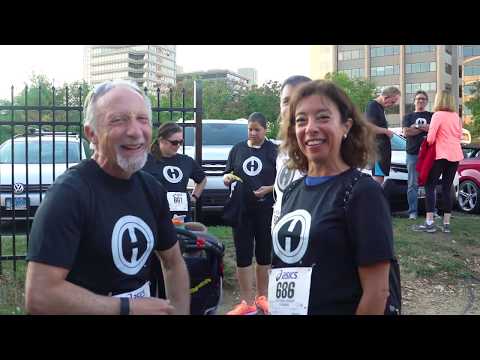 The Super H™ 5K Run, Walk, and Wheel was created by Harry (Super H) and Renie Freedman after Harry had a serious workplace accident that required the amputation of his leg. Harry and Renie have been dedicated to raising money for our adaptive sports programs at MedStar NRH ever since. It has become their mission to share with others the same kind of encouragement and support that Harry received. Now 19 years later, we continue his tradition.
Wheelchair basketball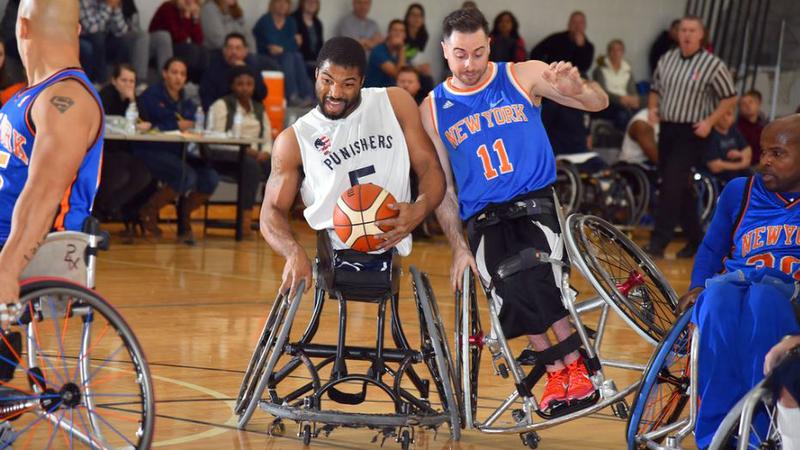 Wheelchair basketball is one of the most widely practiced adaptive sports and requires the use of a specialized sport wheelchair for individuals with physical disabilities or long-lasting impairment in their lower extremities. The MedStar NRH Punishers Wheelchair Basketball team is ranked third in the nation in the highest division (Division 1) of the National Wheelchair Basketball Association (NWBA).
Location, time, and season:
Marylin Parinser Community Center
14906 Old Columbia Pike
Burtonsville, MD 20866
Mondays from 6 p.m. to 8:30 p.m.
Competitive season from September – April
Off season practices vary.
Contact
Harsh Thakkar
202-877-1859
harsh.v.thakkar@medstar.net
Wheelchair rugby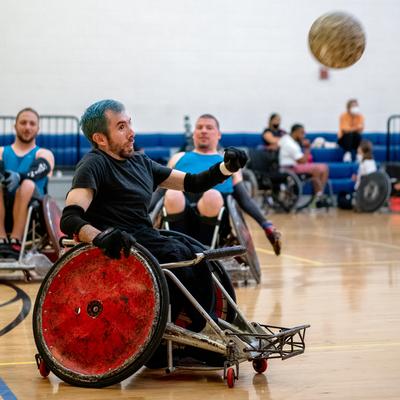 Wheelchair rugby is a full-contact sport played by athletes who have upper or lower extremity impairments or a combination of both. Athletes play in a sport chair, which has special accommodations for rugby, such as a front bumper, wings, and spoke protectors. The MedStar NRH United team is a part of the United States Wheelchair Rugby Association (USWRA) and competes in regional and national tournament throughout the season.
Location, time, and season:
Competitive season from September – April in Fairfax, VA.
Off Season practices every other week.
Please contact Rita Penniman to reserve your spot at the next practice or for additional information.
Contact
Rita Penniman
rita.e.penniman@medstar.net
202-877-1420
Wheelchair tennis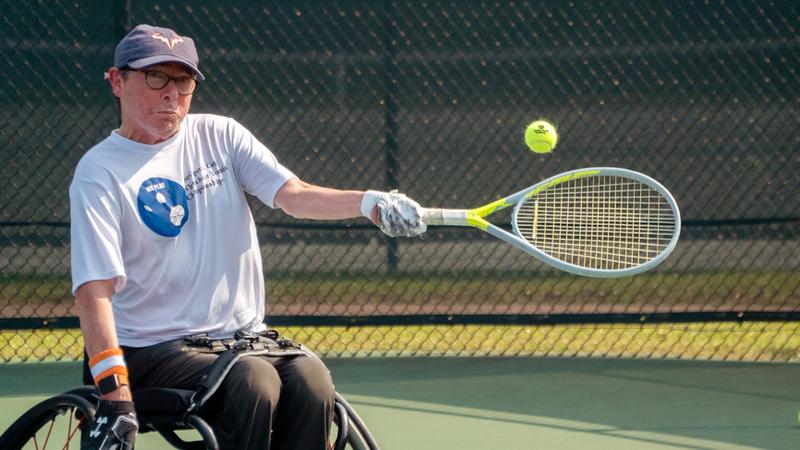 Wheelchair tennis is one of the fastest-growing and most challenging wheelchair sports. It can be played with various adaptations, but the training and specialized equipment we offer help take athletes to the next level. In partnership with the Junior Tennis Champions Center (JTCC) the program offers youth, beginner, intermediate and advance levels of play.
Location, time and season:
Junior Tennis Champions Center (JTCC)
5200 Campus Dr.
College Park, MD 20740
Season and clinics vary!
Contact
Alyssa Colbert
Alyssa.M.Colbert@medstar.net
Adaptive cycling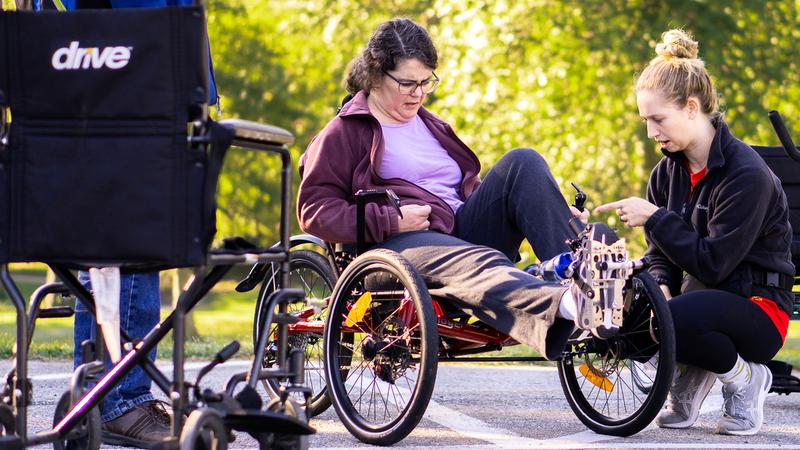 MedStar NRH adaptive cycling program reaches community members with a range of disabilities, including spinal cord injury, stroke, and neurological impairments, and is designed to fit the needs of every participant. The program has a fleet of adaptive bikes, including handcycles, racing cycles, two-wheeled bicycles with adult training wheels, and recumbent foot-pedaled tricycles to accommodate athletes with various disabilities.
Location, time, and season:
5240 Campus Dr.
College Park, MD 20740
Times and seasons vary!
Contact
Alyssa Colbert
alyssa.m.colbert@medstar.net
Sled hockey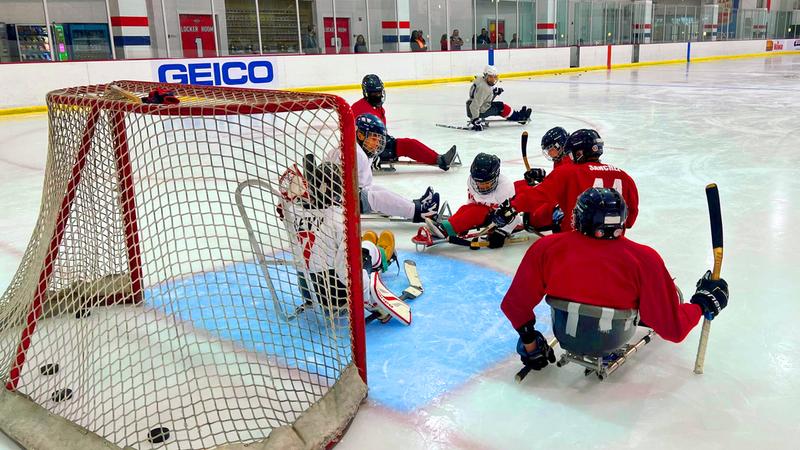 Like standing hockey, sled hockey is played on a standard-size ice rink with standard-size nets and pucks, but instead of skates, players sit in specially designed sleds with two hockey blades mounted on the frame. The DC Sled Sharks are a competitive junior sled hockey team with players aged 4 to 18. We offer developmental and competitive opportunities for children interested in the sport. We provide sleds, sticks, and hockey equipment at no cost.
Location, time, and season:
MedStar Capitals Ice Plex
627 N Glebe Rd, Suite 800
Arlington, VA 22203
Season from September to March
Contact
Elizabeth Parker
elizabeth.v.parker@medstar.net.
Boccia ball

Boccia is one of the most inclusive adaptive sports, as people of all ages, with and without disabilities, can play together. It can be played on a recreational level, all the way to a highly competitive level.
The MedStar NRH Boccia program has a limited number of spots and registration for Boccia Ball will be done on a month-to-month base. Please fill out this form and the program coordinator will provide additional information.
Location and time:
National Rehabilitation Hospital
102 Irving Street NW Washington, DC 20010
Thursdays from 4 to 5 p.m.
Contact
Tyra Anderson
Tyra.N.Anderson@medstar.net
Adaptive rowing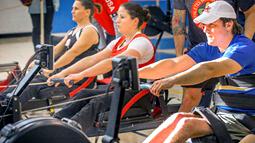 The MedStar NRH Rowing program is open to any individual with a physical disability who is interested in learning to row. The rowing program consists of two levels of programming:
Learn to Row/Recreational Rowing

Competitive/High Performance Rowing
Participation in the rowing program is free and instruction and coaching are provided by certified coaches. The desire to become competitive is not required; rowing is a great cardiovascular workout for anyone with a disability. Each individual is assessed to determine what modifications may be needed to maximize performance.
Schedule
Rowing is offered year-round, offering instruction and training on the water April through September, and indoor erg training November through March. Opportunities for competition both indoor on ergs and on the water are made available for those interested.
Contact
For more information about the Rowing program, please contact Irene Walsh at Irene.R.Walsh@gmail.com or Meagan Thomas at Meagan@CapitalRowing.org.
Adaptive fitness classes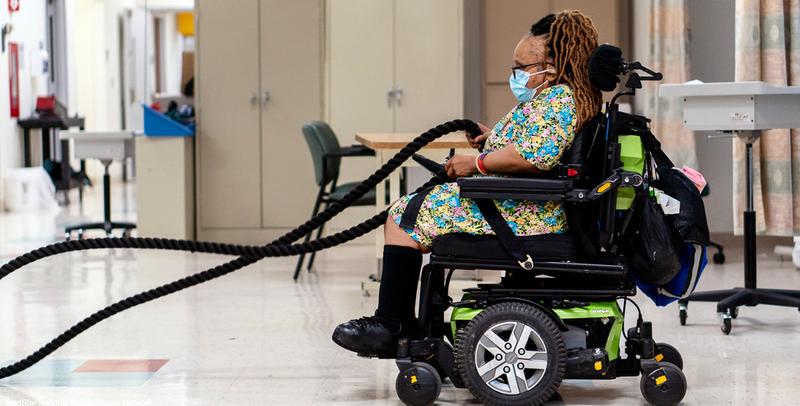 "No Limits" Adaptive Fitness Program
The MedStar NRH Adaptive Fitness program offers multiple avenues for individuals with varying physical abilities. With increased physical activity, we aim to build and improve strength, muscle endurance, flexibility, functional abilities, and overall mood and confidence. The fitness classes can be specifically fit to the needs of the individual by our certified trainers.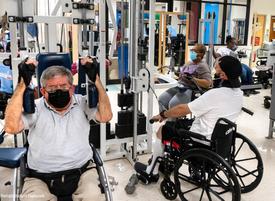 This program is made possible in part thanks to The Gordon and Marilyn Macklin Foundation.
Our trainers are specialized, dedicated and reliable trainers, who are proficient in working with individuals with various disabilities and disorders. The "No Limits" Program has staff who are physical therapists, and skilled personal trainers who facilitate group and individual programming for fitness.
Contact
Harsh Thakkar
202-877-1859
harsh.v.thakkar@medstar.net
Adaptive Fitness Program Overview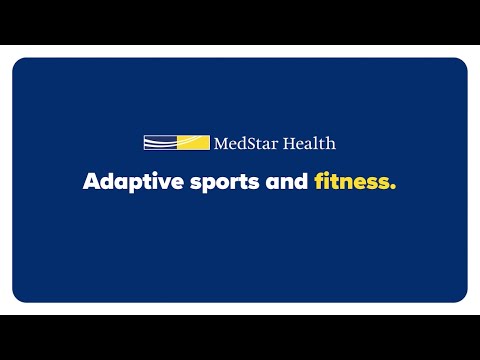 Sample the Movin' and Groovin' Class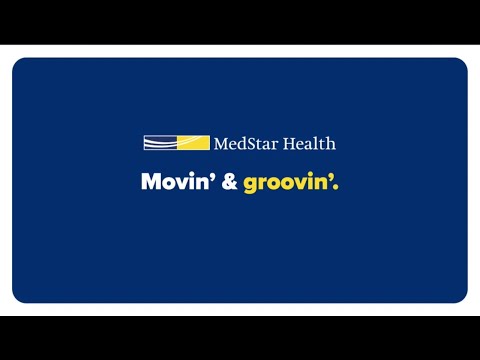 NRH - Spirit Club Virtual Classes
The "No Limits" Fitness program also partners with the Spirit Club, to operate virtual and in-person programming. Spirit Club helps provides services that is safe yet effective to help individuals in the program reach their optimal fitness and wellness goals. Our programs aims to help those with neurological disabilities understand and reach their full potential and expect more from themselves.
Monday 5:30 p.m.
Friday 11 a.m.
Instructions:
Create a Spirit Club account using the following link and information to sign up for the Monday "SIT and HIIT" class or the "Friday Fitness" class. This will allow you to watch the live classes.
Click this link

Go to the bottom of the page and click "Sign up"
Type in your email address, name, and password you would like to use to login
Click the box to agree to the Terms & Conditions, then click "Continue"
Sample SPIRIT - Sit and HIIT Class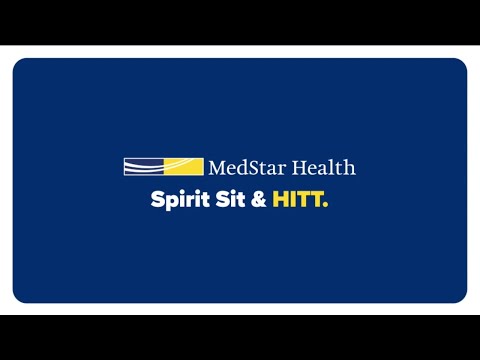 Peer mentor and wellness program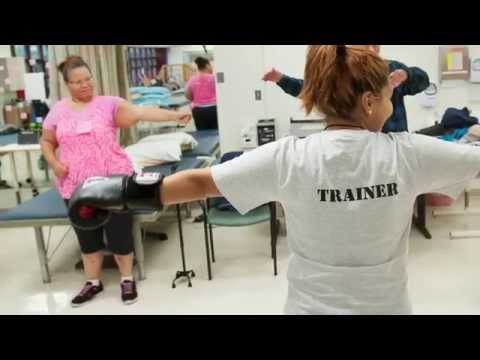 The Gordon and Marilyn Macklin Foundation and Medstar NRH provide peer support and accessible fitness program to help recently disabled patients to lead healthier, happier and more successful lives.