Emergency Medicine |Care and Services | MedStar Health
Welcome to emergency care at MedStar Health
When an emergency happens, MedStar Health is equipped with cutting-edge technology and an experienced staff to treat you or your loved ones.
Exceptional emergency treatment is available for anything from a serious injury or illness to a mild condition that has not responded to home remedies. With expert physicians, physician assistants, nurses, and support staff, we offer comprehensive emergency evaluations and treatments—all within a caring and compassionate environment.
200

Physicians 

110

Physician Assistants
Caring for more than 470,000 patients
Over 100,000 admissions to MedStar each year
Emergency Medicine Research: Defining the Future of Healthcare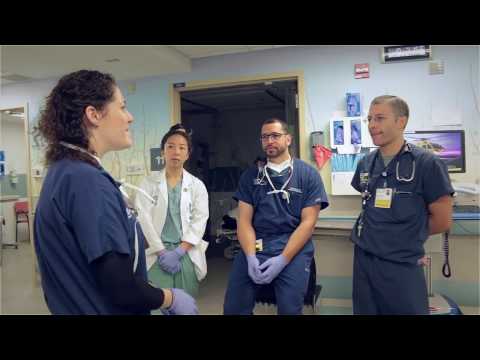 When to visit the emergency room
Visit when you are experiencing a major or life-threatening issue that requires immediate testing and treatment. Examples include the following:
Chest pain
Difficulty breathing
Severe abdominal pain
Major head injury
Heavy bleeding
Severe dizziness or passing out (fainting or loss of consciousness)
Stroke symptoms
Seizures
Other conditions with risk of loss of life or limb
Driving to the emergency room versus calling 911
Do not drive yourself if you are experiencing a major or life-threatening issue, as the risk of an accident is increased
You may accept a ride from a family member, friend, taxi, or ride-sharing service if your life is not in danger and your condition does not require immediate intervention
Call 9-1-1 if your life is in danger or your condition is one in which every minute counts
What to bring with you
When you can gather them safely, we recommend bringing the following to help your visit go smoothly:
A family member or friend: Having someone with you can be comforting, and you may need someone to provide information or instructions on your behalf if you have a serious condition.
Identification cards: Bring your driver's license, social security card, and medical insurance card(s).
List of medications and dosage: This will help us to avoid prescribing drugs that will interact with medication(s) you're already taking.
Primary care physician information: It is helpful for us to be able to contact your primary care physician should questions arise.
Our physicians
Our emergency physicians are experienced and certified in a variety of sub-specialties. All of our physicians are board certified or board eligible, which is the highest standard for professional competency within the industry. Several of MedStar Health's emergency departments also serve as home to academic training programs in emergency medicine, where the next generation of physicians are trained. MedStar Emergency Physicians offer a wide range of practice settings, along with the resources and educational opportunities that you would expect from an elite health system.
MedStar Emergency Physicians has been recognized by the Center of Healthcare Leadership and Management as a 2019-2020 Employer of Excellence.