Wound Care | Washington DC & Maryland | MedStar Health
Jumpstart the healing process with an advanced, team approach that emphasizes wound care and limb loss prevention.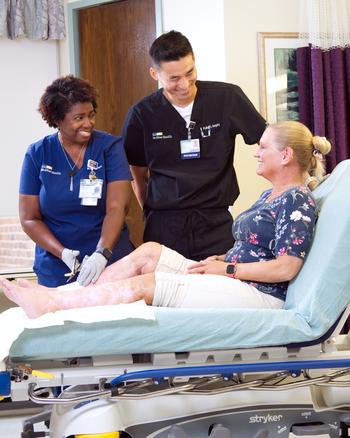 Most wounds heal over time with proper care, but in some cases, the healing process slows down, leading to a chronic or non-healing wound. In addition, factors such as advanced age, poor circulation, diabetes, and other health conditions can interfere with the healing process. Wounds that won't heal can result in pain and limited mobility, which can impair your day-to-day enjoyment of life.
That's why a comprehensive and coordinated effort to manage wounds is so important. When a simple wound or sore becomes a complex medical problem, we take a multidisciplinary approach to address the root cause of your wound and help it heal using the latest technology, therapies, and surgical approaches.
About MedStar Health's Wound Healing Institute
At MedStar Health, our internationally-known wound experts help patients prevent and manage complex wounds caused by diabetes, trauma, and vascular disease. Through our Wound Healing Institute, patients receive the most advanced treatment for non-healing and hard-to-heal wounds that help maximize their physical abilities and quality of life.
When you seek care, you'll benefit from:
Collaborative, multidisciplinary care from one of the largest, most experienced wound care centers in the country, including three state-of-the-art facilities conveniently located close to where you live and work in Maryland and Washington, D.C.

The expertise and research of world-renowned surgeons in plastic, vascular, and podiatric reconstructive procedures who frequently handle the most complex cases.

Advanced treatments that are proven to reduce healing time and improve healing rates, including hyperbaric oxygen therapy (HBOT) and innovative surgical options that prevent limb loss.
Philosophy of care
We believe you are our partner in healing. To us, wound care is much more than just applying a dressing to your sore or ulcer—it's about promoting overall healing by first identifying the medical concerns contributing to your wound. This ensures we can address the root cause, heal you with effective, individualized treatments, and help you prevent new wounds in the future.
Our locations
Maryland
Distance from Change locationEnter your location
9000 Franklin Square Dr. Ste.1CA Baltimore, MD 21237
5601 Loch Raven Blvd. Suite 2 North Baltimore, MD 21239
Washington, D.C.
3800 Reservoir Rd. NW
BLES Bldg.
1st Floor
Washington, D.C., 20007

Types of wounds
We specialize in preventing and treating all types of non-healing and chronic wounds caused by:
Arterial wounds

Cancer treatments (e.g. radiation burns)

Lymphedema

Osteomyelitis (bone infections)

Ostomy

Pressure sores

Steroid dependence

Surgery
Symptoms and risk factors
Certain factors can increase your risk of developing a complex or chronic wound. Diabetes is one of the most common causes of severe foot infections, which is why it's so important to manage the condition and monitor your feet. Other risk factors that can lead to non-healing wounds include:
Poor diet

Circulation problems

Diabetes

Infection

High blood sugar

Smoking

Obesity

Aging

A history of non-healing wounds

A weakened immune system
Signs of slow-healing wounds may vary based on the cause and location. However, be sure to talk to your doctor if you notice any of the following symptoms:
Pain

Redness in the foot

Swelling in the ankle, foot, or leg

Gangrene

Drainage from the foot or leg

Numbness in the foot or leg (Neuropathy)

Visible deformities in the foot or ankle
These wounds can progress quickly, so if you notice something concerning, don't wait. Seek medical care early on, especially if you have diabetes or other risk factors. A specialist can determine if your wound will heal over time through the body's natural healing process or if you need more intense treatment to help heal faster.
When to seek care
You may need care if you have:
Non-healing wounds

Wounds that haven't improved over two weeks

Wounds that have worsened, and you need a new treatment plan

Post-surgical infections

Complex wound care needs

Special catheters

Complicated treatment orders

New Stage III and IV pressure ulcers

Needs for preventative skin measures (e.g., appropriate support surface, moisture management)

Conditions that make wound healing a challenge, including diabetes and heart disease
Screening and prevention
Not all chronic wounds are preventable, but many can be avoided with the following precautions.
Find and establish a relationship with a primary care provider. An internal medicine or family medicine doctor can be a great partner in helping you to manage your health and prevent disease. This is especially true if you have a medical condition, like diabetes or high blood sugar. Because they know your medical history, they can provide individualized education and support to prevent non-healing wounds.

Maintain a healthy diet. You may be able to prevent wound complications by eating a nutritious and well-balanced diet.

Get screened annually if you have diabetes. At the Wound Healing Institute, we recommend screening exams once a year. This allows us to check your blood flow, nerve function, and skin and foot health. By being proactive, we can reduce the chances of a severe infection. Ask your doctor about starting a diabetes education program or request a screening appointment.

Keep your feet healthy. Simple foot care can help to avoid injury to your feet, especially if you have diabetes. Inspect your feet daily, wear sensible shoes at all times, keep your skin moisturized, and trim your toenails regularly.

Follow instructions after surgery. If you've had an operation, your doctors will provide guidelines for caring for your surgical wound at home and preventing an infection after surgery. If you need any wound healing treatments to help your recovery, our team has special training that can help with post-surgical wound healing.

Prevent new wounds. Once you've had a non-healing wound, you are 36 times more likely to develop another one than someone who has never had one. That's why it's essential that you follow any medical instructions related to pressure, elevation, skin care, and wound dressings.

Seek a specialist at the earliest sign of concern. Early intervention is important, so call your doctor as soon as you notice any new or worsening wounds.
Evaluation
We provide comprehensive evaluations for patients who have signs or symptoms, or if those with diabetes or other medical conditions that puts them at risk of developing a chronic condition. Some patients call us directly to schedule an appointment with the Wound Healing Institute closest to them, while others are referred to us by their primary care doctor.
At your first visit, you can expect:
A medical assistant to take your vitals

An experienced nurse to perform your initial intake assessment

A podiatrist, nurse practitioner, or other specialist to conduct a screening or evaluation using advanced tests and answer any questions you may have

Printed instructions for your next steps
Diagnostic tests
Depending on your wound, you may need diagnostic testing to analyze any blood flow or nerve issues. These tests help us identify the primary cause of your wound and may include:
Angiogram (Angiography) - An angiogram is a special X-ray taken as a special dye is injected through a thin, flexible tube called a catheter to detect blockages or aneurysms in blood vessels.

Arterial duplex ultrasound for arms and legs - Arterial duplex ultrasound uses Doppler and traditional ultrasound to assess blood flow in the arteries of your arms and legs.

Pulse volume recording - Pulse volume recording tests evaluate blood flow through the arteries in your arms or legs.
If your care team determines that you would benefit from surgery, we'll help to coordinate the date and time of your procedure. Depending on the location and severity of your wound, your surgery may be performed by the same doctor you met with in our clinic. In other cases, your doctor may work alongside other specialists, including vascular surgeons, podiatric, and/or plastic and reconstructive surgeons, to perform a sophisticated reconstructive procedure.
Treatment
Our specialists have extensive experience with some of the most advanced treatment options available to ensure we address the root cause of your wound and ensure your wound heals completely. Treatment for non-healing wounds depends on the type and severity of the wound and may include some of the following:
Nonsurgical treatment options
Bioengineered skin is a treatment that uses skin substitutes to correct serious wounds. These substitutes closely resemble human skin in structure and function, and they can be used temporarily or permanently.

Debridement is the medical removal of damaged, infected, or dead skin tissue to improve the healing ability of the remaining healthy tissue. At some locations, we also offer ultrasonic wound debridement, which is a gentle approach to chronic wound cleansing.

Durable medical equipment (DME) may involve equipment or special supplies that can help you complete your daily activities. Examples may include wheelchairs, walkers, power scooters, and the following:

Diabetic shoe service is offered to patients with diabetes who have an increased risk of developing foot problems that can range from mild to major, especially if a wound, ulcer, or infection occurs. Diabetic shoes are specialized, prescription footwear custom fit to meet the patient's needs. They are a key preventive care measure to reduce the risk of developing wounds or injuries due to diabetic neuropathy.

When a foot or other extremity is amputated or lost, prosthetic devices can play a central role in rehabilitation. People requiring an artificial limb will consult with a clinical team to determine the most appropriate artificial limb for individual circumstances. An artificial limb can improve mobility and the ability to manage daily activities, making it possible for patients to maintain their independent lifestyles.

Gait evaluation studies and analyzes how you stand, walk, or run. The data generated is used to diagnose and treat diabetic patients who often suffer from poor circulation and loss of feeling in the feet. A gait evaluation is not only used to detect areas of pressure and potential ulceration but also to aid in finding ways to prevent complications and reduce pressure areas in the feet.

Growth factors are substances secreted by the body that stimulate the growth and proliferation of the cells involved in healing wounds. Growth factor therapy increases the number of wound-healing cells, resulting in faster wound healing.

Hyperbaric oxygen therapy (HBOT) is used to treat some chronic, non-healing wounds. Initially utilized to treat decompression sickness in divers, HBOT is now used for a number of medical problems, both chronic and acute. It is a simple yet effective treatment process in which a patient breathes pure oxygen inside a pressurized chamber, allowing the greatest amount of oxygen to make its way into the lungs. Since the healing process is highly dependent on having enough oxygen, exposing the body to high levels of oxygen stimulates its natural healing capabilities.

Negative pressure wound therapy uses negative pressure in a vacuum-assisted closure to remove edema fluid from wounds through suction. This results in increased blood flow to the wound as well as reduced bacteria and chance for infection in the wound.

Physical therapy can provide effective and efficient wound treatment. It's also an important part of recovery following surgery. Our team works closely with MedStar Health's top-rated rehabilitation and physical therapy experts to help patients improve mobility, function, and independence.

Total contact casting treats diabetic foot ulcers by fitting a non-removable cast around the affected leg. The entire cast surface is in contact with the foot and part of the leg. It is typically constructed using fiberglass or plaster and is designed to protect the ulcer and allow for wound healing.
Surgery
We take an aggressive approach to surgery because it leads to better outcomes for our patients, including less chance of the need for leg or foot amputation. Because our surgeons are integrated into the Wound Healing Institute, patients can more quickly get to the right team for the right procedure at the right time. We perform more than 3,300 surgical procedures every year, making us one of the most experienced teams in surgery for non-healing wounds.
The type of surgery you may undergo will vary based on the severity and location of your wound. Some of the surgical procedures we offer include:
Biomechanical corrective surgery includes those procedures that help to offload pressure areas and realign the foot in a position to achieve better function.

Limb salvage surgery includes surgical approaches that preserve as much function and appearance of the limbs as possible. We offer a number of treatment options to improve blood flow and reduce the risk of limb loss.

Microsurgical free flap tissue transfer refers to the movement of tissue from one part of the body to another. This is done using microsurgical techniques. Various types of tissue can be transferred in this way, such as skin, fat, nerve, muscle, and bone. For all free flap surgical procedures, the blood supply is reintroduced using microsurgery to connect the arteries and veins.

Soft tissue reconstruction rebuilds the missing tissue and restores the body's appearance if loss of body contour results after a traumatic injury. Patients suffering from this issue often endure both physical and psychological effects of tissue loss and abnormal body contour. The hope is to reduce the physical and psychological impact and improve quality of life.

Skin grafting is a type of surgery that places skin substitutes over a burn or non-healing wound to permanently replace damaged or missing skin or provide a temporary wound covering. A skin graft not only improves the function and appearance of the wound, but also stimulates healing by triggering skin cell growth in the wound site.
In-home care prescriptions
Our doctors may prescribe in-home care for some patients who need additional specialized care. At MedStar Health, we have a group of nurses who are certified specifically to treat complex wounds. Our nurses use evidence-based treatment protocols from the Wound, Ostomy and Continence Nurses Society and the National Alliance of Wound Care to help patients achieve the best possible treatment outcomes.
As part of our multidisciplinary clinical team, MedStar Health Home Care nurses closely monitor wounds through special imaging software, while providing patient education and treatment regimens to ensure that wounds heal. Our individualized approach to treating patients' wounds reduces complications, promotes healing, decreases the chance for infection, and keeps patients healing safely at home. Services may include:
Wound management, including dressing changes

Pain management

Wound imaging, analysis, and expert consultation

Future wound prevention

Healing time optimization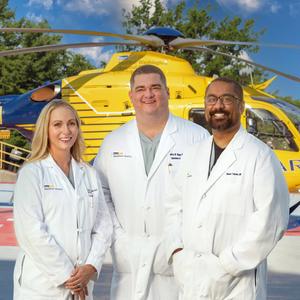 Expert wound care
Getting the care you need starts with seeing one of our wound care specialists.

Frequently asked questions
Do I need a referral for wound care services?

You may be referred to the Wound Healing Institute by your primary care provider, vascular surgeon, oncologist, or another specialist. Your primary physician will continue to manage your main health condition, such as diabetes or heart disease, and a wound specialist will manage your care. If you're exploring options for insurance coverage, you may need to request a referral from your primary care doctor, depending on your health insurance plan. Check with your carrier to see if medical coverage is an option for you and, if so, whether a referral is required.

What are some reasons why some wounds won't heal?

Wounds need oxygen to heal properly, which is why circulation is so important. Blood delivers oxygen and nutrients and removes bacteria and toxins from the wounded area. Conditions that affect circulation (diabetes, peripheral vascular disease, high blood pressure) or reduce the body's oxygen levels (anemia or chronic lung conditions) can impair healing. Poor nutrition, stress, and smoking can also slow down the body's healing process.

When should I see a doctor for a wound that won't heal?

You should see a noticeable improvement of a wound and progression in healing over time. If you have a wound that has not started to heal within three to four weeks, you should see your primary care doctor or a wound specialist. It's important to seek care right away if the wound is deep or you notice possible signs of infection, such as redness, swelling, or foul-smelling drainage. For those who have diabetes, it's important to have your doctor check your feet regularly and receive treatment for any wounds quickly before it becomes a larger problem.

How often will I need to be seen for my care?

At your initial appointment, your doctor will form a plan of care with you. You'll most likely return to see a physician on a regular basis until your wound is healed.

What are the phases of wound healing?

The body's natural repair process involves four stages essential to wound healing.
Phase 1: Blood clotting allows the body to make a clot to stop the wound from bleeding and form a scab over the area.
Phase 2: Inflammation happens when damaged and dead cells are cleared out of the area.
Phase 3: New tissue growth is a critical phase where the wound contracts (decreases in size) and epithelial cells cover the wound with new tissue.
Phase 4: Scar formation happens when collagen takes shape and the wound fully closes.

How long does it take for chronic wounds to heal?

The length of time for healing depends on the severity of the wound and complicating factors, such as age, diabetes, cancer, and other conditions. With treatment, most people will move through phases of wound healing within three months. However, some chronic wounds can take longer to heal.

What can I do to help my wound heal faster?

Getting medical treatment for your wound is key to recovery, as well as treating any underlying health issues affecting the healing process. If you have diabetes, it's important to keep your blood sugar under control. You should also follow a healthy diet to ensure your body is getting the nutrition it needs to promote proper wound healing.
Experience matters when it comes to wound care.
30,000+

patient visits each year

3,000+

surgeries on average annually

36

plastic and podiatric surgery residents trained every year

50+

wound-related publications per year
Your individualized treatment involves collaboration from experts in different specialties under one roof. Wound healing is complex and often involves many disciplines. Your care team draws upon the expertise of doctors with advanced training and experience in different fields, including:
Vascular surgeons
Plastic surgeons
Podiatric foot and ankle surgeons
Rheumatologists
Infectious disease specialists
Hyperbaric medicine physicians
Physical medicine and rehabilitation specialists
We work closely together to care for even the most complex cases, ensuring we address the root cause of your wound so we can prevent it in the future.
We are one of the most experienced surgically-based teams in the region. Collectively, our experts are honored to care for more than 30,000 patients annually throughout the Maryland and Washington, D.C. region. And, unlike other clinics that may need to refer you somewhere else for surgical care, our team approach gives you access to a full spectrum of wound healing services in the same place. In addition, our surgeons perform more than 3,000 procedures every year. Research proves that outcomes are better at more experienced clinics like ours, so you can expect the best possible result from one of the best teams in the world.
Our surgeons are international leaders in advanced procedures that save limbs and maximize your quality of life. We are an academic group of wound specialists, and many of our doctors present and publish research around the globe. Because we are leaders focused exclusively on finding new, effective wound treatment options, including limb salvage surgery, you can expect to receive the most up-to-date treatments that promote healing and get you back to the activities and hobbies you love.
Contact us
To learn more or schedule an appointment, call 888-83-WOUND.
Patient resources
Blog and news articles
Patient education downloads
Podcasts
Videos