Wound Care & at Home Wound Care | MedStar Health
Being healthy and active is one of life's great pleasures. For people who have wounds that won't heal because of diabetes or other health conditions, pain, fear, and reduced mobility can really damage our day-to-day sense of enjoyment. Effective treatments, however, can help heal wounds. At MedStar Health, we offer our patients the latest healing techniques, state-of-the-art facilities, and a specialized staff with experience in wound care.
We offer the most advanced treatment for nonhealing and hard-to-heal wounds, including hyperbaric oxygen therapy, which uses the power of oxygen to heal your wounds as you rest in a specialized treatment chamber. Our experts at the MedStar Health Wound Healing Institute offer a full range of wound care options—at MedStar Georgetown University Hospital, MedStar Franklin Square Medical Center, and MedStar Good Samaritan Hospital, so you won't have to travel far for the special care you need.
We specialize in treating non-healing wounds caused by the following conditions:
Burns

Diabetes

Osteomyelitis

Ostomy care and support

Pressure sores

Renal disease

Soft tissue radiation injury

Steroid dependence

Trauma

Venous stasis

Wounds of arterial, venous, or lymphatic origin
Please see the financial disclosure forms for the wound care locations linked below:
Treatment
Our wound care specialists have extensive experience with some of the most advanced treatment options available for healing wounds. The method of treatment depends on the type and severity of the wound and may include some of the following.
Bioengineered skin is a treatment that uses skin substitutes to correct serious wounds. These substitutes closely resemble human skin in structure and function, and they can be used temporarily or permanently.

Debridement is the medical removal of damaged, infected, or dead tissue in order to improve the healing ability of the remaining healthy tissue.

Diabetic shoe service is offered to patients with diabetes, who have an increased risk of developing foot problems that can range from mild to major, especially if a wound, ulcer, or infection occurs. Diabetic shoes are specialized, prescription footwear custom fit to meet the patient's needs. They are a key preventive care measure to reduce the risk of developing wounds or injuries as a result of diabetic neuropathy.

Gait evaluation studies and analyzes how you stand, walk, or run. The data generated is used to diagnose and treat the conditions of diabetic patients who often suffer from poor circulation and loss of feeling in the feet. A gait evaluation is not only used to detect areas of pressure and potential ulceration, but also to aid in finding ways to prevent complications and reduce pressure areas in the feet.

Growth factors are substances secreted by the body that stimulate the growth and proliferation of the cells involved in healing wounds. The use of growth factor therapy increases the number of wound-healing cells, resulting in faster wound healing.

Hyperbaric oxygen therapy (HBOT) is used to treat some chronic, non-healing wounds. Initially utilized to treat decompression sickness in divers, HBOT is now used for a number of medical problems, both chronic and acute. It is a simple yet effective treatment process in which a patient breathes pure oxygen inside a pressurized chamber, allowing the greatest amount of oxygen to make its way into the lungs. Since the healing process is highly dependent on having enough oxygen, exposing the body to high levels of oxygen stimulates its natural healing capabilities.

Microsurgical free flap tissue transfer refers to the movement of tissue from one part of the body to another. This is done using microsurgical techniques. Various types of tissue can be transferred in this way, such as skin, fat, nerve, muscle, and bone. For all free flap surgical procedures, the blood supply is reintroduced using microsurgery to connect the arteries and veins.

When an arm or other extremity is amputated or lost, prosthetic devices can play a central role in rehabilitation. People requiring an artificial limb will consult with a clinical team to determine the most appropriate artificial limb for individual circumstances. An artificial limb can improve mobility and the ability to manage daily activities making it possible for patients to maintain their independent lifestyles.

Loss of body contour can occur in patients as a result of traumatic injury. Patients suffering from this issue often endure both physical and psychological effects of tissue loss and abnormal body contour. The aim of soft tissue reconstruction is to rebuild the missing tissue and provide a contour and appearance that is acceptable to the patient. The hope is to reduce the physical and psychological impact, thus improving quality of life.

Skin grafting is a type of surgery that places skin substitutes over a burn or non-healing wound to permanently replace damaged or missing skin or provide a temporary wound covering. A skin graft not only improves the function and appearance of the wound, but also stimulates healing by triggering skin cell growth in the wound site.

Total contact casting treats diabetic foot ulcers by fitting a non-removable cast around the affected leg. The entire cast surface is in contact with the foot and part of the leg. It is typically constructed using fiberglass or plaster and is designed to protect the ulcer and allow for wound healing.

Negative pressure wound therapy uses negative pressure in a vacuum-assisted closure to remove edema fluid from wounds through suction. This results in increased blood flow to the wound as well as reduced bacteria and chance for infection in the wound.

Biomechanical corrective surgery includes those procedures that help to offload pressure areas and realign the foot in a position to achieve better function.
Wound care at home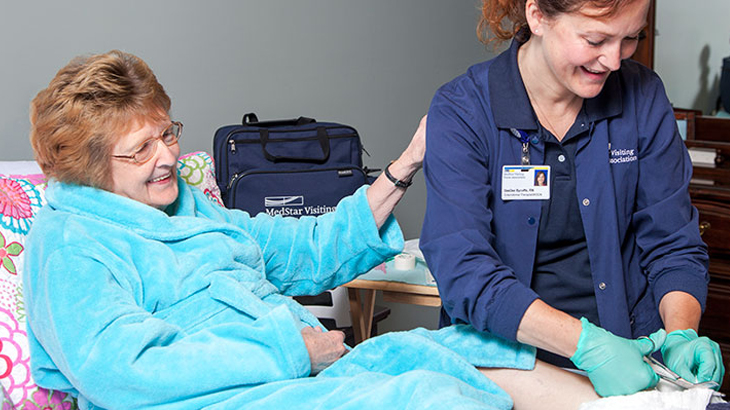 MedStar Health recognizes that many of our patients need specialized care. That's why we have a group of nurses who are certified specifically to treat complex wounds. Our wound care nurses use evidence-based treatment protocols from the Wound, Ostomy and Continence Nurses Society and the National Alliance of Wound Care to help patients achieve the best possible treatment outcomes.
As part of our multi-disciplinary clinical team, MedStar Health Home Care wound care nurses closely monitor wounds through special imaging software, while providing patient education and treatment regimens to ensure that wounds heal. Our individualized approach to treating patients' wounds reduces complications, promotes healing, decreases the chance for infection, and keeps patients healing safely at home.
In-home wound care services
Assessment, evaluation, and identification of patients who are at risk or need treatment for:

Pressure ulcers

Surgical wounds

Blood circulation challenges (e.g., diabetic, venous, and arterial)

Burns

Trauma

Expert consultation by certified wound, ostomy, and continence care RNs

Specialized wound care treatment plans

Wound care management, including dressing changes

Pain management

Wound imaging, analysis, and expert consultation through the Parable Health photography application

Future wound prevention

Healing time optimization
Wound care education
MedStar Health nurses and therapists offer education in the home to help patients and their caregivers take care of wounds and change dressings.
You may need wound care if you have:
Non-healing wounds

Wounds that haven't improved over two weeks

Wounds that have worsened, and you need a new treatment plan

Complex wound care needs

Special catheters

Complicated treatment orders

New Stage III and IV pressure ulcers

Needs for preventative skin measures (e.g., appropriate support surface, moisture management)

Conditions that make wound care a challenge, including diabetes and heart disease
Learn about wound care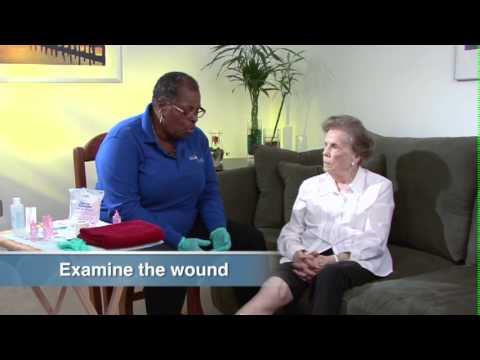 Expert wound care
Getting the care you need starts with seeing one of our wound care specialists.