Cancer and Oncology Care | MedStar Health
World class cancer care, close to you
If you or a loved one is diagnosed with cancer, the only thing that matters is getting the latest treatment options and medical expertise by renowned cancer specialists to conquer your cancer. At MedStar Health, we take a patient- and family-centered approach to cancer, prioritizing your needs, preferences, and goals from your initial diagnosis through survivorship.
Every step of the way, you'll be supported, guided, and empowered by our experienced cancer doctors, surgeons, nurses, researchers, and staff. Together, we work as a team alongside you, offering access to cutting-edge, evidence-based treatment options⁠—including clinical trials that may be hard to find elsewhere. In addition, we personalize your care, providing a full spectrum of cancer services, including screening, prevention, diagnosis, treatment, rehabilitation, social and emotional support, and survivorship programs as well as access to the latest breakthroughs in cancer care.
This commitment to exceptional patient care and innovative research is recognized through our hospitals' Accreditation with Commendation, the highest level of approval, from the American College of Surgeons' Commission on Cancer (CoC). And, it's also evident in our partnership with one of few elite comprehensive cancer centers designated by the National Cancer Institute (NCI), Georgetown Lombardi Comprehensive Cancer Center. The prestigious NCI designation recognizes our commitment to providing expert treatment for every type of cancer. This collaboration ensures you have convenient access to the latest cancer treatments and the most experienced doctors wherever you live in Washington, D.C., and Maryland.
Why choose MedStar Health?
Our cancer specialists have unmatched expertise in treating your cancer.
We recognize that every patient is unique, and so is their cancer. Our doctors have board certification and additional training in subspecialties, which means they have advanced education and experience exclusively diagnosing and treating specific cancers, like breast cancer. Because they specialize in cancer affecting specific parts of the body, they see a high number of patients. And studies show that high-volume experience translates to better outcomes for you.
In addition, your cancer doctors aren't just reading about the latest research studies, they're leading, designing, and writing them with the goal of eliminating your cancer. Our specialists are working relentlessly to advance cancer care⁠—for you.
A multidisciplinary team approach leads to extraordinary patient care.
We approach cancer care like a team sport; the best possible care for you hinges on the collaboration of doctors with highly-specialized training and experience in different fields. This "multidisciplinary approach" ensures we can offer all of the latest treatment options, in the right combination and order to effectively target your cancer while protecting your quality of life. We do this by meeting regularly in tumor boards for each cancer type, where your entire team sits down to review your options and plan your care together from the start.
At MedStar Health, your cancer-fighting team includes doctors in surgical, medical, and radiation oncology, as well as experts in pathology, radiology, genetic counseling, rehabilitation, and other specialties. Your care may also involve oncology-certified nurses, highly-trained advanced clinicians, and supportive care staff who play an essential role in your cancer treatment. We prioritize compassion, respect, and empathy through every interaction because that's the kind of care we'd want for our family members.
Research-inspired care leads to tomorrow's cancer treatments, today.
Our research engine is the Georgetown Lombardi Comprehensive Cancer Center—the Washington, D.C., region's only comprehensive cancer center designated by the National Cancer Institute. We first received this designation in 1974 and are proud to remain among the few cancer programs in the United States with this prestigious distinction.
When you have cancer, you want the best doctors and the advanced treatment options available. Through our partnership with Georgetown Lombardi Comprehensive Cancer Center, you have access to groundbreaking clinical trials and the latest breakthroughs in cancer care, wherever you see us in the region. By participating in a clinical trial, you can receive promising treatments before they become the new standard of care.
Hear from director and medical oncologist Louis M. Weiner, MD, as he explains how clinical trials help us develop new and innovative ways to treat cancer.
Clinical trials: Offering tomorrow's cancer treatments today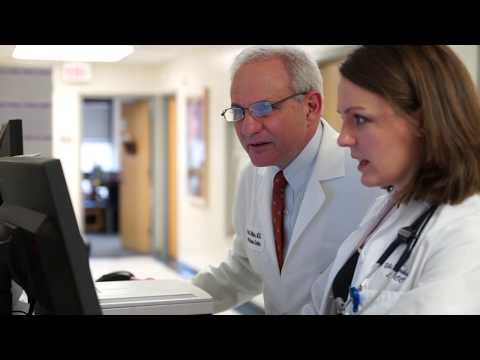 It's easy and convenient to get the high-quality cancer care you need, whether you live in Maryland, Washington, D.C., or Virginia.
With several locations in the area, you can access advanced care backed by an academic medical center and NCI-designated comprehensive cancer center right in your community. Because cancer care often involves several different appointments, having your doctor close to where you live and work is essential.
We're also honored to care for patients traveling from around the country and internationally. Many appointments can be conducted virtually, which allows you to access our world class care from the comfort of your home. If you're looking for a second opinion on a recent cancer diagnosis, we're here for you, too, even if you live far away.
Types of cancer
At MedStar Health, we're honored to care for men, women, and children with nearly all types of cancer, including those that are rare. Explore the links below to learn more about how we diagnose and treat each type of cancer, meet doctors focused exclusively on your cancer, and access patient education to help you make the best decisions for your care.
Screening and prevention
At MedStar Health, we're experts in diagnosing and treating both common and complex cancers of all types. But we also believe the best way to beat cancer is to prevent it in the first place. That's why our experts are dedicated to helping you proactively manage you and your loved ones' cancer risk through screening programs and counseling that enable us to detect early when it's most easily treatable.
Genetic counseling
Our board-certified genetic counselors and doctors help patients and families understand their hereditary risks of developing cancers. Whether or not you pursue genetic testing, our compassionate team will provide individualized recommendations for minimizing your cancer risk.
Screening services
We can detect many common types of cancer early through regular screenings. Getting a cancer screening can increase your chances of catching something when it's more easily treated. In some cases, our doctors may use cancer prediction models to identify your risk, which may affect how often you should get screened. Screening tests and frequency varies depending on your age, gender, health, and risk factors.
View Our Cancer Screening Guide
High-risk programs
Some patients are more likely to develop certain cancers than others based on their lifestyle, genetic makeup, and overall health. At MedStar Health, we offer several specialized cancer prevention programs for patients with a higher cancer risk or risk of cancer recurrence. Through these programs, patients receive individualized education and recommendations that empower them to take control of their health.
Diagnosis
Getting an accurate diagnosis is essential to receiving the best possible treatment the first time. That's why a cancer diagnosis at MedStar Health involves:
Experienced diagnostic radiologists with sub-specialized training in using advanced imaging to diagnose cancer in certain body parts
Sub-specialized pathologists who focus exclusively on analyzing specific cancers under a microscope
Consultations with several different cancer experts in different fields working together under the same roof
Advanced equipment that allows us to diagnose cancer with less invasive approaches without compromising the accuracy of your results
Innovative technology, like genetic sequencing, that helps pinpoint specific gene abnormalities and predict your cancer's response to targeted cancer-fighting therapies
Prompt second opinion appointments that can provide peace of mind that you're getting the best possible care or open up promising treatment options that aren't available elsewhere


Treatment
There is no one-size-fits-all cancer treatment, which is why you need access to a full range to all of the gold standard options—plus breakthrough techniques that offer new hope. All of your treatment options are carefully weighed by an experienced team of surgical, medical, and radiation oncologists alongside other experts and personalized to your cancer, goals, and preferences. We provide targeted treatment options that help achieve better outcomes with fewer side effects using minimally invasive approaches. Learn about some of the cancer treatments at MedStar Health below.
Looking for expert cancer care?
With multiple locations throughout the region, patients have access to many of the nation's renowned cancer specialists offering high quality care, second opinions and a chance for better outcomes close to where they live and work. Georgetown Lombardi Comprehensive Cancer Center, one of the nation's comprehensive cancer centers designated by the National Cancer Institute (NCI), serves as the research engine allowing patients access to clinical trials that often lead to breakthroughs in cancer care.
Support services
Cancer is a disease that can affect every aspect of your life. We offer comprehensive services to support you emotionally, physically, financially, and spiritually so you can focus on getting back to your life. We're here for you and your loved ones, however you need us during and after treatment. Learn more about our patient and family support programs below.
Image services

Financial assistance

Integrative therapy

Psychosocial and pastoral counseling

Support groups
Research and clinical trials
Research
Georgetown Lombardi Comprehensive Cancer, one of the nation's few comprehensive cancer centers designated by the National Cancer Institute (NCI), serves as our research engine. This allows our cancer specialists and scientists to work tirelessly together to uncover better, safer ways to diagnose, treat, and prevent cancer.
Clinical trials
Through the innovative therapies offered through Georgetown Lombardi Comprehensive Cancer Center, patients can experience tomorrow's standard of care, today. This allows our patients to access advanced cancer treatments that may be hard to find elsewhere and provides a way for patients to make an important contribution to the future of cancer care.
Clinical resources
Educational programs
Our doctors and scientists are educating and training future cancer leaders through specialized programs at both academic and community-based hospitals.
Referrals
We welcome referrals and work hard to match your patient with the right doctor who has specialized expertise in their cancer type. To refer a patient, you can find and contact one of our cancer specialists directly, or submit an appointment request online.