Anal Cancer | Causes, Symptoms, & Treatment | MedStar Health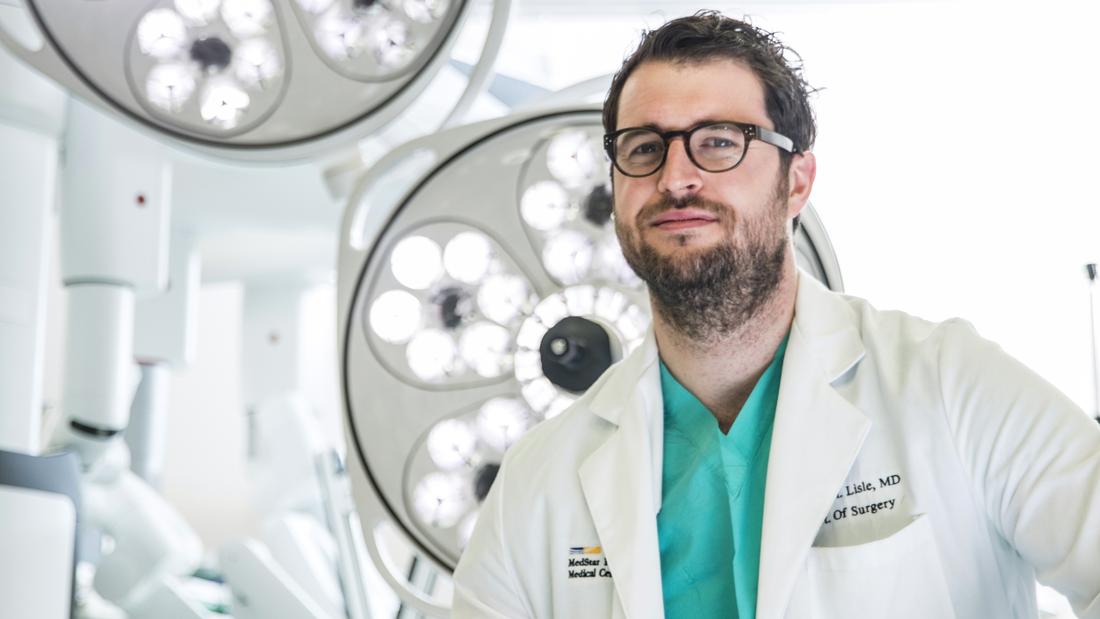 Compassionate and expert care from a national leader in treating GI cancers
If you have anal cancer, you'll benefit from our multidisciplinary approach to care, which involves world-class doctors who are experts in oncology, surgery, radiation, sexual health, nutrition, and more. This collaborative approach allows us to consider all of your options, as well as your preferences, lifestyles, and goals. Together, we'll develop a treatment plan personalized to you. And because we're part of The Ruesch Center for the Cure of Gastrointestinal Cancers, located within the region's only comprehensive cancer center designated by the National Cancer Institute, you can rest assured that you're receiving the latest, most advanced care available anywhere.
Anal cancer is a rare form of cancer that begins in the anus, the last part of the gastrointestinal tract. Sometimes it's confused with rectal cancer because of its location, but these cancers are diagnosed and treated very differently.
Symptoms, causes, and risk factors
Bleeding or itching may be signs of anal cancer.
Some people with this type of cancer never experience symptoms. For others, bleeding is the first sign and often mistaken for hemorrhoids or other conditions. If you see or feel something abnormal, it's important to talk to a doctor who can determine what's causing your problems.
Other symptoms may include:
Pain or itching in and around the anus
Discharge from the anus
A lump near the opening of the anus
If you have human papillomavirus (HPV), you have an increased risk of developing this cancer.
The human papillomavirus (HPV) infection is the most common sexually transmitted disease in the country. It's also frequently associated with this form of cancer, as more than 90 percent of cases are caused by certain strains of the virus. Other risk factors, or things that elevate your risk of developing cancer, include:
Having multiple sexual partners
Participating in anal sex
Smoking
HIV (human immunodeficiency virus)
Gender and age (women over the age of 50 have the highest risk)
Having a history of cervical, penile, vaginal, or vulvar cancer
Recurrent anal warts, redness, and swelling
Screening and prevention
People with a high risk of anal cancer may benefit from routine anal cytology tests.
Because it's not a common type of cancer, there are no widespread screening recommendations to detect anal cancer early. However, if you know you have a high risk of this cancer because of a history of related cancers or another condition, you should talk to your doctor. They may recommend a screening test called anal cytology. It's similar to a Pap smear and involves swabbing the anal lining. After the anal Pap, your doctor may perform a digital rectal exam (DRE).
Because it's unclear if this test actually reduces the risk of cancer, you should take other steps to lower your chances of the disease by:
Getting the HPV vaccine
Stopping smoking
Using a condom during sex
Diagnosis
If you have signs, your doctor may refer you to a specialist in gastroenterology for further examination.
Most patients with this form of cancer seek diagnostic testing after experiencing symptoms. Your primary care provider may send you to a gastroenterologist, a doctor specializing in diagnosing and treating organs in the GI tract. They may perform several tests and procedures to determine whether or not you have cancer. These diagnostic exams may include:
Medical history: Your doctor will ask you questions about your symptoms, risk factors, and past health conditions
Physical exam, including a digital rectal exam (DRE): Your provider will check for any lumps or abnormalities by inserting a lubricated, gloved finger into the anus. They'll also check for any signs of other diseases elsewhere in the body.
Anoscopy: During this procedure, your doctor will examine the anus for signs of abnormal tissue using an anoscope. An anoscope is a lighted, hollow tube about one inch in diameter and less than four inches long.

Proctoscopy (rigid sigmoidoscopy): This exam allows your doctor to view the inside of the anus and rectum using a hollow tube (protoscope), which is slightly longer than an anoscope. Like a colonoscopy, you'll need to empty your bowels before this procedure.

Biopsy: During a biopsy, your doctor will remove small tissue samples which will then be evaluated by a pathologist. The pathologist will examine the tissue cells under a microscope and perform other tests to accurately diagnose your cancer.
An accurate diagnosis is critical, and it takes an experienced doctor to recognize it. At MedStar Health, our GI and radiology experts are specially trained to spot and diagnose this type of cancer, and we make it easy for you to get the testing you need at convenient locations throughout Washington, D.C., and Maryland.
Anal cancer stages
Like other cancers, anal cancer is staged on a scale from zero to four. Zero is the least invasive type and easiest to treat. Stage four is metastatic cancer, which means it has spread to other critical organs in the body.
Types of cancer
There are several types of anal cancer based on the type of cells where the cancer began in the anus:
Squamous cell carcinoma: Most people have this type of cancer. These cancers develop in the squamous cells lining the anus.

Adenocarcinoma: These cancer cells originate in the upper part of the anus, close to the rectum. Therefore it's treated similarly to rectal cancer.

Basal cell carcinoma: This type develops in the skin surrounding the anus, called the perianal skin. As a result, it's often treated like skin cancer.

Melanoma: Although the rarest type, these begin in the cells responsible for making the skin pigment called melanin.
Treatments
We'll work as a team to deliver treatment designed to meet your specific needs.
When it comes to treating this cancer, there are several options. At MedStar Health, each patient's treatment is discussed in a multidisciplinary tumor board. This allows several experts to weigh in on the best approach for you based on the stage of your cancer and other factors. From state-of-the-art surgical techniques to cutting-edge therapies, you can expect to receive some of the most advanced treatment options around, all tailored to you.
Surgery
Often chemotherapy and/or radiation is the first line of treatment. However, if your care team decides that you need surgery, two different types of surgery may be used. Your surgeon will make a decision based on the type of your tumor, its size, and its location.
Local resection involves removing a small tumor and some healthy tissue surrounding it to make sure no cancer remains. Most patients can have normal bowel movements after this procedure.
Abdominoperineal (APR) resection is a major operation that removes the anus, rectum, and part of the colon through an abdominal incision. If cancer has traveled to lymph nodes, a surgeon may also remove them at the same time. Patients who undergo this procedure will need a colostomy to collect stool through an opening in the abdomen.
After surgery, we'll continue to monitor your progress and work to minimize any side effects so you can return to the highest quality of life. Our surgeons are fellowship-trained and board-certified in colorectal surgery, making them highly-skilled in performing these procedures. We're also leaders in minimally invasive surgery, which may lead to faster recoveries and fewer complications. Your doctor will determine the right approach that will give you the most successful result.
Learn More About Colorectal Surgery
Chemotherapy
Chemotherapy uses drugs delivered orally or via an IV (intravenous line) to attack cancer cells. Your care team will include a medical oncologist who specializes in using this type of therapy for treatment. There are different scenarios where chemotherapy may be recommended, including:
As the first treatment in combination with radiation therapy (called chemoradiation)
After surgery in combination with radiation therapy
When cancer has spread throughout the body (metastatic anal cancer)
We also participate in clinical trials, which offers patients access to promising new drugs that may improve their cancer treatment or quality of life.
Immunotherapy and targeted therapy
Immunotherapy uses drugs to help your body's immune system destroy cancer cells. Some patients with advanced stages of this cancer may benefit from this type of therapy. Newer drugs continue to be evaluated in clinical trials alone or in combination with chemotherapy.
Learn More About Immunotherapy
Radiation therapy
Radiation therapy is a common anal cancer treatment. It uses high-energy beams and particles to destroy cancer cells. Depending on your cancer, it may be used alone or in combination with another type of treatment, like surgery or chemotherapy. If it's part of your treatment plan, it may be delivered using one of the following types:
External-beam radiation therapy: This form of radiation is delivered from outside of the body. We use several advanced technologies to administer it, including:

Intensity-modulated radiation therapy (IMRT), which shapes the tumor to the exact dimensions of your tumor
Proton beam therapy, which targets the tumor layer-by-layer with unmatched precisions and less damage to healthy tissue than other forms of radiation. We were the first in the world to offer this type of radiation using HYPERSCANTM technology.
We use the most advanced radiation techniques available to minimize side effects. Our doctors will help you weigh the benefits against the risks, and we're also here to help you manage any impacts of treatment on your daily life. Because we work together with other specialists across MedStar Health, we can also connect you to other experts in sexual health and fertility to help you deal with the impact of treatment.
Looking for expert care?
With multiple locations throughout the region, patients have access to many of the nation's renowned cancer specialists offering high quality care, second opinions and a chance for better outcomes close to where they live and work. Georgetown Lombardi Comprehensive Cancer Center, one of the nation's comprehensive cancer centers designated by the National Cancer Institute (NCI), serves as the research engine allowing patients access to clinical trials that often lead to breakthroughs in cancer care.
Why choose us
Your cancer team includes world-class doctors with expertise in different areas. Research proves that multidisciplinary care leads to more positive outcomes and experiences. We work as a team to map out your treatment in weekly tumor boards, resulting in integrated, more coordinated care. These meetings involve recommendations from specialists in:
We're experts in using advanced therapies and state-of-the-art surgical techniques to help you achieve your best outcome. From medical and radiation oncology to surgery, our doctors help to set the bar for the standard of care—and raise it with new, innovative treatments. Our top priority is finding the right options that will be most successful in treating you and helping you get back to a high-quality life.
We're part of the only comprehensive cancer center in the region designated by the National Cancer Institute. Our partnership with Georgetown Lombardi Comprehensive Cancer Center highlights our commitment to finding better, safer ways to treat and cure cancer. As a patient, you gain access to the best in medical expertise, the latest therapies, and innovative research wherever you see us across the MedStar Health service area.
Clinical trials and research
Clinical trials
Clinical trials are important for understanding the safety and effectiveness of new treatments. We regularly participate in clinical trials that treat anal cancer at various stages with new therapies or therapy combinations. When appropriate, your care team may recommend a clinical trial if they think it may enhance your treatment.
Research
The Georgetown Lombardi Comprehensive Cancer Center is our research engine and the only of its kind in Washington, D.C., designated by the National Cancer Institute. There, we have a dedicated center pioneering advances in the research, treatments, and advocacy for GI cancers. Because we're involved in research for anal cancer, we can apply our findings directly to patient care.
Support services
Whether you were recently diagnosed or you're finishing treatments, we offer comprehensive programs designed to support you in your journey. Through medical, financial, spiritual, and emotional resources, we'll provide you and your loved ones with the information and guidance you need to navigate any challenge that arises.
Learn More About Cancer Support Services
Genetic counseling
If you have cancer or a cancer-related gene alteration, genetic counseling can help you manage your risk for other cancers. Our board-certified counselors can evaluate you and your family's health history and determine if and when you would benefit from testing.
Learn More About Genetic Counseling
Personalized rehabilitation
Cancer and treatment can affect your body, mind, and soul. This can make it harder to return home and back to normalcy after treatment. Our rehabilitation team will work together to help you achieve your goals as you return to an active life and role in your community.
Learn More About Cancer Rehabilitation
Survivorship
The transition to life after cancer can be challenging. We're here to help with support and education on follow-up care, coping with stress and anxiety, addressing late effects, and more.