Cancer Survivorship Program |MedStar Health
Comprehensive care for your unique needs
Are you nearing the end of your cancer treatment? Do you have a cancer survivor care plan?
After cancer treatment, many cancer survivors have unique short-and long-term health needs that require follow-up care. We help you prepare for a healthy future with a comprehensive, personalized survivorship care plan. Our team of specialists understands your health concerns and is ready to help you live well.
The goal of the cancer survivorship program is to provide complete care for the whole person after treatment ends. We focus on screening and education for possible side effects and conditions following your treatment. Common symptoms and conditions that can develop weeks, months, or years following cancer treatment include:
Feeling tired
Fertility issues
Heart issues
High blood sugar
Low mood
Memory trouble
Scarred lung tissue
Sexual health issues
Skin cancer
Worry
Who is eligible for a cancer survivorship care plan?
Any adult or pediatric cancer survivor who has completed active treatment at any location. This includes patients who self-refer or are referred by their oncology or primary care team.
How does the Cancer Survivorship Program work?
During an initial consultation with our team your current symptoms and risk for developing treatment-related health conditions will be assessed. From this initial assessment a detailed, personalized health evaluation specific to your cancer treatment is shared with you and your primary healthcare team. Your cancer survivorship plan will highlight preventive health screenings and other healthcare strategies specific to your own health status and risks. Our team will coordinate your care as you transition from your oncology team to your primary care team.
Specialists who are knowledgeable about post-cancer care are part of our referral network and include:
Fertility specialists
Genetic counselors
Heart specialists
Mental health experts
Rehabilitation doctors
Tobacco treatment experts
Wellness doctors
Why choose our Cancer Survivorship Program?
Our cancer survivorship program is supported by Georgetown Lombardi Comprehensive Cancer Center, the only National Cancer Institute-designed comprehensive cancer center in Washington, D.C. Our program offers cancer survivors access to compassionate and coordinated post-cancer health care planning informed by our expertise in cancer treatment-related issues.
Meet Bhumika Gandhi, MD - an expert in cancer survivor care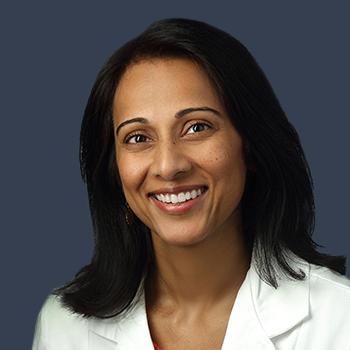 Dr. Bhumika Gandhi is the medical director of the cancer survivorship program. As both an internal medicine physician and a pediatrician, Dr. Gandhi is uniquely qualified to manage care for children and adult cancer survivors who have completed active cancer treatment and may need support for their future healthcare needs.