Cancer Rehabilitation | MedStar Health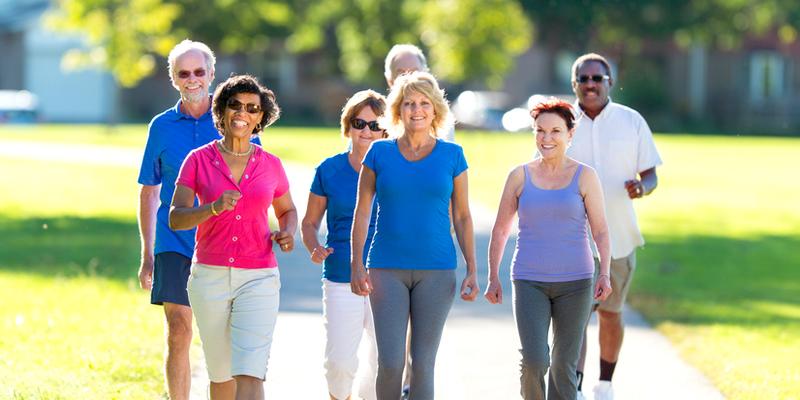 At MedStar Health, our Cancer Rehabilitation program helps cancer survivors reclaim their quality of life at any stage of their journey, from diagnosis and treatment through recovery.
Thanks to advances in research and technology, many cancer survivors are living longer, healthier lives than ever before. However, it's still common for many people to experience side effects following surgery, chemotherapy, radiation, or other cancer treatments, including:
Fatigue
Memory issues
Issues with range of motion
Tightening of skin from radiation
Swelling or edema in limbs
Sleep problems
Joint pain, numbness, or tingling
Weakness
Problems with balance
Swallowing issues
Our cancer rehabilitation team has specialty training in dealing with these unique challenges related to cancer and treatment. We take a personalized approach to understanding and addressing your needs and goals so you can get back to a thriving life. With dozens of outpatient facilities throughout Northern Virginia, Maryland, and Washington, D.C., we make it easy to get the rehabilitation care you need as you heal.
Watch the video below to learn more.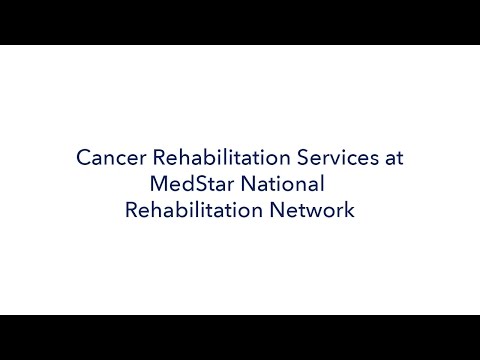 Program highlights
A team approach to improving your quality of life
Here, our rehabilitation professionals include doctors specializing in physical medicine and rehabilitation (called physiatrists), physical therapists, occupational therapists, speech-language pathologists, and others. Your care team may also work closely with dietitians, psychologists, social workers, and others to help your mind, body, and spirit heal. In addition, we collaborate with your cancer doctors to ensure smooth coordination of care wherever you visit us for outpatient therapy.
Together, we will develop a personalized treatment plan aimed to help you:
Improve strength, range of motion, and endurance during and after treatment
Manage side effects of your cancer diagnosis or treatment
Minimize your stress
Regain independence
Decrease the chances of complications
Alleviate pain and discomfort
Adopt healthy habits that can lower your risk of cancer recurrence
Optimizing your physical and emotional well-being at every stage of your cancer journey
If you're undergoing surgery as part of your cancer care, you may benefit from rehabilitation services before your procedure, or cancer prehabilitation. "Prehab" can help you build strength and optimize your physical health so that you may recover more quickly with fewer complications after surgery.
For men and women diagnosed with advanced cancer, physical and occupational therapy can serve as palliative care. These therapy services can help you maintain the energy and strength you need to continue cancer treatment while maximizing your quality of life.
In addition, rehabilitation can help cancer survivors feel like themselves again after surgery, radiation, or chemotherapy. Through our cancer survivorship program, we conduct physical exams and assess patients' functional abilities after treatment. This allows us to build a rehabilitation plan of action aimed at making goal-oriented improvements in their quality of life however we can. And we continue to follow up months and years later.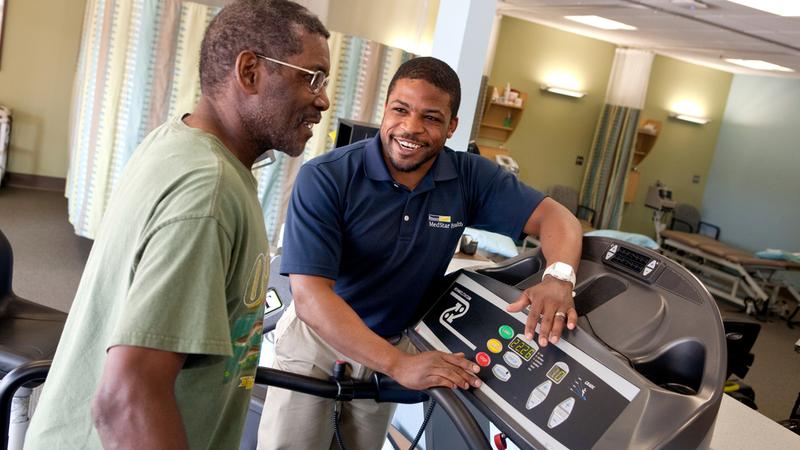 Comprehensive therapy services at convenient locations throughout the region
With dozens of outpatient cancer rehabilitation facilities, you won't have to travel far to receive specialized cancer rehabilitation services. Your treatment plan is individualized and may include:
Adaptive equipment recommendations

Balance training

Cancer-related fatigue management

Chemo brain management

Communication enhancement strategies

Coping skills and stress management

Daily living management

Energy conservation

Home exercise program

Gait training

Manual therapy

Neuropathy management

Pain management (including cancer-related pain injections)

Swallowing management

Therapeutic exercise and strengthening

Wound care
Patients also benefit from specialty services designed to address the unique challenges associated with certain types of cancer. For example, breast cancer surgery is commonly associated with lymphedema, a complication that we can help to prevent and manage through lymphedema therapy during breast cancer rehabilitation. We also have specialists equipped to deal with the effects urological cancer treatment may have on your bowel and bladder function.
Frequently asked questions
Do I need cancer rehabilitation?

If you are experiencing any of the following conditions or side effects during or after cancer treatment, a physiatrist, physical therapist or occupational therapist may be able to help:

Fatigue
Difficulty swallowing foods or speaking
Trouble with balance or walking
Interrupted sleep
Reduced mental sharpness or ability to concentrate
Pain, tingling, or numbness
Difficulty with mobility or completing daily activities

How long will I need cancer rehabilitation?

The length of time you'll need cancer rehabilitation will vary based on your unique condition and goals. Ongoing therapy may help you maintain a good quality of life from diagnosis through treatment. Sometimes side effects are only temporary and can be addressed within a few weeks.

In other instances, patients may not experience any cancer treatment side effects until years later. When these "late effects" impact your ability to live your life to the fullest, it may be helpful to seek out a rehabilitation professional.

Does insurance cover cancer rehabilitation?

You will often need a referral to MedStar Health Physical Therapy from your oncologist or primary care provider. Every health insurance company varies regarding insurance coverage for rehabilitation services, including coverage for medical or assistive devices. Please call your health insurance to verify coverage
Inpatient locations
Distance from Change locationEnter your location
102 Irving St. NW Washington, DC 20010
5601 Loch Raven Blvd. Main Hospital Building 5th Floor Baltimore, MD 21239
Patient resources
Finance and co-pay assistance
Community resources

Bread for the City Housing Access Program: Call 202-265-2400 to receive help finding housing through resources, educational workshops, and assistance with applications.