What Is Cancer Rehabilitation? | MedStar Health
Cancer Rehabilitation Services at MedStar Health
How we can help
Are you experiencing pain, fatigue, or having difficulty completing daily tasks? Having difficulty speaking or swallowing? Are you experiencing other challenges that might be affecting your quality of life?
Without the right support, cancer-related problems can extend beyond initial care — occasionally from the disease itself, but more commonly from the side effects of surgery, chemotherapy, or radiation. We understand the challenges you are facing and we're here for you.
The MedStar Cancer Rehabilitation Services team is passionate about helping you address these challenges, enabling you to positively impact your quality of life before, during, and after your cancer treatments.
The involvement of rehabilitation will maximize the cancer survivor's ability to gain endurance and mobility, and improve activities of daily living. In addition, highly skilled specialists empower the cancer survivor to gain independence and maximize the quality of his or her life.
Do you need cancer rehabilitation services?
Below are just a few of the many conditions/side effects that our therapists and physicians can help you conquer to get you back to feeling like yourself again.
Fatigue

Difficulty swallowing foods or speaking

Trouble with balance or walking

Interrupted sleep

Reduced mental sharpness or ability to concentrate

Pain, tingling, or numbness

Difficulty with mobility or completing daily activities
Services offered
Adaptive Equipment Recommendations

Balance Training

Cancer Related Fatigue Management

Chemo Brain Management

Communication Enhancement Strategies

Coping Skills and Stress Management

Daily Living Management

Energy Conservation

Gait Training

Neuropathy Management

Pain Management

Swallowing Management

Therapeutic Exercise and Strengthening
We provide a variety of services to all patients with all types of cancer.
Expert rehabilitation care
Getting the care you need starts with seeing one of our rehabilitation specialists.
Video
Watch our Cancer Rehabilitation Services video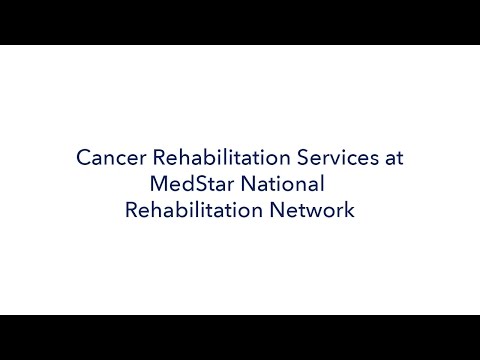 Helpful links
Patient Resources : Publications

Financial Resources

Co-Pay Assistance

Healthcare Benefits

Service Options in the Community

Bread for the City Housing Access Program: Call 202-265-2400 to receive help finding housing through resources, educational workshops, and assistance with applications.
Support Groups
Food Resources