Pulmonary Rehabilitation | Pulmonary Disease Treatment | MedStar Health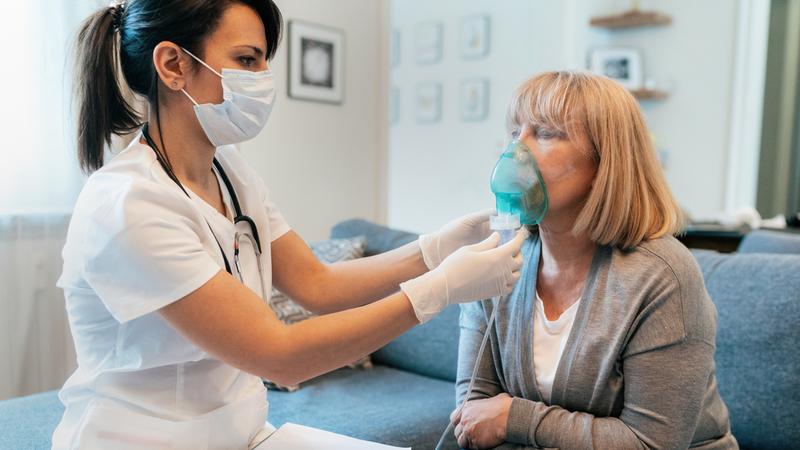 Comprehensive rehabilitation to help you cope with pulmonary disease
Whether you're preparing for lung cancer surgery or living with a chronic lung condition, like asthma or chronic bronchitis, rehabilitation can help you regain strength and breathe easier. At MedStar Health, our pulmonary rehabilitation program is designed to address both the physical and emotional issues associated with chronic lung diseases and pulmonary conditions, including:
Bronchiectasis

Chronic Obstructive Pulmonary Disease (COPD)

Cystic fibrosis

Before and after surgery for lung cancer or a lung transplant

Chronic bronchitis
Our team of experienced physical therapists, occupational therapists, and respiratory therapists work closely with your primary care provider and other care team members to improve your lung function and quality of life. Those who participate in our outpatient pulmonary rehab program experience positive outcomes, including fewer hospitalizations and reduced symptoms, like shortness of breath and fatigue.
Program highlights
Personalized education and exercises that strengthen your lungs
When lung disease limits your breathing or affects your ability to perform daily activities, our pulmonary rehabilitation programs offer education and support to help you manage symptoms of lung disease or side effects of lung surgery. By strengthening your lungs, we can help reduce the risk of complications related to oxygen and medication.
Before developing a rehabilitation treatment plan, we'll conduct a thorough evaluation to establish a baseline of your lung function and determine realistic and achievable goals. We often perform diagnostic testing at one of our Pulmonary Function Labs, which can help us better understand your lung capacity, current endurance levels, and strength.
Every patient receives a pulmonary rehabilitation treatment plan tailored to their needs and goals. Your rehabilitation plan may include:
Supervised therapeutic exercise to gradually and safely increase your endurance and strength
Education on breathing techniques to strengthen the muscles involved in breathing
Oxygen therapy and respiratory medication management
Psychosocial support
Strategies for conserving energy while performing daily activities
Nutritional counseling
If you are undergoing surgery to treat lung cancer or another lung disease, your rehabilitation program may begin before your operation. Participating in pulmonary rehab at the start of your lung cancer care can help to optimize your recovery following surgery.
A team with expertise across disciplines
Your pulmonary rehabilitation team involves physical, occupational, and respiratory therapists who work together to design an individualized treatment plan to help you achieve the greatest quality of life. Your team may also include social workers and psychologists who can help you deal with any stress caused by chronic lung disease. In addition, a dietician can help to ensure you are getting the proper nutrients and maintaining a healthy body weight, which can reduce the amount of strain on your lungs.
We also work closely with your other providers, including primary care doctors, pulmonologists, oncologists, and surgeons to ensure seamless care wherever you are in your journey managing lung disease. And with physical therapy locations throughout the Washington, D.C., and Maryland region, you won't have to travel far for the rehabilitation services you need.
Looking for expert cancer care?
With multiple locations throughout the region, patients have access to many of the nation's renowned cancer specialists offering high quality care, second opinions and a chance for better outcomes close to where they live and work. Georgetown Lombardi Comprehensive Cancer Center, one of the nation's comprehensive cancer centers designated by the National Cancer Institute (NCI), serves as the research engine allowing patients access to clinical trials that often lead to breakthroughs in cancer care.
Patient resources
Blog articles