Outpatient Physical Therapy | MedStar Health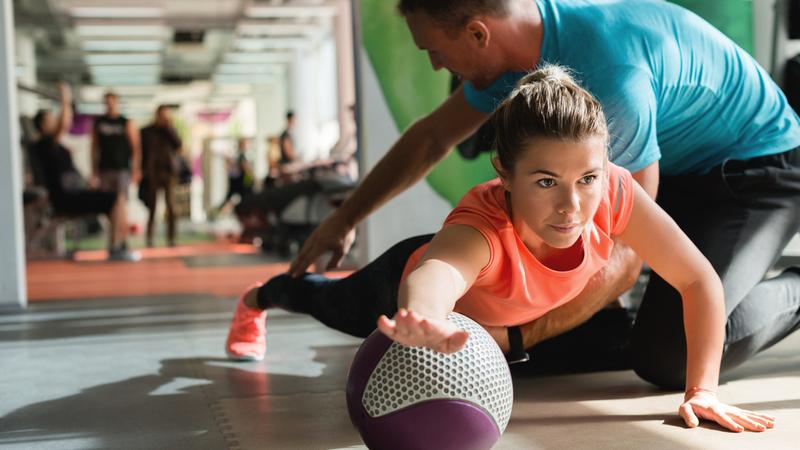 Compassionate, convenient, and personalized care. That's what we think you deserve when it comes to physical therapy, occupational therapy, and speech therapy. And, that's what you'll find at any one of our 50 outpatient therapy offices.
As a part of the region's largest healthcare provider, we're closely connected to your doctors and specialists, which allows us to work together to design customized treatment plans that meet your unique needs. You can count on us to meet you where you are and get you where you want to be.
Types of outpatient therapies at MedStar Health
Physical therapy
Also called PT, physical therapy helps patients with a wide range of illnesses and injuries get moving again. Whether you're living with or recovering from orthopedic conditions or surgery, or you've experienced a neurological trauma or event, like stroke or brain injury, we can help you regain function, mobility, strength, and range of motion.
At our outpatient centers, our physical therapists develop individualized plans to address limited function, including:
Decreased strength, balance, or coordination
Gait deviations
Bed mobility
Transfers
Gait
Posture abnormalities
Neurological deficits
Physical therapy outpatient services
Through customized exercise programs and therapeutic services, our physical therapists are experts in helping men, women, and children safely move to the best of their ability. Physical therapists are also trained to deliver a variety of outpatient PT services that aid in recovery and injury prevention, including aquatic therapy, wound care, and others.
Services vary by location:
ACL injury prevention
Aquatic therapy
Concussion care
Dry needling
Falls prevention
Foot orthotics evaluation and casting
Manual therapy
Pain management
Pelvic pain and incontinence management
Post-operative recovery
Repetitive motion disorder services
Spine services
Sports medicine
Vestibular/balance rehab
and more
We also emphasize patient and family education and training so that you're equipped with the knowledge, tools, and resources you need to safely return to the activities you love.
Occupational therapy
Occupational therapy (or OT) uses activity to help patients rebuild their ability to perform everyday and recreational activities. From rehabilitation for work-related incidents to brain injury, our occupational therapists will partner with you as you work to regain your independence and get back to the activities you love.
Our skilled occupational therapists evaluate and treat underlying problems, such as:
Decreased upper body strength
Impaired fine motor skills
Decreased coordination
Cognitive impairments
Safety concerns
Impaired performance in self-care and community reintegration
Occupational therapy outpatient services
We help patients reclaim their independence by teaching them how to adapt their activity, adapt the environment surrounding the activity, and/or adapt how they do the activity. Our comprehensive services include recommendations and training for adaptive and durable medical equipment, assistive devices, prosthetics, orthotics, and braces.
Our treatment emphasizes self-care skills important to independent living, such as bathing, dressing, and grooming. We also engage our patients' families and caregivers so we can collectively support patients as they seek to be independent at home, work or school, and in the community.
Speech therapy
Our speech-language pathologists offer comprehensive therapy for speech conditions that can accompany illness and injuries, including stroke, traumatic brain injury, neurological disorders, and others. Also referred to as speech therapy, outpatient services are designed to address difficulties with:
Communication (Speech, expressing and/or understanding language, reading, and writing)
Cognition (Memory, attention, reasoning, and problem-solving)
Swallowing
Specialty clinics and programs
In addition to all of the standard therapy services you would expect to find at an outpatient clinic, we also offer several unique programs designed to enhance recovery and healing, including:
Arm amputee rehabilitation for patients facing or recovering from upper limb loss.

Cancer rehabilitation, including specialized services for lymphedema management.

Hand therapy provided by certified hand therapists who specialize in treating hand conditions, including carpal tunnel syndrome, hand fractures, arthritis, and more.

Concussion Clinic that offers baseline neurocognitive assessments, post-concussion testing, and monitoring to support timely and safe return-to-play accommodations for school or work.

Neurorehabilitation for patients affected by stroke, brain injury, and/or spinal cord injury.

Prosthetic and orthotic services for all ages, including evaluation, fabrication, fitting, and training.

Running Injury Clinic that uses state-of-the-art technology, such as video motion analysis to identify abnormalities and prevent future injury.

Seating and Mobility Clinic, which offers recommendations and modifications for wheelchairs and seating systems.

Transplant rehabilitation, an innovative approach to improving patient outcomes before and after liver transplant surgery.
Pediatric care
We care for patients of all ages, including children and adolescents. For pediatric patients who could benefit from physical, occupational, and speech therapy, we tailor treatment plans to their unique goals while emphasizing fun.
Learn more below.
What to expect
At your first appointment, our therapy professionals will assess your current condition and your desired level of function. You can expect them to ask questions about your pain or limitations, including how your condition is affecting your life. Please be prepared to share information about your medical history, including any medications you're taking. During this evaluation, you may also be tested on your range of motion, strength, mobility, balance, and coordination. We recommend wearing loose, comfortable clothing and supportive footwear at every visit.
Then, your therapists will work as a team to determine the best plan of action to address the root cause of your challenges, taking into consideration your unique needs and goals. Your treatment plan may involve therapeutic exercises aimed to address physical, cognitive, or emotional challenges. Each individual's therapy plan varies, and your therapists will recommend that you return for therapy at regular intervals. Some patients may need only a few therapy sessions while others may need physical therapy for a longer period of time.
Why choose us
At MedStar Health, our comprehensive and interdisciplinary therapy services help patients live their lives to the fullest.
Patients come to us because we offer:
Award-winning physical therapy services, as evidenced by our national recognition as the 2019 Practice of the year by Ascend

Compassionate care delivered by highly-trained therapists and other medical professionals who are invested in seeing you thrive

Seamless coordination with nationally-ranked and fully-accredited inpatient rehabilitation programs at two hospitals in Baltimore and Washington, D.C.

50+ locations conveniently located throughout Northern Virginia, Maryland, and Washington, D.C.

Evidence-based rehabilitation, backed by the latest research and treatments that our physical medicine & rehabilitation (PM&R) physicians are discovering and leading
Insurance
We accept most major health insurance plans. If you are not sure if your health benefits plan includes in-network services from MedStar Health Physical Therapy, please call your insurance company.