Amputee Rehabilitation | MedStar Health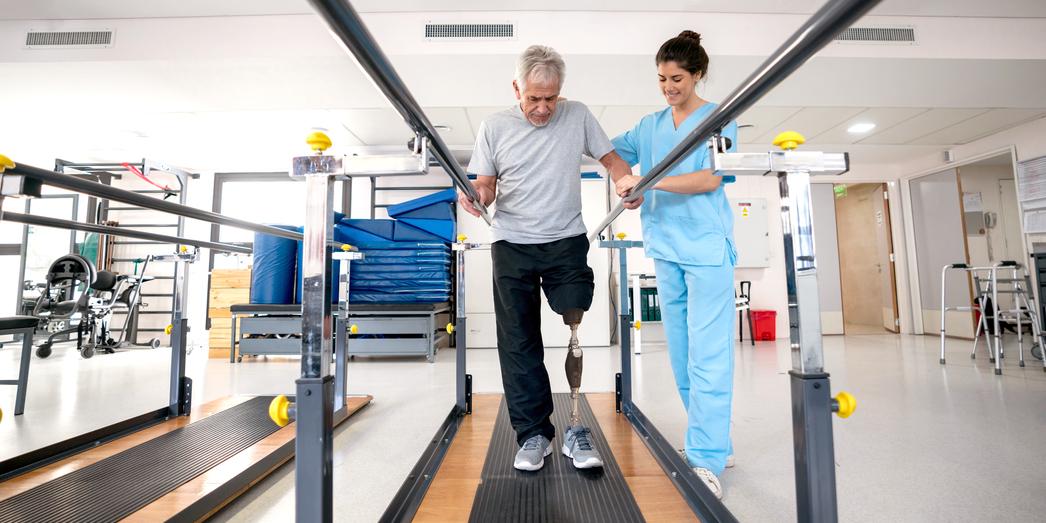 Nearly two million people in the U.S. live with limb loss—a complex health issue that requires highly specialized rehabilitation. At MedStar Health, we offer a dedicated Amputee Rehabilitation program, helping patients facing or living with amputation due to diabetes, peripheral vascular disease, or a devastating trauma transition into a pain-free, fulfilling life.
We strive to help our patients become comfortable in their own skin by treating the whole patient. Our fully integrated program helps individuals navigate the physical and emotional impact of limb loss at each stage of their journey to recovery. In addition, we use a multidisciplinary team approach to provide our patients with optimal treatment through our high-quality and innovative care techniques. Research shows that patients experience better long-term results when they have coordinated care involving multiple specialists, which is why our program involves experts in surgery, physical medicine and rehabilitation (physiatry), physical and occupational therapy, and prosthetics, even before surgery. This team approach helps us address our patients' unique needs and goals from every angle.
Our specialists provide amputee rehabilitation services in both inpatient and outpatient settings to help patients achieve their functional abilities as quickly as possible. Our goal is to help patients reclaim their independence by teaching them how to tackle the daily activities of life while building their strength and increasing their endurance. Patients also benefit from support services, including peer groups, adaptive sports, prosthetic training, and others to help them adjust to their new reality.
Our Amputee Rehabilitation programs at MedStar National Rehabilitation Hospital (MedStar NRH) and MedStar Good Samaritan Hospital are accredited by the Commission on Accreditation of Rehabilitation Facilities (CARF). This designation demonstrates our commitment to delivering the highest quality of rehabilitation.
Amputee inpatient rehabilitation
As one of few CARF-accredited amputee rehabilitation programs in the region, our rehabilitation experts care for patients recovering from single and multiple limb amputation in both the upper and lower extremity. Our patients benefit from personalized inpatient care that helps them achieve the highest level of health and independence. In addition, we emphasize patient and family empowerment to help patients adjust to an independent life after losing a limb.
Most patients come to inpatient rehabilitation immediately following their amputation. However, sometimes our team meets with patients while they are still in an acute care setting to prepare them for what can be a very intensive and challenging rehabilitation program. Our specially-trained amputation rehabilitation team sees patients in Washington, D.C., at our flagship hospital, MedStar National Rehabilitation Hospital (MedStar NRH), as well as the Inpatient Rehabilitation Center at MedStar Good Samaritan Hospital, which boasts a newly renovated, state-of-the-art rehabilitation facility in Baltimore.
Program highlights
Our inpatient services combine medical care with specialized therapy and emotional support to help patients experiencing limb loss regain control and confidence over their lives. Each patient benefits from a personalized rehabilitation plan that may involve*:
Rigorous rehabilitation five days a week for over three hours each day
A team approach with care from a variety of specialists, including:


A board-certified physical medicine and rehabilitation physician
Specialized nurses
Physical, occupational, speech, and/or recreational therapists
Psychologists who help patients deal with the emotional challenges that accompany amputation
Dieticians who teach patients about optimizing their nutrition to promote healing
Prosthetists who design, fit, and manufacture customized prostheses onsite
A care coordinator to help patients navigate surgery through prosthesis fitting and recovery

Comprehensive rehabilitation services, including:

Patient-centered physical and occupational therapy designed to emphasize capabilities and overcome limitations

Wound care and medication management
Self-care regimens to prevent infections, skin ulcers, blood clots, and other medical complications
Education on diet and blood glucose control for patients with diabetes
Prosthetic training and fitting

Adaptive sports and fitness activities

Recommendations for home modifications
Durable medical equipment recommendations
Family training/caregiver training
Emergency preparedness

Emotional support and resources, including peer mentors through MedStar NRH and Hanger's Peer Mentor program and inpatient support groups to help patients cope with their new condition. In addition, we're recognized as an Amputee Coalition Certified Hospital Partner, offering robust education and training for amputees and their families.
*Services may vary by location
Learn More About Inpatient Rehabilitation ->
Preparing for discharge
After discharge from our inpatient program, many patients continue their training and therapy at one of our many outpatient sites located throughout the region. In addition, our team is always available for patients if they require modifications in their prostheses—a replacement limb—or other adaptive equipment to improve their quality of life.
Program outcomes
Learn about our patient outcomes below.
Amputee Rehabilitation Program Outcomes at MedStar NRH
Amputee Rehabilitation Program Outcomes at MedStar Good Samaritan Hospital
Amputee outpatient rehabilitation
Our outpatient services are designed to help adults and adolescents with limb loss be as independent as possible at home, at work or school, and in the community. We deliver services using a coordinated team approach and write each patient's treatment plan according to their personal needs and goals.
Patient care is managed by an interdisciplinary team which may include board-certified physicians, physical therapists, occupational therapists, prosthetists, and other rehabilitation professionals from MedStar Health. Our team specializes in working with individuals who have had amputations and assists patients in understanding and managing their unique physical, psychosocial, and daily living needs.
Program highlights
We offer specialized outpatient rehabilitation services for amputees at dozens of convenient locations throughout the region. Your outpatient visit includes examinations by a physician, prosthetist, and physical therapist. Through goal-oriented, outpatient therapy, our occupational and physical therapists specializing in amputee care provide assessment, education, and training in:
Medical care, including pre-and post-amputation consultation for surgical patients
Home accessibility recommendations

Fabrication, fitting, and repair of prosthetics, orthotics, orthopedic shoes, and braces as needed

Wheelchairs, assistive devices, and other equipment, as well as training in equipment use

Moving around with and without a prosthesis
Adaptations in daily tasks such as dressing, bathing, and home management
Patient and family support for pain management needs
For assistance with getting back to work after your injury or illness, we can help link you with your state vocational rehabilitation agency.
Arm amputee program
The pioneering MedStar NRH Arm Amputee Program in Washington, D.C., helps patients who have suffered arm loss become independent through a variety of therapies and the latest technological advances, including robotics and adaptive equipment created to assist in activities of daily living and recreation.
Our goal is not only to provide medical treatment and physical rehabilitation but also to meet all the needs of our patients through rehabilitation that is uniquely tailored to the individual.
The Arm Amputee Program is dedicated to:
Providing comprehensive rehabilitation services to enable our patients to quickly return to their lives
Utilizing the most advanced equipment and procedures to improve an individual's current function whenever possible
Caring for patients beyond their physical needs through:


Sports and leisure equipment modification
Adaptive driving program
Resources for employment counseling

Advancing the care of people with arm loss through clinical and scientific research
Training the next generation of physicians, therapists, and orthotist
Inpatient locations
Distance from Change locationEnter your location
102 Irving St. NW Washington, DC 20010
5601 Loch Raven Blvd. Main Hospital Building 5th Floor Baltimore, MD 21239
Additional information
Support groups
Our Amputee Support Groups provide opportunities for patients to share their experiences with others living with limb loss. Contact our support group coordinators to find out more.
Amputee Support Group at MedStar NRH

Contact Jessica Eng, PT NCS at 202-877-1447 or jessica.eng@medstar.net
Amputee Support Group at MedStar Good Samaritan Hospital
Contact Jennifer McDivitt, PT at 443-444-5304 or jennifer.mcdivitt@medstar.net
Additionally, MedStar NRH's Amputee program partners with Amputee Coalition to offer expertise, training curriculum, and patient education materials for peer support in our rehabilitation. Patients have the opportunity to become peer mentors (or mentees) to others who have lost a limb.
Many patients also take advantage of MedStar NRH's active Adaptive Sports Program, which allows patients with a physical disability to build self-confidence, improve health and well-being, and gain greater independence through recreational and competitive sports.