Home Health Care | Assistance and Services | MedStar Health
A full range of home care services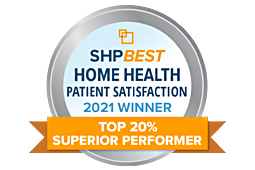 MedStar Health Home Care provides individualized, physician-prescribed, medical treatment, and services to adult patients who require healthcare services at home. We serve patients who are recovering from an illness, injury, or surgery as well as those who are living with a disability or complex medical condition. As part of MedStar Health, we are the largest provider of home care services across Maryland, Washington, D.C., and northern Virginia.
Read an overview of home care services
Learn more about the home care team
Treatment plans
Homecare clinical experts create personalized treatment plans to help each patient meet their goals for healing, recovery, safety, and independence at home. Over the course of homecare treatment, patients and their loved ones learn how to prevent and control negative symptoms, regain strength and ability, and safely care for themselves.
Homecare team members
The homecare team includes nurses, physical and occupational therapists, speech and language pathologists, medical social workers, and home health aides who are dedicated to meeting patient needs 24/7/365. Learn more about the Home Care executive leadership team here.
Recognition
Recognized as a HomeCare Elite agency for 10 consecutive years, ranked in the top 25% of agencies in the nation. (Program on hold for 2020)
Patients
22,000+ per year
2,400 average daily patient census
Miles traveled per year
2,000,000
Refer a patient
MedStar Health Home Care aims to help physicians and other healthcare providers connect their patients with the home healthcare service they need to heal and live safely at home.
Go to the Refer a Patient page for more information about submitting referrals, including:
Instructions for MedStar Health hospital providers
MedStar Health hospital-based providers can refer patients to home healthcare services directly through the MedConnect electronic medical record. Use this MedConnect Job Aid for instructions on completing a clinical visit note and home health orders.
Instructions for MedStar Health ambulatory providers
MedStar Health providers located in an ambulatory setting can use the Clinical Note and Home Health Order via MedConnect to refer patients to home health care services. Follow these instructions for completing a clinical visit note and home health orders.
Instructions for providers outside of the MedStar Health network
Providers from outside of MedStar Health have several options to refer their patients for home health care services, including:
Download Patient Referral Form: This downloadable form includes MedStar Health Home Care's face-to-face and home health orders. After completing this form with the required referral information (outlined below), fax to: 888-862-6082.
NOTE: Please call 800-862-2166 to verify all faxed documents were received.
Participating providers can submit referrals electronically through Navihealth, Allscripts, Epic, and Aidin.
Specialties and programs in home care
Specialties
Programs
Fall prevention, strength building, and balance training

Remote patient monitoring, telehealth, and video visits

After-hours care and support 24/7/365, including weekends and holidays
Home Telemonitoring Program

With innovative telemonitoring technology, MedStar Health Home Care can monitor patients' vital signs and symptoms remotely to identify abnormal readings and address negative symptoms or health concerns before they turn into medical emergencies. The remote monitoring program aims to keep patients healing safely and comfortably in their own homes by addressing the main reasons that patients are often readmitted to the hospital or sent to the emergency room, including: not taking medications, poor diet, inadequate family support, and lack of understanding about their health conditions.

With the telemonitoring technology provided by Health Recovery Solutions (HRS), MedStar Health Home Care's home healthcare team members receive a daily perspective of a patient's health status. This is especially helpful on days when there are no scheduled visits to the patient's home.

How Telemonitoring Works

Each patient in MedStar Health Home Care's telemonitoring program is provided with a 4G Samsung tablet loaded with HRS' easy–to-use telemonitoring software. It is customized to meet the patient's unique needs. The tablet provides patients with educational videos, medication reminders, and comes with biometric screening devices such as a:

Blood pressure monitor
Scale
Pulse oximeter

These devices allow patients to take and record their own vitals signs on a daily basis. In addition, home healthcare team members can communicate with the patient through the tablet without the need for a landline or internet connection.

After patients record their data, it is automatically transmitted to their homecare nurse. The tablet and devices are safe, secure, and Health Insurance Portability and Accountability Act (HIPAA) compliant.

Benefits of Remote Telemonitoring

The telemonitoring software is customized with a patient's unique condition and its technology helps manage a patient's recovery. The daily vital sign recordings and health status updates are used to help the home healthcare team and the patient's physician adjust the treatment plan if needed. This helps patients to achieve the best outcome possible.

The HRS Telemonitoring Software allows patients to:

Measure weight, blood pressure, heart rate, and oxygen levels and track their readings.
Let their nurse know of symptoms through a daily survey.
Learn about their disease condition and how to manage it.
Track whether they are taking their medications as ordered.
Communicate with the MedStar Health Home Care through phone and text messaging.

The HRS Telemonitoring Software allows the home healthcare team to:

Monitor a patient's vitals in real-time.
Respond to high-risk readings that could lead to a medical emergency or admission to the hospital.
Communicate with patients via phone call or text message.
Supplement education through videos and teach-back quizzes.

What Patients Qualify for Telemonitoring

MedStar Health Home Care's telemonitoring program focuses on high-risk patient populations. These patients have complicated medical conditions like congestive heart failure, chronic obstructive pulmonary disease (COPD), or diabetes which often require emergency care if symptoms cannot be controlled. Homecare team members explain the program to the patients and enroll them if they are willing to participate.

HRS Results

According to MedStar Health Home Care's telemonitoring partner, HRS, this program provides the following results to participants:

71% reduction in repeat admissions to the hospital.
$1.9M savings for insurance payers.
Improved utilization by 50%.
Increased care engagement by 24 minutes/day.

MedStar Health Home Care offers telephone and video visits so that nurses and therapists can check-in on patient's health status between in-person home visits. To ensure difficult and non-healing wounds are improving, homecare nurses and therapists use mobile wound imaging technology. This allows homecare team members to capture electronic photos of wounds that can be safely shared with remote wound healing experts. Experts provide telehealth consultation and treatment recommendations without the patient leaving home.
Providing the best care, knowledge, and resources to help patients focus on recovery

I want to acknowledge Janelle Salo, registered nurse at MedStar Health Home Care, for the great job she is doing. If it had not been for her attentiveness and caring heart, I would still be trying to figure out how to get my medication or solutions to my medical problem. Janelle was able to keep my anxiety level down when I was overwhelmed by the details surrounding my recovery. She helped me tremendously. Good people need to be acknowledged. Please show her gratitude for the good work she does.

Sincerely,
Grateful patient

Making recovery a fun, positive experience in the comfort of home

I want to acknowledge Jasonric Villanueva, physical therapist at MedStar Health Home Care, for doing a great job helping me recover from my knee replacement. I've worked at MedStar Health Home Care for many years, and I know the great work our clinicians do, but personally, this was my first time receiving home care services from MedStar Health. I immediately knew I was in great hands because of Jasonric's professionalism, patience, humor, and knowledge. He made recovery a fun, positive experience and was truly invested, going above and beyond to make sure I was setup for success.

Sincerely,
Joyce White
Senior Payroll Specialist
MedStar Health Home Care

Changing lives of patients and caregivers with high-quality care

When a patient with a neurological disorder and vision loss was admitted to MedStar Health Home Care, Ronald Yerman, physical therapist, joined the care team and taught the patient's daughter how to assist with transfers, improve quality of gait, and initiate the protective response during standing balance activities. The patient proudly stated that Ronald is wonderful and that they would not have been able to make it without him. The daughter reported that Ronald's physical therapy visits have improved the patient's ability to transfer from the bed to wheelchair and it is easier on the daughter as the caregiver to assist her mother now.

Sincerely,
Erica Delaney
Director of Operations
MedStar Health Home Care
Frequently asked questions
Home healthcare is medical care and treatment delivered in a patient's home. It's prescribed by a doctor for one of the following reasons:

An individual was recently discharged from a hospital or long-term care facility, such as a nursing home or rehabilitation center and leaving the home for medical care presents a hardship for the patient.

A doctor determines that an individual with an injury, illness, or chronic condition needs skilled medical care at home. This care can only be provided by an RN, LPN, physical therapist, occupational therapist, or speech therapist.

Home healthcare helps patients heal, regain a level of independence, manage symptoms and chronic conditions, build strength, and improve their quality of life. For those with long-term health problems, the goal is to maintain the highest level of ability and learn to live with an illness or disability.

Home healthcare services may include skilled nursing, therapy, and assistance with the activities of daily living. The service must be ordered by the patient's doctor in order for it to be covered by insurance. The doctor provides specific orders about the care and treatment to be provided.

How do I qualify to receive homecare services?

To receive medical care at home, your doctor must write an order for home care. You must be considered in need of skilled services that can be performed by either a nurse or a therapist on an intermittent basis. You must be experiencing difficulty leaving your home due to physical or mental limitations, thus needing care to come to you.

If my doctor recommends and writes an order for home care, will I receive the services?

In most cases, you will receive homecare services. However, there are circumstances when homecare services are difficult to arrange due to:

Services required are more significant than what the company can provide.

Coverage limitations set by your insurance company.

Geographic area where you wish to receive services.

If homecare services cannot be arranged, your doctor will make alternative arrangements. Some of these alternatives may include:

Outpatient rehabilitation center

Rehabilitation hospital

Rehabilitation center or skilled nursing facility

Does my insurance cover home care?

Most insurance companies cover the cost of skilled care at home. However, your insurance benefits may vary based on the policy you hold. In some cases, you may have a co-pay. Your discharge planner and homecare consultant will help you to get this information.

How is my care coordinated when I am discharged from a hospital?

A hospital discharge planner will work with a homecare consultant to make arrangements for your home care. Once you select a homecare company, the homecare consultant will contact that company. To determine if they can provide care to you, the consultant will ask:

Does this company serve the geographic area where you want to receive care?

Can they provide care within the timeframe suggested by your doctor?

Do they accept your insurance?

When will homecare services begin?

A homecare team member will contact you within the first 48 hours after you leave a hospital or facility to schedule the first home visit. Sometimes, insurance authorization or delayed orders from the doctor can delay the start of your homecare services. In most cases, the first visit will occur within two days of discharge or two days from the time that the doctor's homecare order was received.

What can I expect during the first visit to my home?

During your first visit, the nurse or therapist will share a lot of information with you. They will also make sure the information we have about you is correct. The first visit may take up to 2 hours.

The homecare nurse or therapist will talk about:

Your discharge paperwork and/or doctor's orders.

Your role as a patient/caregiver, including payment responsibilities.

Your "Plan of Care", including the services you will receive and how often team members will visit.

Your personal goal for homecare treatment.

Your medicines, including side effects and how and when to take them.

Your risk for falling.

How to contact the office with question or concerns.

What can I expect during a regular visit?

The average visit lasts less than 30-45 minutes. You can expect things like:

Checking your blood pressure, temperature, heart rate and breathing.

Making sure you understand the purpose of your medicines. We will teach you about the side effects and how and when to take your medicines on a schedule.

Teaching you or your caregiver to care for a wound or IV.

Creating an exercise plan to build your strength and improve balance/walking.

Teaching you how to control the symptoms of your ailments.

How often will they visit me?

Your specific needs and your insurance coverage will help to determine how often homecare team members visit you. The number of visits scheduled depends on your specific needs. Homecare professionals visit patients an average of two to three times a week. Visits will happen less often as you improve.

When will they call me to schedule a visit?

A homecare team member will try to call you on the evening before to schedule a visit for the next day. However, sometimes they may not be able to call until the morning of the visit. We are sorry when we cannot offer more notice. We get new patients added to the schedule every day and priorities sometimes change throughout the day. This causes our homecare team members' schedules to shift. They will always try to give you an estimated time when they will arrive. Please answer your phone or return our calls promptly. If we cannot reach you by phone, we cannot visit.

Will I have the same nurse and/or therapist all the time?

At MedStar Health Home Care, we understand the importance of building trust with your homecare team. That is why we try our best to schedule the same clinical professionals to visit your home every time. Changes in time of day, day of week, and after-hours may impact our ability to schedule the same nurse or therapist.

Can I request a specific nurse or therapist?

We will do our best to give you the nurse, therapist, or aide that you request. There may be times when we will not be able to meet requests for specific people. This is often due to an employee's work hours, vacations or a shortage of team members. We also understand that some patients prefer a male or female homecare provider. Please let us know if you have a preference.

How does my doctor know about my care at home?

The doctor provides MedStar Health Home Care with orders that describe your care needs. We communicate with your doctor regularly and notify him/her if there are any changes in your condition. The homecare professionals will communicate regularly with you, your doctor and with each other to ensure your needs are met.

How do I get a copy of my home care records?

Who do I contact if I have questions?

If you are being discharged from a hospital, skilled nursing, or rehabilitation facility, a discharge planner from the facility will contact you about your care after discharge. If you have further questions regarding the coordination of homecare services, please discuss them with your discharge planner or homecare consultant.
Our locations
Central Maryland Agency
5233 King Ave, Suite 200
Rosedale, MD 21237

888-862-6082

Hours of operation : 8 a.m. to 4:30 p.m., Monday-Friday
---
Suburban Maryland Agency
6525 Belcrest Road, 7th floor
Hyattsville, MD 20782


888-786-3759
Hours of operation: 8 a.m. to 4:30 p.m., Monday-Friday
---
District of Columbia Agency
4201 Connecticut Avenue, NW, Suite 200
Washington, DC, 20008


202-538-8634
Hours of operation: 8 a.m. to 4:30 p.m., Monday-Friday
---
Northern Virginia Agency
4040 N Fairfax Dr., Suite 625
Arlington, Virginia 22203


703-748-1542
Hours of operation: 8 a.m. to 4:30 p.m., Monday-Friday
More information
Helpful video
What to expect from home healthcare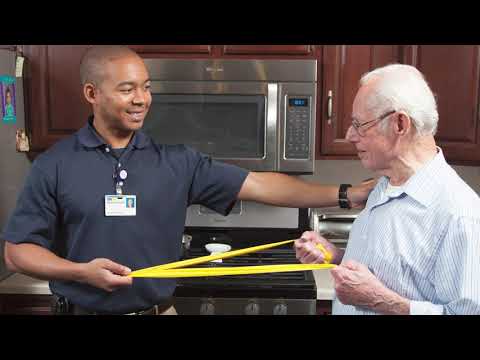 Ten reasons to choose home healthcare
Patients can reduce the amount of time they spend in the hospital.

Patients can avoid being sent to long-term care facilities or nursing homes.

Home care helps patients avoid being readmitted to the hospital.

Home healthcare costs significantly less than many other forms of care.

Patients are more comfortable at home.

Patients can enjoy the support of family and friends.

Patients and family members can be more involved with treatment.

Patients can enjoy a higher level of personal independence.

Patients experience higher morale when they heal at home.

Research results suggest patients recover more quickly when at home.
Notice of nondiscrimination

MedStar Health Home Care complies with applicable federal civil rights laws and does not discriminate on the basis of race, color, national origin, age, disability or sex. MedStar Health Home Care does not exclude people or treat them differently because of race, color, national origin, age, disability or sex.

MedStar Health Home Care provides free:

Aids and services to people with disabilities to communicate effectively with us, such as:

TTY Relay Services

Maryland: 800-735-2258
Virginia: 866-246-9300
Washington, D.C.: 800-643-3768

Written information in other formats (large print, audio, accessible electronic formats, other formats)

Language services to people whose primary language is not English, such as:

Qualified interpreters
Information written in other languages

To access these services, call Language Line Solutions at 800-752-6096.


If you believe that MedStar Health Home Care has failed to provide these services or discriminated in another way on the basis of race, color, national origin, age, disability or sex, you can file a grievance with:

Tammy Megonigal-Rossbach, PT, MPT, CCI
Assistant Vice President, Compliance/Regulatory
MedStar Health Home Care
5233 King Avenue, Suite 200
Rosedale, MD 21237
Phone: 301-957-5013
tammy.m.rossbach@medstar.net

You can file a grievance in person or by mail, fax or email. If you need help filing a grievance, Tammy Rossbach, assistant vice president, compliance/regulatory, is available to help you.

You can also file a civil rights complaint with the U.S. Department of Health and Human Services, Office for Civil Rights, electronically through the Office for Civil Rights Complaint Portal, available at https://ocrportal.hhs.gov/ocr/portal/lobby.jsf, or by mail or phone at:

U.S. Department of Health and Human Services
200 Independence Avenue, SW
Room 509F, HHH Building
Washington, D.C. 20201
800-368-1019
800-537-7697 (TDD)

Complaint forms are available at HHS.gov/OCR/Office/File/Index.html.

View and download the Notice of Nondiscrimination for your area below:
Have feedback about an experience at one of our locations?

We welcome your feedback, and we'll follow up with you directly.