Inpatient Rehabilitation Services at MedStar National Rehabilitation Hospital | 20010 | MedStar Health
Compassionate and expert therapy from the largest inpatient rehabilitation hospital in Washington, D.C.
MedStar National Rehabilitation Hospital (MedStar NRH) is the largest inpatient rehabilitation hospital in the mid-Atlantic region, and the only specialty hospital in the MedStar Health system. Here, our top-rated physicians and therapists bring together the best in rehabilitation care, research, education and training, assistive technology, and advocacy. As a result, we're prepared to treat any injury and help patients rebuild their lives after a serious injury or illness.
All of our resources are dedicated to "Adding Life to Years®"—and that's our critical difference. While acute care is extending people's lives, our goal is to make sure that people achieve their maximum level of function and independence to thrive when they return to home, work, and life. We have been committed to this goal for decades—and have helped improve the lives of thousands of people with disabilities.
Watch the video below to learn more.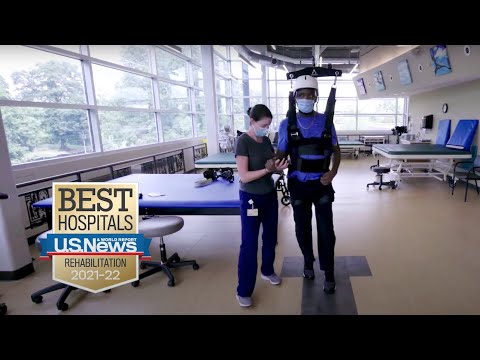 Our inpatient programs
Nationally ranked as one of the best rehabilitation hospitals in the country by U.S. News and World Report, our centers of excellence are here to help treat you and your loved ones.
Specialty services
At MedStar NRH, you'll find a variety of unique services helping individuals reclaim and maintain their health and independence.
Our facility
At MedStar NRH, we've created an attractive and nurturing environment that promotes recovery every day. Patients participate in therapy and recreation in a variety of settings, including:
Independence Square®, a simulated "real world" community designed to teach patients the skills needed for independent living. The expansive therapy space simulates a neighborhood with a bank, diner, gas station and a fully functional home with kitchen, bedroom and bathroom.
The Therapeutic Garden with its Victory of the Human Spirit® sculpture fountain located on the picturesque hospital grounds.
The nearby Mobil Fitness Court, giving patients the opportunity for informal basketball and tennis.
The hospital's Ruth S. Willoughby Playground, which features fully accessible equipment that gives children an inviting place for play and therapy.
Patient and visitor information

Visiting
MedStar NRH encourages visits from family members and friends during your stay with us. Click the link below to find the latest updates to our visitor policy.

Parking
We offer a hospital parking garage 24/7 and are easily accessible by public transportation, including metro and shuttle bus service.
Research and clinical trials
Research
The award-winning Christoph Ruesch Research Center at MedStar NRH has four internationally-recognized centers dedicated. There our renowned researchers are exploring new rehabilitative interventions for people with disabilities and developing better ways to deliver and pay for these services:
The Assistive Technology Research Center

The Center for Applied Biomechanics and Rehabilitation Research

The Center for Post-Acute Studies
With dozens of active investigations underway and more than 12 million dollars in current funding, the Christoph Ruesch Research Center is engaged in a wide range of innovative studies and plays a crucial role in reshaping the future of rehabilitation medicine.
Clinical trials
This strong research program gives MedStar NRH patients a real advantage—a "bench to bedside" approach to care that cultivates the speedy adoption of effective new interventions. MedStar NRH is also the site of several clinical trials that offer our patients the opportunity to take an active role in improving care across the country, as well as impact the outcome of their own rehabilitation.
Why choose us
Since opening the doors of our rehabilitation hospital in 1986, we've become Washington D.C.'s "go-to" resource for men, women, and children with disabilities, helping them enrich their lives through expert rehabilitation, sports and leisure activities, education, advocacy and emotional support.
Here you'll find:
An interdisciplinary team of experts, including rehabilitation medicine specialists, psychologists, physical and occupational therapists, speech-language pathologists, rehabilitation nurses, and others working collaboratively to design treatment plans tailored to each patient's unique needs. This collaborative approach in a hospital setting allows us to provide complex care to help improve immediate recovery and long-term outcomes.
Advanced rehabilitation technology that we've designed and refined, including:

Robotic exoskeletons to build strength and coordination in people with spinal cord injuries
The NRH-designed revolutionary ZeroG® system—the first-ever dynamic overground body-weight support system designed to help patients learn to walk again by creating a zero-gravity environment

Internationally-respected leaders in rehabilitation research who are discovering and implementing the treatments of the future. Through this research, we offer our patients the option to participate in advanced treatment studies that may improve their recovery beyond the standard treatments available elsewhere and prevent problems associated with their particular injury.
A respected center for the education of rehabilitation professionals, fostering career development through continuing education, internships, residencies, clinical rotations, and fellowships. More than 2000 students pass through our doors each year.
An active advocacy program, which plays a prominent role in increasing access and opportunity for millions of Americans with disabilities. We're also a proud partner of U.S. Paralympics and BlazeSports America, serving as the region's hub for adaptive sports programs for children and adults.
Seamless access to comprehensive and coordinated services throughout our inpatient and outpatient facilities. By offering many services that were once provided in a structured inpatient environment in outpatient settings, our patients can access the services they need right in their community.
Patient- and family-centered care that emphasizes connection and empowerment through education, support groups, and unique mentoring programs.
Awards and recognition
The quality of MedStar NRH has been tested again and again by the nation's most important accreditation organizations—and by physicians across the county. And year after year, the hospital has proven to be one of the most respected rehabilitation facilities in the country. Even though we are honored to receive the accomplishments listed below, we are most proud of our outcomes and the difference we make in each person's life we treat.
MedStar NRH is consistently ranked by U.S. News & World Report as one of America's best hospitals for medical rehabilitation.
MedStar NRH physicians are named among the area's "Best Doctors" in the Washingtonian magazine annual poll.
The hospital is fully accredited by the Joint Commission and CARF, the Commission on Accreditation of Rehabilitation Facilities.
We also offer multiple CARF-Accredited Specialty Programs, including Amputation, Brain Injury, Pediatrics, Stroke Recovery, and Spinal Cord Injury.
Our Spinal Cord program is also one of only 18 Model Spinal Cord Systems in the country, designated by the National Institute on Disability and Rehabilitation Research (NIDRR) through a highly competitive five-year grant.
The MedStar NRH Physical Medicine and Rehabilitation Residency program is consistently ranked amongst the top residency programs in the nation by Doximity.
Additional Information
Program outcomes


Contact us
To speak with an Admissions Liaison or a Manager at MedStar National Rehabilitation Hospital please call 202-877-1152 between the hours of 9 a.m. to 5 p.m.