Pediatric Rehabilitation | MedStar Health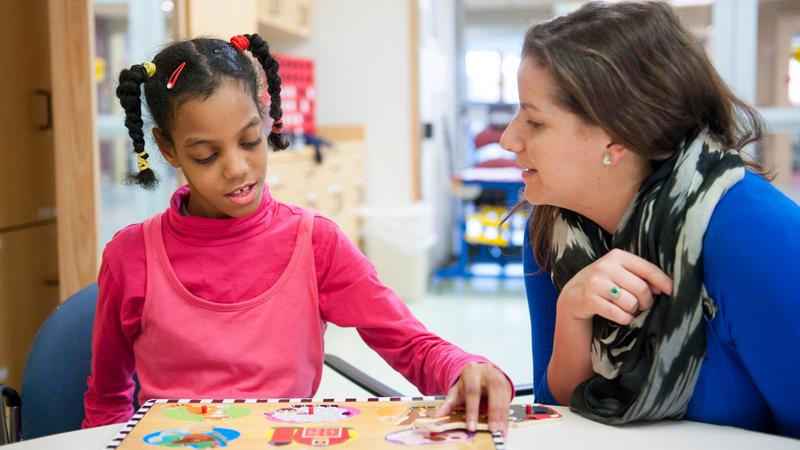 When children and adolescents experience illness, injury, or developmental disorders, rehabilitation can help them regain strength and mobility, improve independence, and build the confidence they need to thrive.
At MedStar Health, we provide unmatched pediatric rehabilitation services for pediatric patients. Our inpatient rehabilitation program at MedStar National Rehabilitation Hospital (MedStar NRH) is accredited by the Commission on Accreditation of Rehabilitation Facilities (CARF), demonstrating our commitment to caring for children with medically complex neurological and orthopedic conditions. We also offer award-winning outpatient services for children who could benefit from ongoing rehabilitation while living at home.
Our multidisciplinary pediatric rehabilitation teams combine the best in medicine, therapy, research, and compassion to develop customized treatment plans designed to address your child's physical, emotional, and social needs. The rehabilitation team may involve physiatrists, pediatric physical therapists, occupational therapists, speech-language pathologists, rehabilitation psychologists, social workers, and others invested in helping them achieve their fullest potential.
We also believe you're a primary member of your child's care team. Our goal is to help you understand your child's condition and the progress made in therapy, and we encourage family participation every step of the way.
Inpatient rehabilitation
For pediatric patients who need medical and rehabilitation at the same time, we offer patient-and family-centered inpatient rehabilitation (also called pediatric rehab) at our National Center for Children's Rehabilitation (NCCR) in Washington, D.C. This CARF-accredited program is a unique collaboration with one of the country's leading pediatric hospitals, Children's National Hospital, along with the HSC Pediatric Center. During the COVID-19 pandemic, the inpatient rehabilitation unit has been temporarily relocated to the HSC Pediatric Center, but remains under the leadership and care of NCCR team members.
On our acute rehabilitation unit, our pediatric rehabilitation team cares for patients ages 3 to 21 who have suffered illness or injury, including but not limited to:
Amputation
Brain injury
Cancer
Cerebral palsy
Functional neurological symptom disorder (FND)
Genetic disorders (e.g., spinal muscular atrophy)
Neurological conditions
Nervous system disorders (e.g., spinal cord injury)
Orthopedic conditions
Stroke
Trauma
Treatment begins with a complete evaluation of your child's functional abilities and challenges. Based on the evaluation, an individualized treatment plan is developed, tailored to your child's needs and goals. All of this care is family-focused, featuring education as well as emotional and social support services to help keep the family functioning well.
The intensive therapy services will most often include physical, speech, and occupational therapy, as well as therapeutic recreation. Patients will also benefit from the support of our pediatric rehabilitation psychologist, as needed.
Pediatric rehabilitation patients will receive intensive therapy five to six days a week for three hours a day. Play is also a critical aspect of treatment—children are encouraged to participate in scheduled activities like pet therapy, arts and crafts, and music therapy.
Program highlights
The center's team of pediatric rehabilitation specialists—physicians, nurses, and therapists—treats the multiple physical, cognitive and behavioral effects of injury or illness in an integrated approach to care, which is developmentally appropriate and promotes each child's optimal growth and development.
Patients and families benefit from:
Comprehensive therapies, including pediatric physical therapy, occupational therapy, speech-language therapy, recreational therapy, music therapy, and others
Access to an Education Coordinator who is a critical part of the care team and serves as patients' advocate to ease the transition from hospital to school and as a communication bridge between • teachers, parents, and physicians, when needed.
Inviting and engaging environments for individual and group play and therapy, including:

Adaptive games
Adaptive playground
Art experiences
Children's playroom
Computer games
Interactive video
Pediatric gym

A family-centered approach, featuring overnight accommodations for parents and frequent family conferences.
Emotional support and guidance from psychologists who help families cope with life adjustments.
Onsite services for orthotics, casting, mobility, and rehabilitation engineering
Advanced technologies and assistive devices, including the ZeroG® overground weight support system and the Ekso exoskeleton and other robotic devices.
Upon completion of inpatient rehabilitation, patients will be referred for follow-up care, which may include outpatient therapy, home care services, or school-based resources.
Program outcomes
As a CARF-accredited Specialty Program, our Pediatric Rehabilitation program consistently meets and exceeds national benchmarks.
Outpatient rehabilitation
Outpatient physical therapy, occupational therapy, and speech therapy can help children and adolescents improve their physical, motor, sensory, behavioral, and cognitive abilities. Some patients are referred to outpatient services following discharge from an inpatient rehabilitation program. In partnership with Children's National Hospital, we offer several outpatient clinics throughout the region and can transition your child to the appropriate outpatient support they need at a location close to home.
Other children and adolescents may also benefit from an outpatient therapy evaluation and/or ongoing treatment. Our program provides services to children with a wide range of diagnoses—including, but not limited to, the following:
Cancer & blood-related diagnoses
Cerebral palsy
Developmental delay
Genetic syndromes
Idiopathic toe walking
Juvenile rheumatoid arthritis
Musculoskeletal disorders
Neurological injuries (brain injury, stroke)
Prematurity
Recovery after orthopedic surgery
Sensory processing disorders
Traumatic injuries
Program highlights
Our multidisciplinary team works together to help pediatric patients achieve therapy goals through individualized care. Your child's rehabilitation team may include the following specialists:
Physiatrists (doctors specializing in physical medicine and rehabilitation) guide and coordinate medical treatment that is focused on restoring your child's function and overall health

Pediatric physical therapists who help children move to the best of their abilities using strategies to improve motor development, balance, posture control, strength, and coordination

Pediatric occupational therapists who help infants and children improve independence with daily activities by strengthening fine motor skills, sensory integration, visual-motor integration, • and self-help skills
Speech therapists who help children communicate, understand others, interact with peers and adults, as well as help children with swallowing and oral motor strategies
Dieticians, social workers, psychologists, recreational therapists, and others who can help promote health
We offer all of the pediatric rehabilitation services you'd expect⁠—and some you might not⁠—to improve their quality of life. Programs, tools, and services vary by location and may include:
Home evaluation and accommodation

Injury prevention

Language and cognitive-communication therapy

Low vision program

Pain management

Rehabilitation engineering

Support groups for patients and their family and friends

Therapeutic recreation

Virtual reality

Voice disorders therapy
To find an outpatient pediatric therapy location near you, call 844-914-4868.
Our locations
Inpatient locations
MedStar Health: Inpatient Rehabilitation Services at MedStar National Rehabilitation Hospital
102 Irving St. NW
Washington, DC 20010
202-877-1152
Outpatient locations
MedStar National Rehabilitation Hospital
102 Irving Street NW, Washington, DC 20010
PT/OT — 202-877-1760
Serve: 14 years+
SLP — 202-877-1440
OP SLP Director: Patty Fletcher 202-877-1458
Serve: 6 years+
MedStar Georgetown University Hospital
3800 Reservoir Road NW, Washington, DC 20007
Bles Building, Ground Floor, Room CG-12
Department: 202-444-4180
Scheduling: 202-295-0546
202-444-5333 fax
Contact for questions:
Laura.ruiz@gunet.georgetown.edu
202-444-3689
PT/OT/SLP; Serve: birth-100 years
Children's National Hospital (CNH)
111 Michigan Avenue NW, Washington, DC 20010
202-476-3082
fax: 202-476-2513
smmathew@childrensnational.org
SLP Contact Person: Anne Hardy
202-476-5637
fax: 202-476-2163
email: ahardy@childrensnational.org
OP SLP Department: 202-476-5600
The HSC Pediatric Center
1731 Bunker Hill Road NE, Washington, DC 20017
OP Therapy: 202-461-3701; Scheduler: Robin, 202-461-3700
Equipment Clinics: 202-635-6167; Fax: 202-635-6108
PT/OT/SLP
Serve: birth to 21 years; medically complex; BI; SCI; Cancer
Connections Therapy Center
3849 Alabama Avenue SE, Washington, DC 20020
202-561-1110
Referrals - call the Maryland office and specify which location desired
301-577-4333; fax 301-577-5180
info@thectcenter.com
PT/OT/SLP
Serve: birth to 21 years
National Speech/Language Therapy Center
412 First Street SE, Washington, DC 20003
202-470-4185; Fax: 877-350-8028
Executive Director: Sabra Gelfond; sabra@nationalspeech.com
Clinic Director: Keisha Matthews
SLP/OT: Serve: birth-21 years (SLP for adults too)
Healing Hands Physical Therapy Services, Inc.
3200 12th Street NE, Washington, DC 20017
202-545-8444
fax: 202-545-8446
info@HealingHandsPT.org
PT Only: Serve: birth to 100 years
MedStar Health: Physical Therapy at Ellicott City
9501 Old Annapolis Rd. Ste. 125
Dorsey Hall Medical Center­
Ellicott City, MD 21042
410-997-1063
MedStar Health: Physical Therapy at Bel Air – Neurorehabilitation and Pediatric Services
12 MedStar Blvd.­ Ste. 255­
Bel Air, MD 21015
410-877-8078
MedStar Health: Physical Therapy at Pikesville
1838 Greene Tree Rd., Ste. 245
Woodholme Medical Bldg.­
Pikesville, MD 21208
410-753-3317
Justin Burton, MD, is Chief of the Physical Medicine & Rehabilitation Department at Children's National Hospital, and is Medical Director of the National Center for Children's Rehabilitation at MedStar National Rehabilitation Hospital in Washington DC. He completed two residencies, the first in Pediatrics at Children's National Hospital in Washington DC and the second in Physical Medicine & Rehabilitation at the Rehabilitation Institute of Chicago (now called Shirley Ryan Ability Lab). He then completed a fellowship in Pediatric Rehabilitation Medicine at the Rehabilitation Institute of Chicago. In addition to administrative duties, he serves as a full-time attending physician on the inpatient pediatric rehabilitation unit as well as the inpatient consultation service. His passions are clinical care and education, and he has received multiple awards in both areas. He has presented at national conferences on the topics of cerebral palsy, neonatal brain injury and hypertonia, pediatric brain tumor rehabilitation, and healthcare disparities. His academic interests include hypertonia management, paroxysmal sympathetic hyperactivity, motor control in cerebral palsy, robotics in rehabilitation, and early mobilization programs.

Medical School: New York Medical College
Internship Program: Long Island Jewish Medical Center
Residency Program: University of Medicine and Dentistry of NJ
Fellowship Program: Children's National Medical Center

Via Strong, PsyD

, is a clinical and rehabilitation psychologist at Medstar National Rehabilitation Hospital. Dr. Strong treats adolescents and adults coping with anxiety, depression, trauma, adjustment to disability or injury, and somatic disorders.

Najma Knobloch, Education Coordinator

Najma Knobloch joined the National Center for Children's Rehabilitation as the Education Coordinator at MedStar National Rehabilitation Hospital in February 2019. At NCCR, Najma has served as an academic liaison for parents, students, schools, and school districts. Najma creates individualized return-to-school plans for each patient to determine the educational implications of each patient's recovery from illness or injury, using firsthand information gathered from conferencing with families and school personnel, visiting patients' schools, and working in collaboration with the patient's physicians and therapy team. Najma has served NCCR families as an advocate, ensuring that NCCR patients continue their education and receive the services and accommodations needed to ensure safe and successful reintegration into their schools. Najma also serves as a teacher for the pediatric unit, providing direct instruction and educational evaluation services to patients across grade levels. Additionally, Najma organizes Continuing Education for the pediatric rehabilitation team to ensure continued professional development with relevant education and training opportunities for the team's physicians, nurses, psychologists, social workers, and therapists.

Najma earned her B.A. in Psychology from the University of Maryland, College Park, and her M.A. in Education and Human Development with a focus in Special Education from George Washington University. She is a certified special education teacher. She is earning her Ph.D. in Educational Psychology at Howard University.
Additional information
Pediatric patient forms