Pediatric Rehabilitation | MedStar Health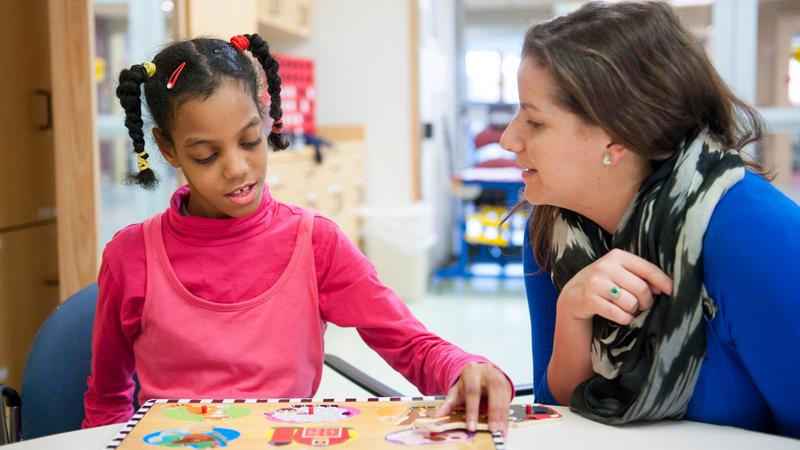 When children and adolescents experience illness, injury, or developmental disorders, rehabilitation can help them regain strength and mobility, improve independence, and build the confidence they need to thrive.
At MedStar Health, we provide unmatched pediatric rehabilitation services for pediatric patients. Our inpatient rehabilitation program at MedStar National Rehabilitation Hospital (MedStar NRH) is accredited by the Commission on Accreditation of Rehabilitation Facilities (CARF), demonstrating our commitment to caring for children with medically complex neurological and orthopedic conditions. We also offer award-winning outpatient services for children who could benefit from ongoing rehabilitation while living at home.
Our multidisciplinary pediatric rehabilitation teams combine the best in medicine, therapy, research, and compassion to develop customized treatment plans designed to address your child's physical, emotional, and social needs. The rehabilitation team may involve physiatrists, pediatric physical therapists, occupational therapists, speech-language pathologists, rehabilitation psychologists, social workers, and others invested in helping them achieve their fullest potential.
We also believe you're a primary member of your child's care team. Our goal is to help you understand your child's condition and the progress made in therapy, and we encourage family participation every step of the way.
Inpatient rehabilitation
For pediatric patients who need medical and rehabilitation at the same time, we offer patient-and family-centered inpatient rehabilitation (also called pediatric rehab) at our National Center for Children's Rehabilitation (NCCR) in Washington, D.C. This CARF-accredited program is a unique collaboration with one of the country's leading pediatric hospitals, Children's National Medical Center.
On our acute rehabilitation unit, our pediatric rehabilitation team cares for patients ages three to 18 who have suffered illness or injury, including but not limited to:
Amputation
Brain injury
Cancer
Cerebral palsy
Functional neurological symptom disorder (FND)
Genetic disorders (e.g., spinal muscular atrophy)
Neurological conditions
Nervous system disorders (e.g., spinal cord injury)
Orthopedic conditions
Stroke
Trauma
Treatment begins with a complete evaluation of your child's functional abilities and challenges. Based on the evaluation, an individualized treatment plan is developed, tailored to your child's needs and goals. All of this care is family-focused, featuring education as well as emotional and social support services to help keep the family functioning well.
The intensive therapy services will most often include physical, speech, and occupational therapy, as well as therapeutic recreation. Patients will also benefit from the support of our pediatric rehabilitation psychologist, as needed.
Pediatric rehabilitation patients will receive intensive therapy five to six days a week for three hours a day. Play is also a critical aspect of treatment—children are encouraged to participate in scheduled activities like pet therapy, arts and crafts, and board games to promote socialization, which boosts recovery.
Program highlights
The center's team of pediatric rehabilitation specialists—physicians, nurses, and therapists—treats the multiple physical, cognitive and behavioral effects of injury or illness in an integrated approach to care, which is developmentally appropriate and promotes each child's optimal growth and development.
Patients and families benefit from:
Comprehensive therapies, including pediatric physical therapy, occupational therapy, speech-language therapy, recreational therapy, music therapy, and others
Access to an Education Liaison who is a critical part of the care team and serves as patients' advocate to ease the transition from hospital to school and as a communication bridge between
teachers, parents, and physicians, when needed.
Inviting and engaging environments for individual and group play and therapy, including:

Adaptive games
Adaptive playground
Art experiences
Children's playroom
Computer games
Interactive video
Pediatric gym

A family-centered approach, featuring overnight accommodations for parents and frequent family conferences.
Emotional support and guidance from psychologists who help families cope with life adjustments.
Onsite services for orthotics, casting, mobility, and rehabilitation engineering
Advanced technologies and assistive devices, including the ZeroG® overground weight support system and the EkSO exoskeleton and other robotic devices.
Upon completion of inpatient rehabilitation, patients will be referred for follow-up care, which may include outpatient therapy, home care services through MedStar Health Home Care, or school-based resources.
Learn More About Inpatient Rehabilitation
Program outcomes
As a CARF-accredited Specialty Program, our Pediatric Rehabilitation program consistently meets and exceeds national benchmarks.
Pediatric Rehabilitation Program Outcomes at MedStar NRH
Outpatient rehabilitation
Outpatient physical therapy, occupational therapy, and speech therapy can help children and adolescents improve their physical, motor, sensory, behavioral, and cognitive abilities. Some patients are referred to outpatient services following discharge from an inpatient rehabilitation program. Because we offer dozens of outpatient clinics throughout the region, we can seamlessly transition your child to the appropriate outpatient support they need at a location close to home.
Other children and adolescents may also benefit from an outpatient physical therapy evaluation and/or ongoing treatment. Our program provides services to children with a wide range of diagnoses—including, but not limited to, the following:
Autism spectrum disorder
Cancer & blood-related diagnoses
Cerebral palsy
Developmental delay
Genetic syndromes
Idiopathic toe walking
Intellectual disabilities
Juvenile rheumatoid arthritis
Musculoskeletal disorders
Neurological injuries
Prematurity
Recovery after orthopedic surgery
Sensory processing disorders
Sports injuries
Torticollis
Traumatic injuries
Program highlights
Our multidisciplinary team works together to help pediatric patients achieve therapy goals through individualized care. Your child's rehabilitation team may include the following specialists:
Physiatrists (doctors specializing in physical medicine and rehabilitation) guide and coordinate medical treatment that is focused on restoring your child's function and overall health

Pediatric physical therapists who help children move to the best of their abilities using strategies to improve motor development, balance, posture control, strength, and coordination

Pediatric occupational therapists who help infants and children improve independence with daily activities by strengthening fine motor skills, sensory integration, visual-motor integration, oral
motor strategies, and self-help skills

Speech therapists who help children communicate, understand others, and interact with peers and adults

Dietitians, social workers, psychologists, recreational therapists, and others who can help promote health
We offer all of the pediatric rehabilitation services you'd expect⁠—and some you might not⁠—to improve their quality of life. Programs, tools, and services vary by location and may include:
Home evaluation and accommodation
Injury prevention
Language and cognitive-communication therapy
Low vision program
Pain management
Rehabilitation engineering
Support groups for patients and their family and friends
Swallowing clinic
Therapeutic recreation
Virtual reality
Voice disorders therapy
To find an outpatient pediatric therapy location near you, call 844-914-4868.
102 Irving St. NW
Washington, DC 20010
Pediatric Physical Medicine and Rehabilitation
Show Next

8

of
Show All Pediatric Physical Medicine and Rehabilitation
Additional information
Pediatric patient forms