MedStar National Rehabilitation Hospital | 20010 | MedStar Health
Welcome to MedStar National Rehabilitation Hospital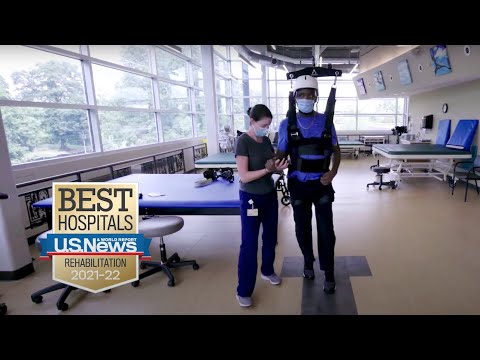 Why choose us
We are the region's largest acute rehabilitation hospital. MedStar National Rehabilitation Hospital is responsible for treating some of the nation's most complex cases, due to our research partnership with Georgetown University School of Medicine, our highly specialized physicians, and our continued use of the latest technology; we are prepared to treat any injury.
The mission of the MedStar National Rehabilitation Network is to serve the community as a regional and national leader in rehabilitation services through five major areas:
Quality patient care in inpatient, outpatient, and day treatment programs
Rehabilitation research
Education and training of rehabilitation professionals and the community
Assistive technology that helps persons with disabilities live productive lives
Advocacy - working with persons with disabilities to communicate their needs to policymakers at the local, state, and national levels
We are the region's (DMV) largest acute rehabilitation hospital, and a proud part of the MedStar Health system.
Our founding credo is "Adding Life to Years®." While acute care is adding years to people's lives, the goal and foundation of our clinical work is to make sure that people achieve their maximum level of function and independence and get back to home, work, and life. That goal guides who we are and what we do.
Visiting our hospital
MedStar National Rehabilitation Network is located in Washington, D.C. In recent years, we have dramatically increased our outpatient network with more than 50 locations in the greater Washington, Baltimore, and Northern Virginia region. Going forward, we aim to expand both our inpatient services and our outpatient network to continue to meet the needs of the community.
Patient and visitor information
We are strongly committed to our patient's recovery and their continuum of care. Besides our inpatient services, our Day Treatment programs, and many support groups, we also have a large Outpatient Network, containing 50+ outpatient locations across Washington, D.C., Maryland, and Northern Virginia.
In-patient experience
Patients and their families truly feel at home when they come to us. Our hospital has the unique ability to not only provide renowned rehabilitative care, but provide hope and emotional support to patients and their families after a devastating injury.
Stories from around the hospital
Explore our medical education opportunities