Cardiac Rehabilitation | Heart & Vascular Care | Medstar Health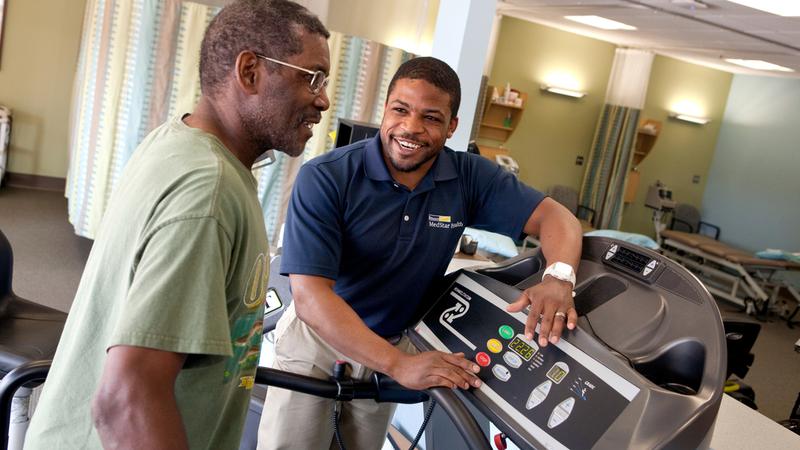 MedStar Health's Cardiovascular Rehabilitation program is designed for patients recovering from heart disease or a cardiac event such as a heart attack or heart surgery. In addition, cardiac rehabilitation can help improve stamina in patients who have heart failure or a wide range of other cardiovascular conditions (e.g., chest pain, arrhythmia, cardiomyopathy, and others). Research suggests cardiac rehabilitation offers numerous benefits for patients, including:
An increased chance of living longer
Decreased pain and need for medications to treat the disease
Emotional support and reduced stress during recovery
Improved stamina, endurance, and overall strength
Improved quality of life by making it easier to work, take part in social activities, and stay independent
Reduced risk of future heart events, hospital stays, and other heart-related complications
Our outpatient and inpatient cardiac rehabilitation services help patients learn heart-healthy habits and gain emotional support from other participants who have had similar experiences. We also offer weekly education sessions in a group setting to ensure patients have the tools and knowledge to live a heart-healthy life.
Inpatient rehabilitation
Unlike other programs that offer only medical or rehabilitation care, MedStar Health's inpatient Cardiac Rehabilitation program combines medical and therapeutic services from a team of experts across disciplines under one roof. Our teams are composed of exercise physiology trained therapists who work with a medical director, dietitians, physical therapists, counselors, and your cardiologist to ensure that you exercise safely and efficiently without putting too much stress on your heart.
Our care typically begins after a patient is transferred from a referring hospital or facility after receiving treatment for a heart event, such as heart failure, or after heart surgery, like a coronary artery bypass graft. Our cardiac rehabilitation team works closely with patients and their families to establish individual goals and a care plan tailored to achieve them. Families are invited and encouraged to attend therapy and educational sessions as appropriate.
Program highlights
Through our inpatient Cardiac Rehabilitation program, our physical, occupational, speech, and recreational therapists and psychologists help patients safely resume exercise and independence after an acute care stay for heart disease treatment. Highlights of the inpatient program include:
Personalized physical therapy in our cardiac gym five days a week
At least three hours of combined physical and occupational therapy each day and speech therapy as needed
Specialized EKG-monitored exercise therapy under the supervision of doctors, nurses, and an exercise physiology trained therapist.
Heart function and rhythm monitoring as patients move through a series of progressively more-intense activities
Therapy sessions that address skills necessary for independent living, like bathing, dressing, walking, using stairs, and getting out of bed
24/7 access to specialized rehabilitation nurses and onsite physicians
Education on ways to prevent recurrent heart disease and manage the psychological impact of the disease on health
Access to all of the rehabilitation services traditionally provided in our rehabilitation facilities, including state-of-the-art rehabilitation technology and unique therapy programs, including therapeutic recreation and music therapy*
Monthly cardiac support group
*Programs and technology may vary by location
Preparing for discharge
Our primary goal is a safe transition home with the appropriate follow-up care and support in place. We start planning for discharge upon admission, and your individualized discharge plan may involve outpatient services, skilled nursing facilities, or home care through MedStar Health Home Care.
Program outcomes
Numbers tell the story—of success, satisfaction, and hundreds of lives restored to health, function, and happiness. Learn more about our patient outcomes at both inpatient rehabilitation facilities in Washington, D.C., and Baltimore.
Outpatient rehabilitation
For patients who began cardiac rehabilitation through one of our inpatient programs, outpatient care helps them maintain and build on the progress they have already made. Your cardiac rehabilitation team will review your medical history and monitor your heart rate and electrocardiogram (ECG) readings while you complete a low-intensity exercise test. They'll use this information to create a personalized exercise program and help you gradually increase the intensity and duration of exercise to progress safely toward recovery and independent fitness activities.
We encourage you to attend an outpatient clinic for one hour of exercise training three times a week. The number of supervised exercise sessions depends on your individual needs and insurance coverage, which we'll review before you begin the program.
Program highlights
With 50+ outpatient therapy offices throughout the region, we make it convenient for patients to continue their care throughout recovery at home. Each therapy plan matches your individual needs with the services that will help you maintain a heart-healthy lifestyle. These services may include: Physical therapy to improve cardiovascular health and fitness levels
Occupational therapy to help strengthen your independence
Speech-language therapy, as needed
Dietitians
Wound care
Patient and family education on cardiovascular disease prevention topics, including blood pressure and cholesterol management, healthy lifestyle habits, heart-healthy nutrition, heart medications, stress management, and more
Supportive psychotherapy and counseling
Specialty programs
Medical fitness program
Medical Fitness is a medically supervised exercise program primarily beneficial for individuals who have recently completed an inpatient cardiac rehabilitation program but is not limited to just those with heart disease. Our exercise physiologists create a personalized exercise prescription for you and help you monitor and track important vital signs such as heart rate, blood pressure, and blood glucose (if diabetic) before, during, and after your exercise.
Monthly activity logs with vital signs and exercise information can be provided to show your referring physician your progress and success with a regular exercise regimen.
Medical Fitness requires a referral from your physician in order to begin and is not covered by medical insurance.
COVID-19 recovery
We are at the forefront of guideline creation in our post-COVID recovery program. Patients with a history of COVID-19 can receive cardiac screenings, multidisciplinary clearances for return-to-work, and rehabilitation to treat any unique and lingering effects of the disease.
Inpatient locations
Distance from Change locationEnter your location
5601 Loch Raven Blvd. Main Hospital Building 5th Floor Baltimore, MD 21239
102 Irving St. NW Washington, DC 20010
Frequently asked questions
Who should attend cardiac rehab?

You may benefit from cardiac rehabilitation if you have had one of the following conditions or treatments:

When should I start cardiac rehab?

Every person is different. You may start as early as a week after you leave the hospital, or you may need to wait for several weeks to give your body time to heal and recover. Scheduling and insurance processes usually allow patients to start one to two weeks after contacting a cardiac rehab program.

How long is each session, and how many should I attend?

Each session lasts between 45 and 90 minutes, depending on your fitness level and progress. It is generally recommend at you attend three sessions a week for the most health benefits. In general, cardiac rehab attendance ranges from 12 to 36 sessions. However, it will depend on a variety of factors, including your cardiologist's recommendation, insurance, your risk factors, previous experience with exercise, and severity of your heart disease.

How much does cardiac rehab cost?

Cardiac rehab is a medical program. Many insurance plans cover most or all of the cost. Copays and prior authorizations will be checked before you begin.

Your cardiologist will write a referral, which you can take to the MedStar Heart & Vascular Institute program closest to you. We have facilities across the Maryland/D.C. area. Your care team can tell you more about the program closest to you. If your cardiologist does not have their own referral form, contact the cardiac rehab program directly, and they can send the forms to your doctor.

What types of tests may be used to measure my cardiovascular function?

An echocardiogram uses high-frequency sound waves to create images of your heart.

An electrocardiogram, also known as an ECG, measures the heart's electrical activity.

Stress tests are used to assess how your heart works during physical activity. There are several types of stress tests, including treadmill or bike stress tests, nuclear stress tests, stress echocardiograms, and chemically induced stress tests.

What if I have never exercised before?

Don't worry. The point of cardiac rehab is to introduce you to regular exercise in a safe and fun environment. Over time, you'll be able to exercise more as you become healthier and more confident.

What if I already exercise regularly?

Cardiac rehab is different than going to the gym. Cardiac rehab programs make sure that you're exercising at the appropriate intensity before you begin exercising on your own again.
Additional information
MedStar Heart and Vascular Institute
We work closely with the heart and vascular specialists at MedStar Health to offer seamless, coordinated rehabilitation care for patients who have cardiovascular conditions. Learn more in the link below.

Support Groups
MedStar Cardiac Heart Talks, a cardiac support group, offers people affected by cardiac illness a space to learn, share, and connect with one another. To learn more, call 202-877-1517.