Brain Injury Rehabilitation | MedStar Health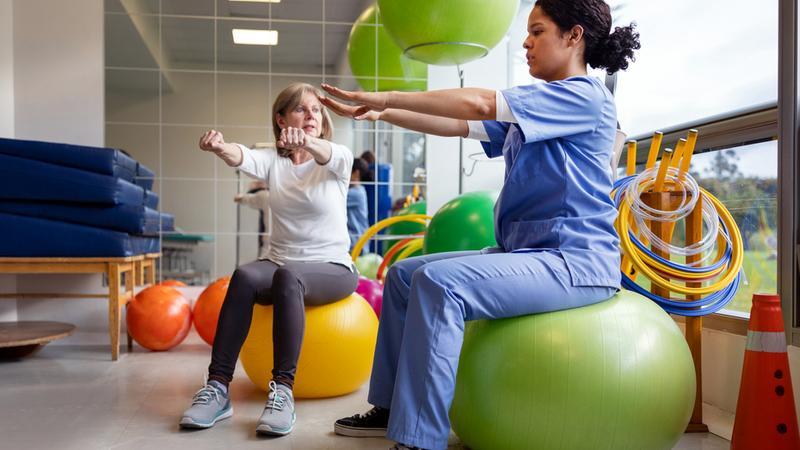 Brain injury rehabilitation
Our acute rehabilitation services for patients with a traumatic or acquired brain injury are renowned for innovative care that uses an evidence-based, multidisciplinary team approach to recovery. This focused and proven method of care is the reason why so many people, including politicians, military service members, and entertainers, choose us for their care.
We treat patients recovering from the effects of a traumatic brain injury (TBI), as well as those recovering from the effects of other neurologic conditions, including:
Post-concussive disorder

Brain and spinal cord tumors

Brain hemorrhage, including the complications of stroke

The post-surgery effects of deep brain stimulation (DBS)

Anoxic or hypoxic brain injury

Parkinson's disease, cerebral palsy, and other movement disorders

Encephalitis and other infections of the brain and central nervous system

Multiple Sclerosis and other disorders of the central nervous system

Guillain–Barré syndrome (GBS) and other disorders of the peripheral nervous system
Our inpatient and outpatient neurorehabilitation programs are some of the nation's most advanced. Informed by ground-breaking research conducted at MedStar Health—and staffed by nationally-respected experts—the program focuses entirely on boosting recovery from brain injuries and injury to the nervous system.
Inpatient rehabilitation
Our program is directed by physicians who are board-certified in physical medicine and rehabilitation and/or neurology. Each patient has a care team that is led by a physician and also includes specialists in nursing, occupational therapy, physical therapy, speech-language pathology, social work/case management, neuropsychology, therapeutic recreation, and nutrition.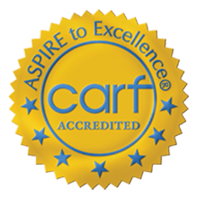 Our Brain Injury Rehabilitation program at MedStar National Rehabilitation Hospital CARF-accredited, demonstrating our commitment to exceeding rigorous standards for delivering specialized services to patients with acquired brain injury.
After a thorough assessment, the interdisciplinary treatment team designs an individualized rehabilitation plan tailored to the patient's specific needs and goals. In partnership with patients and families, our physicians and therapists set short-term and long-term goals and regularly reexamine these goals at daily meetings. Care is specific to each patient's injury and impairments, with a focus on optimizing physical recovery and managing any cognitive, behavioral, or secondary challenges that may occur.
Program highlights
Our brain injury rehabilitation specialists work together to develop comprehensive and individualized treatment that may involve*:
A combination of physical therapy, occupational therapy, and speech therapy for an average of three hours each day for five days per week
Both individual and group therapy, providing patients the opportunity to practice skills in a variety of settings while connecting with others over shared experiences
State-of-the-art technologies and assistive devices to help patients relearn to walk and perform activities necessary for independent living
Unique therapy programs, including music therapy and therapeutic recreation
24/7 access to rehabilitation nurses and physicians
Support services, including access to spiritual care and dieticians
A neuropsychologist who evaluates all patients and provides additional support as needed throughout the inpatient stay
A neuro optometrist who evaluates and treats visual changes
Education for patients, family members, and caregivers to help them cope with the potential changes in their loved one's behavior and skill level
Opportunities for clinical trials that may advance treatment for neurological disorders
*Services may vary by location
Preparing for discharge
Before a patient is discharged, their team will recommend services they might need in order to transition to the next level of care. Because MedStar Health offers coordinated access to comprehensive healthcare services throughout the entire region, we can seamlessly connect patients to the right next step for their journey to recovery.
Some patients benefit from additional outpatient therapy, including speech-language pathology services, offered throughout our rehabilitation network. We can also arrange home care for the patient, including services provided through MedStar Health Home Care.
Program outcomes
Below, you'll find our brain injury outcomes reports, which outline the effectiveness of our programs in Washington, D.C., and Baltimore.
Outpatient rehabilitation
We offer highly specialized outpatient services for people suffering from the lingering—and often life-altering—results of mild traumatic brain injury (TBI) and other neurological trauma. Our staff provides the correct treatment to those who need help with long-term cognitive impairment but do not require hospitalization or those who are medically stable to live at home after receiving inpatient care for their neurological condition.
MedStar Health physical therapy outpatient centers, located throughout the region, offer a full scope of therapies for adults and children with neurological illness and injury. Wherever our patients see us for care, their treatment team will develop an individualized rehabilitative care plan that focuses on the therapeutic options that will help each patient maximize their health and return to their fullest possible lives.
Program highlights
We take a team approach to help our patients through recovery, and your care team may involve the following specialists:
Physical medicine and rehabilitation physicians—called physiatrists—coordinate outpatient care. They work collaboratively with therapists, physician specialists, and primary care physicians to evaluate patients' needs and develop a treatment plan to reduce the multiple effects of illness and injury.

Neuropsychologists specialize in helping patients deal with cognitive problems that can accompany neurological illness and injury. They help patients adapt to their condition and work with them to improve their quality of life.

Physical therapists use various techniques and advanced technology to promote patients' mobility, reduce pain, restore strength and function, and prevent disability.

Occupational therapists help patients improve skills of day-to-day living so that they can participate fully in their community—at home, school, or work.

Speech-language pathologists assess, diagnose, and treat speech, language, cognitive-communication, voice, fluency, and swallowing disorders, including aphasia and dysarthria.
MedStar Health's outpatient rehabilitation clinics offer many special services designed to boost recovery and eliminate barriers to a patient's best possible life. Services vary by location and may include:
Aphasia clinic/aphasia mentorship program

Aquatic therapy

Augmentative/alternative communication clinic

Cognitive-communication therapy

Falls Prevention and Balance Rehabilitation programs

Group speech therapy

Home and worksite evaluation and accommodation

Individual motor speech therapy

Language and cognitive communication therapy

LSVT BIG & LOUD program for Parkinson's disease

Low vision program

Manual therapy, including cranial release, muscle energy techniques, and myofascial release

Pain management

Rehabilitation engineering

Support groups for patients and their family and friends

Swallowing Clinic

Therapeutic recreation, adaptive sports, and fitness program

Urology services, including a urodynamics laboratory

Vestibular therapy

Voice disorders therapy
If you need assistance getting back to work after your injury or illness, we can help connect you with your state vocational rehabilitation agency.
Specialty programs
Concussion clinic
Adolescents, young adults, and older adults are the majority of patients who suffer from mild TBI. While some patients receive emergency care—and even an appropriate diagnosis of mild TBI—many do not. Despite the persistence of symptoms— persistent headache, confusion, pain, cognitive and/or memory problems, fatigue, changes in sleep patterns and mood, dizziness/vertigo—people who suffer concussion often do not get necessary evaluation, testing or treatment by brain injury specialists.
The Concussion Clinic is a unique outpatient service that offers highly specialized services for people suffering from the lingering—and often life altering—results of mild traumatic brain injury (TBI). The program includes an assessment by a physician, neuropsychologist, or other healthcare professional.
The evaluation informs a personalized treatment plan, which may include referrals for rehabilitation treatments or further medical consultations. Concussion services may include physical therapy to address persisting symptoms of fatigue, vestibular/balance issues, and head and neck pain.
Inpatient locations
Distance from Change locationEnter your location
102 Irving St. NW Washington, DC 20010
5601 Loch Raven Blvd. Main Hospital Building 5th Floor Baltimore, MD 21239
Additional information
Support groups
Brain Injury Families & Friends Support Group
Research
Researchers at MedStar Health are learning more about how the brain functions and about how to harness brain plasticity—the brain's amazing ability to heal, adapt, and change. This critical research is helping us develop new rehabilitation interventions and improve outcomes for our patients.
Every day, we're putting this knowledge into practice in treating adults and children with complex brain injury, stroke, spinal cord injury, and illness, as well as a host of other neurological disorders.