Brain Tumors and Brain Cancer | Types | MedStar Health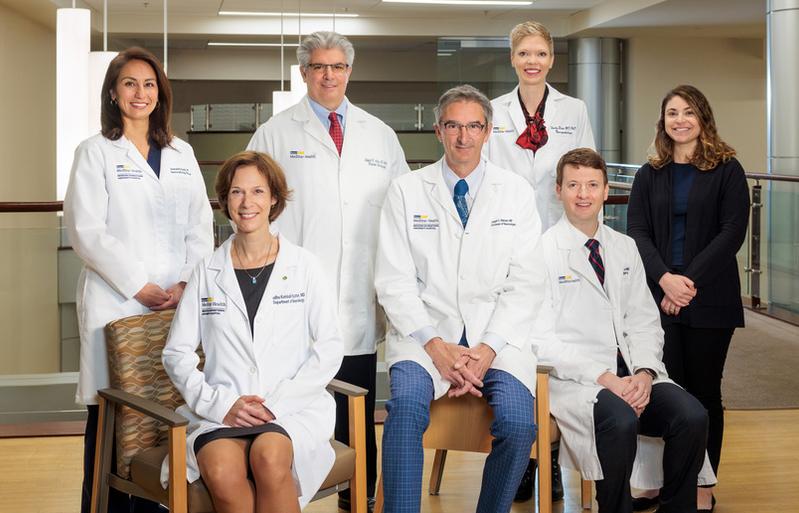 Highly specialized and collaborative brain tumor care that leads to your best outcome.
A brain tumor is an abnormal growth in brain cells. These tumors can be cancerous (malignant) or noncancerous (benign), but their presence can impact multiple aspects of a person's abilities, including personality, motor function, hearing, and vision. These tumors may cause numerous different symptoms that can adversely affect someone's activities of daily living and overall quality of life.
The brain is the body's most complex organ. Therefore, brain tumors require advanced care under the guidance of a group of experienced professionals who specialize in diagnosing and treating these types of tumors. At MedStar Health, we have a team of experts focused exclusively on caring for patients with these lesions, including primary types of brain tumors, such as gliomas, meningiomas, schwannomas, pineal tumors, and pituitary tumors, as well as secondary tumors, or metastatic disease. Our multidisciplinary specialists work together using the latest approaches and technologies available in surgery, radiation, and medicine to create a personalized treatment plan based on your needs, goals, and preferences.
Symptoms and risk factors
Brain tumors can cause seizures or changes in vision, personality, or movement.
Brain tumor symptoms can vary based on the tumor's location and the symptoms may worsen if the tumor grows. Signs and symptoms of a brain tumor may include:
Persistent headaches
Unexplained nausea and/or vomiting
Seizures or limb shaking
Weakness in the arms or legs
Numbness or tingling in the face, arms, or legs
Changes in vision or speech
Dizziness or vertigo
Trouble balancing or difficulty walking
Confusion
Unexplained changes in personality or behavior

Don't wait until symptoms become severe to seek care. If you notice anything concerning, it's critical you discuss it with your primary care provider.
Screening and prevention
You can't prevent brain tumors.
Unlike other types of cancer, lifestyle factors don't affect a person's chances of developing a brain or spinal cord tumor. As a result, there are no preventative or screening measures for these lesions.
Metastasis is when a tumor originates in another part of the body and spreads to the brain. Therefore, if you have a history of cancer, it's important to follow your surveillance plan to minimize the risk of recurrence or spread and ensure progression is diagnosed early when it may be more easily treated. If you notice any warning signs of a tumor, seek care immediately.
Diagnosis
The diagnosis of a brain tumor type is determined by a biopsy of the tissue.
A neurosurgeon is one of the specialists many people meet with when referred for neuro-oncology care. During the initial visit, the surgeon will ask about your symptoms and review your medical history. They'll also review any imaging studies, including MRI, PET scan, or CT scan results. They may order additional tests to gather more information about your tumor. Our multidisciplinary team also includes neuroradiologists with additional training in diagnosing brain tumors using advanced imaging. This high level of expertise ensures we can accurately diagnose your tumor, leading to more effective, personalized treatment.
In some instances, your doctors may recommend a biopsy of the brain lesions or primary cancer site. During a brain biopsy, a trained neurosurgeon will collect a sample of the tumor tissue for diagnosis and further treatment planning. This may be done in several ways depending on the tumor's location, including one of the following:
Stereotactic needle biopsy:

This approach uses an advanced navigation system, similar to how GPS works, to collect the tissue using a needle through a small scalp incision.

Endoscopy:

Brain tumors near the skull base may require the surgeon to obtain a tissue sample through the nose.

Tumor resection:

When appropriate, resection involves surgically removing the bulk of the mass while providing tissue diagnosis.
Once we have a tissue sample, a pathologist trained to evaluate brain tumors will analyze the tissue to provide information about its specific characteristics. This will help to predict how your tumor may respond to standard and experimental treatments. Genetic testing may be done to further characterize the tumor subtype and guide treatment.
Types of tumors
At MedStar Health, we have the tools, training, and experience necessary to treat all types of central nervous system (CNS) tumors. The CNS includes the brain and spinal cord. Primary tumors begin in the brain and there are many different subtypes of these tumors, such as:
Glioma:

A glioma

is one of the most common types of brain tumors and there are many different grades of gliomas based on characteristics. Not all gliomas are malignant, and treatment will vary based on the type and grade of your tumor.


Meningioma:

A meningioma is a tumor that grows from the membranes surrounding your brain and

spinal cord

, known as the meninges. A meningioma is typically benign.

Acoustic neuroma:

An

acoustic neuroma

is a benign brain tumor that grows on the vestibulocochlear nerve, influencing balance and hearing. Acoustic neuromas are rare and usually slow growing.

Pineal tumor:

Pineal tumors

originate in the pineal gland, a small gland deep within the brain. These tumors can be malignant or benign.


Pituitary tumor:

A

pituitary tumor

arises from the pituitary gland, the gland primarily responsible for regulating your hormones. We work closely with endocrinologists and ophthalmologists at MedStar Health to treat the full range of pituitary tumors. These tumors may respond to medical treatment too.
Secondary or metastatic brain tumors: Metastatic brain tumors are tumors that have spread to the brain from elsewhere in the body. Cancers that commonly spread to the brain are lung, breast, skin, colon, and kidney cancers.
Treatments
Customized brain tumor treatment options, backed by the latest research.
The brain and spine are complex, which is why it's critical that you have access to experts who specialize in treating tumors affecting these structures. At MedStar Health, our neuro-oncology program leverages the expertise of fellowship-trained specialists in neurosurgery, neurology, medical oncology, radiation oncology, neuroradiology, neuropathology, and others. These experts focus exclusively on diagnosing and treating adult patients with tumors affecting the brain, both malignant and benign. Our specialists work together to determine the best approach to your care, considering your personal health, preferences, and tumor characteristics such as:
Location
Cell type
Growth rate
Treatment options will vary based on your individual tumor. Depending on the tumor type and characteristics, some tumors may be monitored while others may warrant more prompt surgery. As a result of this, we are diligent about follow-up for our patients.
Surgery
When surgery is recommended, the goal is to remove as much of the tumor as is safely possible while preserving the critical surrounding structures. The type of surgery varies based on the location and severity of the tumor. For example, skull base tumors may be removed endoscopically, which is a minimally invasive procedure performed through the nasal cavity.
Most patients require a craniotomy, which is when a neurosurgeon will access the tumor through the skull. Our surgeons use the latest technology to map and guide these procedures, which ensures greater precision and safety to preserve brain function. Some patients also benefit from radiation therapy, chemotherapy, and/or other advanced therapies following surgery, and this decision is made on a case-by-case basis.
Chemotherapy
Your treatment team may also include a medical oncologist who is trained in administering chemotherapy to directly target the tumor cells. Our medical oncologists and fellowship-trained neuro-oncologists focus on treating central nervous system tumors, and we also have a neuro-oncologist with fellowship-training in treating patients with cancer affecting the brain and spine.
In collaboration with your neurosurgeon and other members of your care team, a medical oncologist will determine whether chemotherapy is appropriate based on your tumor type. Some chemotherapies are delivered systemically (affecting the whole body), while others may be administered during surgery. Chemotherapy is not used to treat benign tumors.
Immunotherapy and targeted therapy
Immunotherapy and targeted therapy are other advanced treatment options that may be recommended by your medical oncologist. Individualized therapy directs advanced agents to certain targets based on the type of tumor. This allows us to further personalize and pinpoint treatment while protecting healthy parts of the body. We also continue investigating the role of immunotherapy in treating brain tumors.
Learn More About Immunotherapy
Learn More About Targeted Therapy
Radiation therapy
Radiation therapy plays an important role in treating primary malignant and benign tumors in the brain, as well as metastatic brain cancer. Depending on your tumor, radiation may be used after surgery or in place of surgery. Our radiation oncologists meet frequently with the other members of your cancer team to determine which approach is best for you.
We offer the a full range of advanced radiation therapy technologies, including stereotactic radiosurgery using CyberKnife® or Zap-X®. These technologies allow us to deliver high-doses of radiation with exceptional precision, reducing side effects while improving treatment effectiveness. We were among the first in the region to use these technologies, and we have more experience using them to treat brain tumors than anyone else in the area.
Our expertise often leads to patients requesting to see our providers for a second opinion after having already sought care elsewhere. We frequently provide consultations for these patients who are seeking a second opinion.
Looking for expert neuro-oncology care?
We're dedicated to making it as easy as possible to get the world-class neuro-oncology care you deserve. Our neurosurgeons and other specialists see patients at several convenient locations throughout the region, and we work quickly to begin treatment once you are referred to us. In addition, through our Comprehensive Brain Tumor Center, patients benefit from seeing multiple providers from their oncology team under the same roof in the same appointment. This reduces travel time for patients while allowing your care team to present one well-coordinated treatment plan, so everyone is on the same page.
You'll be cared for by a team of experts who have additional training and experience in caring for patients with brain and skull base tumors.

Most of our doctors are fellowship-trained in a subspecialty as well, which means they have additional training and experience in a particular field. Our team includes neuroradiologists who focus on radiology, neuropathologists who focus on pathology, and neuro-oncologists, who focus on diagnosing and treating patients with central nervous system tumors. These experts see patients at several locations throughout Maryland and Washington, D.C., ensuring you can access top experts wherever you live in the area.

Our specialists work together to deliver the most advanced care available, tailored to your needs.

Your care team meets weekly in Brain Tumor Boards to discuss your best options. This allows input from several experts who are trained in different areas, ensuring every treatment option is considered. Depending on your diagnosis and condition, your care team may include the following:

Neurosurgeon
Neuro-oncologist
Medical oncologist
Radiation oncologist
Neuro-radiologist
Neuropathologist
And others

You may also work closely with nurse navigators and advanced practice clinicians who will help you handle your appointments, understand your treatment options, and connect you to any support services you may need. You'll benefit from access to the entire spectrum of specialty care available throughout the MedStar Health system. From top-rated neuro-rehabilitation experts to oncology psychologists, we're here to help address any needs that arise, from diagnosis and treatment through survivorship and surveillance.

We offer comprehensive treatment, including groundbreaking therapies, advanced surgical approaches, and state-of-the-art radiation techniques.

The Georgetown Lombardi Comprehensive Cancer Center is our research engine, which allows us to offer the full range of world-class treatments backed by science ranging from computerized navigation that makes surgery more precise to stereotactic radiosurgery and groundbreaking therapies.
Clinical trials and research
Clinical trials
Clinical trials help us to find new and better ways to treat primary and metastatic tumors affecting the central nervous system. We participate in clinical trials as available and recommend them for patients who will directly benefit from them.
Research
Research is critical to advancing brain tumor treatment. Through our research engine, the Georgetown Lombardi Comprehensive Cancer Center, we partner with the National Institute of Health and other facilities to investigate new treatment approaches and combinations as we continue improving how CNS tumors are treated.
Support services
We understand a brain tumor diagnosis can be overwhelming, and we're committed to helping you. As a patient, you'll have access to specialized care throughout the region for all your physical, emotional, and mental needs.
Learn More About Cancer Support Services
Genetic counseling
After a cancer diagnosis, it's common to worry about your family's health. While only a few brain cancers are related to genetic mutations, our board-certified counselors can help you and your family identify and manage any potential predispositions to these tumors. Genetic testing can also help us gather additional information about these types of tumors that may positively impact the standard of care for future treatment.
Learn More About Genetic Counseling
Personalized rehabilitation
Many patients benefit from specialized rehabilitation services after surgery or treatment. At MedStar Health, our rehabilitation care is ranked among the best in the world. Our physical, occupational, and speech therapists are experts in helping patients regain strength, mobility, and independence. Depending on your needs, your care team may recommend inpatient, outpatient, or in-home rehabilitation to help you move and feel like yourself.
Learn More About Cancer Rehabilitation
Survivorship
Follow-up care is critical after treatment, and we're dedicated to monitoring your health through periodic imaging. This ensures we can catch and address any signs of tumor recurrence early. Through regular examinations, we can also help manage any lingering side effects from treatment to ensure you can live life to the fullest.