Stereotactic Radiosurgery | MedStar Health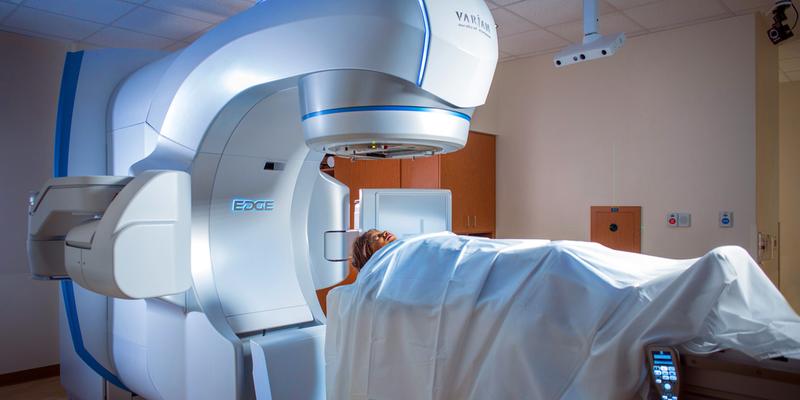 Submillimeter precision in radiation therapy
Stereotactic radiosurgery (SRS) has revolutionized radiation treatment over the past decade, offering a non-surgical option for treating small brain tumors, including
Benign tumors
Primary brain tumors
Brain metastases
Neurological conditions, including trigeminal neuralgia
Arteriovenous malformations
And other abnormalities in the brain
Using advanced technology, like Zap-X ® Radiosurgery , SRS offers patients a fast, effective surgical option for cancer treatment without incisions or the need for overnight hospital stays. Using a real-time tumor tracking system, our clinicians can detect slight tumor movement, thus potentially minimizing the radiation dose to surrounding healthy tissue.
SRS is also called stereotactic body radiotherapy (SBRT) when used to treat tumors found in the lung, prostate, spine, and other areas throughout the body. At MedStar Health, we offer SBRT using state-of-the-art CyberKnife® technology.
Advantages of stereotactic radiosurgery
Less time in treatment, more time living
SRS and SBRT enables us to deliver high doses of radiation with the highest level of accuracy and offers numerous benefits over traditional radiation therapy or conventional surgery, including.
Knife-like radiation beams allow us to treat tumors that are typically difficult to reach surgically.
SRS protects surrounding normal tissue by using advanced motion management techniques that help detect even slight tumor movement.
Patients can continue with their daily lives because a treatment session typically last less than an hour and requires neither hospital stays nor incisions.
How it works
Using 3-D imaging, like magnetic resonance imaging (MRI) and/or computed tomography (CT), we can locate abnormalities within the brain or body and map out its exact size and shape. This creates a plan for the radiation beam to treat each part of the tumor from many different angles.
During treatment, you will lie down on a bed where you can rest comfortably. The type of technology used will vary depending on the location of your tumor. Using precise beam sculpting and a real-time tracking system, radiation oncologists will deliver large, targeted radiation doses to destroy the tumor while minimizing exposure to surrounding healthy tissue. Because SRS and SBRT damages tumor cell DNA, tumors can shrink or remain stable, effectively preventing tumor growth.
During SRS or SBRT, your treatment team may involve:
A radiation oncologist
A specialized radiation therapist
A radiation therapy nurse
A physicist or dosimetrist who determines the right amount of radiation dose
Neurologist or neurosurgeon, for patients undergoing treatment to the brain
Frequently asked questions
Who is a good candidate for stereotactic radiosurgery?

Like CyberKnife, stereotactic radiosurgery may be used to treat a variety of cancers located in the following:

Not everyone is a candidate for stereotactic radiation surgery, and your doctor can help determine the treatment options that are right for you.

What are the side effects of SRS/SBRT?

Like other radiation therapies, side effects are possible and may include fatigue, skin irritation, and other discomforts. Your care team will help you weigh the benefits and manage any potential side effects for all of your treatment options.
Looking for expert cancer care?
With multiple locations throughout the region, patients have access to many of the nation's renowned cancer specialists offering high quality care, second opinions and a chance for better outcomes close to where they live and work. Georgetown Lombardi Comprehensive Cancer Center, one of the nation's comprehensive cancer centers designated by the National Cancer Institute (NCI), serves as the research engine allowing patients access to clinical trials that often lead to breakthroughs in cancer care.
Our locations
Distance from Change locationEnter your location
9103 Franklin Square Dr. Suite 100 Baltimore, MD 21237
3800 Reservoir Rd., NW CB-18 Lower Level (LL) Bles Bldg. Washington, DC 20007
110 Irving Street, NW Washington, D.C., 20010