Targeted and Hormonal Therapy | Cancer Treatment | MedStar Health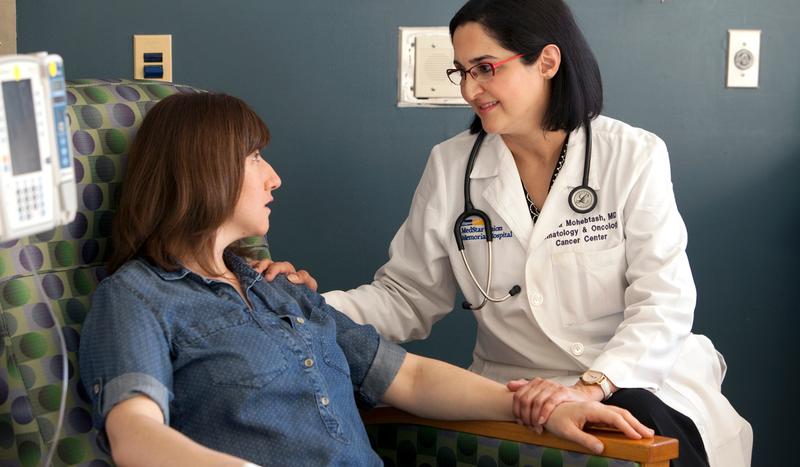 What is targeted therapy?
Targeted therapy is an advanced cancer treatment that uses medications to "target" specific characteristics of cancerous cells. Because targeted therapy controls pathways that are important for the growth and spread of cancer cells, it can prevent certain tumors from multiplying. Targeted therapy focuses on destroying cancer cells and is less likely to affect healthy cells. As a result, many people experience fewer side effects than other types of cancer treatment.
Advances in cancer research have taught us that cancer cells often have abnormalities distinguishing them from healthy cells. For example, cancer cells may grow out of control very quickly because of changes in their genes, proteins, or even their environment. And, no two cancers are the same. Even people with the same type of cancer can have completely different cancer cells, which is why it's important to seek care from a cancer center that personalizes treatments based on the unique characteristics of your cancer.
Targeted therapy can be combined with other treatment methods, like surgery, chemotherapy, hormonal therapy, or radiation therapy. Targeted therapy is only recommended for individuals with certain cancers that contain specific receptors, gene mutations, or proteins. Commonly, targeted therapy is used to treat breast cancer such as HER2-positive and ER-positive breast cancer, lung cancer, colorectal cancer, and others.
Our approach
A team of experts finding new, better ways to target cancer.
The more we know about the biology of your cancer, the better we can treat it. At MedStar Health, we're pioneers in research and clinical trials that allow us to diagnose your cancer more specifically and match it to the best, evidence-based treatments available. Often, we offer target therapies while they're still in clinical trial stages and not yet widely available.
Our medical oncologists work closely with pathologists, surgeons, radiation oncologists, geneticists, and radiologists to determine a personalized treatment plan based on the specific characteristics of your cancer's cells. This multidisciplinary approach, combined with the latest advances in targeted and hormonal therapy, leads to improved prognosis for cancers that have historically been more aggressive and harder to treat.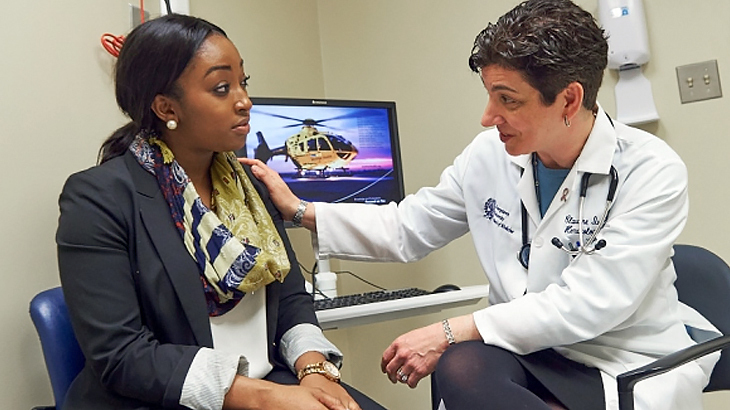 Hormone therapy
Hormone therapy is a targeted treatment that blocks our body's natural hormones from acting on cancer cells. This type of targeted therapy is often used to treat certain types of breast cancer and prostate cancer.
For example, nearly two-thirds of breast cancers have cancer cells that are hormone receptor-positive. This classification means the tumor contains receptors for the hormones estrogen (ER-positive) and/or progesterone (PR-positive). When breast cancer is sensitive to these hormones, your doctor may recommend this type of therapy to block or decrease hormone levels so that cancer stops growing.
The goal of hormonal therapy as a breast cancer treatment is to prevent cancer recurrence after early-stage breast cancer surgery, shrink tumors in late-stage breast cancer patients, and, in some cases, as a risk-reduction strategy to lower the chances of high-risk women developing breast cancer. It is a long-term treatment and may be prescribed for several years, with most medications taken daily at home.
In general, advanced breast cancer, which is stage IV, is considered incurable as the disease has metastasized to distant organs. However, recent advances in the treatment of hormone-receptor-positive breast cancer have allowed many of these patients to survive longer with a good quality of life.

Similarly, some men with metastatic prostate cancer may benefit from this approach. In this instance, medications that alter testosterone may stop or even reverse the disease's progression.
Several types of hormonal therapy drugs are available, including:
Drugs that block estrogen or testosterone
Drugs that lower estrogen or testosterone
Also called endocrine therapy, this approach is often used with other treatments. We also are investigating new drugs in clinical trials to overcome resistance in specific cancers.
This type of targeted therapy may be used:
After surgery (adjuvant) to reduce the risk of cancer returning
Before surgery (neoadjuvant)
If the cancer comes back or spreads
Please note: Hormonal therapy should not be confused with hormone replacement therapy (HRT), which contains estrogen and is used to treat symptoms of menopause, not cancer.
Chemoprevention
Previously, the only option available for women at high risk for breast cancer was increased screening to detect cancer early or preventative surgery. Now, we know that certain medications, like tamoxifen, raloxifene, and aromatase inhibitors, can lower the risk of breast cancer for at-risk women by 50 percent. Through genetic counseling and our High-Risk Breast Clinic, our experts can help you manage your disease risk through a personalized plan to prevent cancer or catch it early when it's most easily treated.
How it is used
Targeted therapies work in many different ways:
Since cancer cells divide and grow at an abnormal rate, some therapies focus on blocking the signal that tells the cancer cells to grow.
As cancer cells often override natural cell death, in a sense, becoming immortal, other therapies interfere with this trait.
Targeted therapies can also make the cancer cells more recognizable to your immune system, which can then seek out and destroy cancer cells.
Side effects of targeted and hormonal therapy
Unlike chemotherapy, targeted therapy treatment is directed only at the cancerous cells. However, side effects are still possible, including:
Changes to your skin, hair, and nails
Diarrhea
Liver problems
Many people report these side effects to be tolerable for a more extended period than some other cancer treatment options.
What to expect
Not all cancers have the same types of targets—or any targets at all. To find out if your tumor has a target, we'll need to take a sample of the tumor, called a biopsy. Then, our pathologists analyze the biopsy for certain markers or gene mutations that tell us whether or not your cancer would respond to a specific type of medication. In some cases we can also get this information from a blood sample.
If your doctor recommends targeted therapy, they'll explain the risks and benefits, as well as any potential side effects. Targeted and hormonal therapy treatments are often delivered orally as a pill. Your doctor will discuss how frequently and how long you'll need to take the recommended medication.
Looking for expert cancer care?
With multiple locations throughout the region, patients have access to many of the nation's renowned cancer specialists offering high quality care, second opinions and a chance for better outcomes close to where they live and work. Georgetown Lombardi Comprehensive Cancer Center, one of the nation's comprehensive cancer centers designated by the National Cancer Institute (NCI), serves as the research engine allowing patients access to clinical trials that often lead to breakthroughs in cancer care.
Research and clinical trials
Research
At MedStar Health, our clinicians and researchers partner with the Lombardi Comprehensive Cancer Center—one of only 51 comprehensive cancer centers designated by the National Cancer Institute—to improve detection and prevention efforts, refine current therapies and create better ones.
Current studies are looking at the effectiveness of new targeted therapies and novel combinations of chemotherapies, hormones, and radiopharmaceuticals. In addition, through more basic research, specialists are growing breast cancer and prostate cancer cell lines to understand the different genetic characteristics of each. This information will help guide the future of cancer care: individualized medicine.
Clinical trials
We regularly participate in clinical trials that afford some men and women the opportunity to receive the next generation of targeted therapies months and even years before they are available to others. For example:
We were one of the few to study—and offer—radium-223 (Xofigo) before it received FDA approval for the treatment of advanced prostate cancer that has spread to the bones.
We participated in a clinical trial using targeted therapies to treat early-stage triple-negative breast cancer before it became standard.
Patient resources
Blog articles
Videos