ZAP-X Radiosurgery |Treatment for Brain Tumors in Adults | MedStar Health
ZAP-X Gyroscopic Radiosurgery™ is next generation radiosurgery to treat brain tumors. We are one of three centers in the entire world, and the first provider on the East Coast Region, to offer this technology.
What is ZAP-X?
ZAP-X brings new hope to those with brain tumors as it is often an alternative to invasive brain surgery. Using high-definition imaging systems for guidance and computer-controlled robotics, ZAP-X delivers high-dose radiation to brain tumors with a pinpoint accuracy that protects healthy cells and tissue near the treatment site. This non-invasive technology is FDA-approved for the treatment of brain tumors in adult patients.
Can ZAP-X treat my condition?
ZAP-X is a therapeutic option for the following diagnoses:
Acoustic neuroma

Brain metastasis

Cerebral AVM

Meningioma

Pituitary adenoma

Recurrent glioma

Trigeminal neuralgia
ZAP-X treatment: what to expect
Unlike traditional treatments, ZAP-X is a highly sophisticated yet simple outpatient procedure that is often an alternative to invasive brain surgery.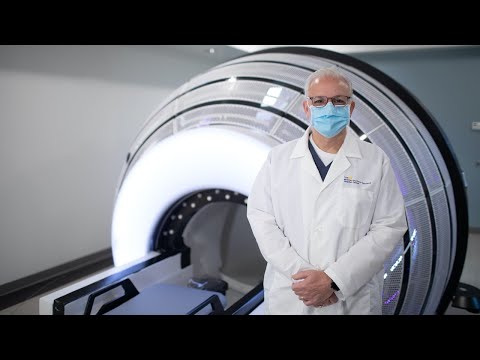 Watch Radiation Oncologist Dr. Andrew Satinsky demonstrate how we're using ZAP-X to treat brain tumors with pinpoint accuracy and minimal damage to surrounding healthy tissue–all close to home in Prince George's County!
On average, the treatment requires one to five sessions that typically last about 20 minutes each, although the duration may vary. You will have one or more days off between sessions, with little to no recovery time so you can return to your normal activities.
This treatment option requires fewer sessions compared to conventional radiation therapy, which often requires daily treatments for six to eight consecutive weeks.
With ZAP-X you will experience:
Non-invasive treatment

No incisions

No invasive head frames

No pain

Simple outpatient procedure that often requires no anesthesia

Shorter treatment duration

Minimal number of treatments

Little to no recovery time
Why choose us
Our cancer program brings together nationally renowned cancer specialists, the latest therapies, and access to cutting-edge research—all under the same roof, close to where you live and work. With a wealth of groundbreaking treatment options, our specialists use a team approach to care.
Physicians from imaging, medical oncology, radiation oncology, and surgery all work together to develop an individualized treatment plan designed specifically for you. This often leads to better outcomes—and just as importantly, personalized care that fosters strength and hope.
Unmatched Expertise
Our diverse group of nationally and internationally renowned specialists are leaders in cancer care. We have the most experienced stereotactic radiosurgery team in the Washington, D.C., region.
Patient-Centered Treatment
We always take a patient-centered approach, providing supportive care close to where you live and work.
Access to a National Cancer Institute-Designated Comprehensive Cancer Center
MedStar Georgetown Cancer Institute combines medical expertise, the latest therapies, and research across MedStar Health. Our research engine, Georgetown University's Lombardi Comprehensive Cancer Center, is the only comprehensive cancer center designated by the National Cancer Institute (NCI) in the Washington, D.C., region. This partnership allows us to provide you with access to cutting-edge clinical trials and the latest breakthroughs in cancer care.
Sophisticated Cancer-Fighting Tools
We use the latest innovative diagnostic and treatment techniques, and minimally invasive treatment options like the renowned ZAP-X.
Collaborative Care
Our team approach ensures that radiation oncology, medical oncology, neurosurgery, and your referring doctor all work together to direct your care. That means you get an individualized treatment plan designed specifically for you.
Convenient Location
ZAP-X is located at MedStar Georgetown Cancer Institute at MedStar Southern Maryland Hospital Center in Clinton, Maryland. Our facility is located in the heart of Southern Maryland, only 11 miles from Washington, D.C., by highway, with free parking just outside the hospital entrance.