Spine Tumors & Spine Cancer | MedStar Health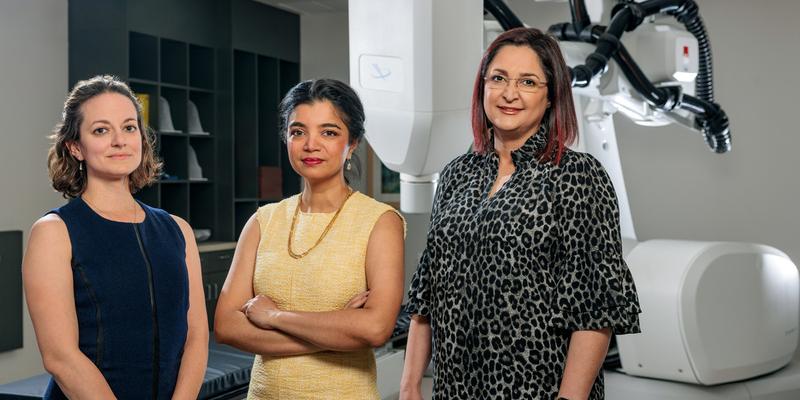 Transformative treatment for patients with tumors affecting the spine and central nervous system.
The spinal cord is a column of nerve tissue from the skull base to the back. As part of the central nervous system (CNS), its primary function is to carry messages between the brain and the body. It's surrounded by stacked bones, called vertebrae, that make up the spinal column. A spine tumor is an abnormal mass on or near the spine that can be cancerous (malignant) or noncancerous (benign).
Tumors may begin in the spine (primary tumors) or spread from elsewhere in the body (metastatic). Primary tumors require different treatment than metastatic tumors, although both need the skills and experience of a multidisciplinary team of experts. That's why it's important to seek care from a team of providers who are highly specialized in diagnosing and treating these types of tumors.
At MedStar Health, neurologic cancer care involves specialists in neurology, neurosurgery, medical oncology, radiation oncology, neuroradiology, neuropathology, and others. Together, we work collaboratively to treat tumors, protect motor and sensory function, and maximize your quality of life. Your treatment team has subspecialty expertise in every aspect of spine tumor care, and you can trust that they'll provide the care you need now and long after recovery.
Spine tumor symptoms and risk factors
What are the signs of a spine tumor?
Growing spinal cord tumors can cause significant back pain that worsens at night. As they get larger, tumors can compress the spinal column, increasing your risk for a spine fracture. In addition, expanding tumors can press against the spinal cord and nerves, leading to neurologic symptoms such as:
Numbness or tingling in arms or legs
Weakness in arms or legs
Problems with bowel or bladder function
Balance issues
It's important to seek immediate care if you notice any neurologic symptoms, especially if you have a history of cancer.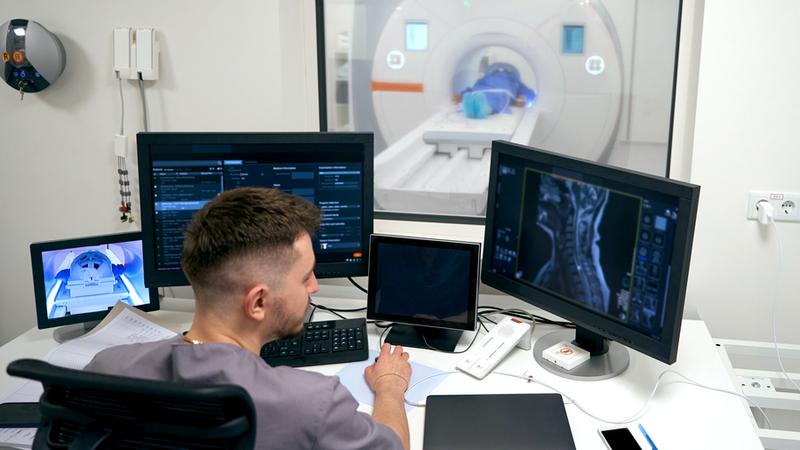 Screening and prevention
There are no early screening tests, so it's important to recognize the warning signs.
Unfortunately, there's no way to prevent these types of tumors. Most spinal tumors are metastatic, and so it's important to stay on top of follow-up appointments if you have a history of cancer. As part of your survivorship plan, your care team may recommend regular follow-up with imaging to monitor signs of tumor growth or progression.
Diagnosis
We combine advanced imaging with the least invasive biopsy methods, when possible, to get the right answers.
If you have symptoms of a spinal tumor or imaging reveals a concerning mass, our experts will use several methods for collecting valuable information about your tumor. These may include:
Reviewing your medical history and symptoms
Ordering and reviewing advanced imaging to precisely determine the tumor's size, depth, and location
Surgical excision/biopsy, during which a surgeon may remove a sample of tissue to be analyzed
Genetic profiling so we can identify any DNA patterns that may respond to specific treatments
Many of our radiologists and pathologists have additional fellowship training within neurology, making them experts in their respective fields. You can expect quick, accurate answers that will inform your best treatment options.
Types of spine tumors
Spinal tumors are classified based on the type of cell where they begin.
At MedStar Health, we're equipped to diagnose and treat any kind of primary or metastatic tumor affecting the spine. Based on their location, there are three main types of spine tumors:
Intradural-extramedullary tumors are found inside the dura (covering of the spinal cord) but outside of the actual spinal cord.
Intramedullary tumors develop inside the spinal cord.
Extradural tumors are located outside the dura.
These types of tumors are further classified based on the cell type where they begin and include:
Astrocytomas
Ependymomas
Hemangioblastomas
Lipomas
Meningiomas
Neurofibromas
Schwannomas
Metastases
Treatments
Your best treatment outcome hinges on a personalized plan involving input from different specialists.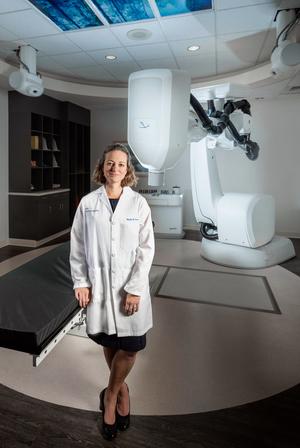 Your treatment will vary based on the location, type, and size of your tumor, as well as your overall health, preferences, and goals.
Your treatment plan will be determined by a team of specialists who meet regularly in a Spine Tumor Board to review and customize your care. This multidisciplinary input ensures you have access to all the latest treatment options, including personalized systemic therapies, state-of-the-art radiation, and/or surgery. At MedStar Health, patients also benefit from clinical trials that offer promising new treatments before they become widely available. This allows patients to be part of advancing the standard of care for these types of tumors.
Surgery
When necessary, your oncology team may recommend surgery to help relieve spinal cord compression, alleviate pain, improve spine stability, and/or restore neurologic function. If surgery is your best option, your surgeons will take every possible precaution to safely and effectively remove part or all of the tumor.

Our skilled surgeons are highly experienced in performing a full range of procedures, including both minimally invasive procedures and open spine surgery. In addition, we use specialized technology during surgery to precisely locate the tumor, monitor your neurologic function, and avoid injury to the spinal cord. Because our surgeons focus exclusively on treating central nervous system tumors, they're highly experienced in operating on these delicate structures with incredible precision.
Chemotherapy
If you have primary or metastatic spine cancer, your oncology team may recommend chemotherapy medications that destroy cancer cells. These medications may be given orally via a pill, through an injection, or intravenously. A medical oncologist may recommend chemotherapy in combination with, or instead of, other treatment options, depending on your unique needs.
Immunotherapy and targeted therapy
In addition to chemotherapy, there are other emerging drugs that can circulate throughout the body and target cells that affect tumor growth. We continue studying how immunotherapies and targeted therapies may be used to treat spinal cord tumors.
Learn More About Immunotherapy
Learn More About Targeted Therapy
Radiation therapy
Radiation therapy is a common treatment approach for primary and metastatic spine tumors either alone or in combination with other treatments. At MedStar Health, our radiation oncologists use the latest technologies to effectively treat tumors affecting the brain and spine. Our goal is to deliver highly targeted radiation while avoiding impact to nearby tissues and organs.
We use the most advanced forms of external beam radiation available, including intensity-modulated radiation therapy (IMRT), to deliver high doses of radiation molded to the shape of your tumor. We're also one of the most experienced teams in stereotactic radiosurgery, using CyberKnife® to precisely deliver radiation therapy.

Looking for expert neuro-oncology care?
We're dedicated to making it as easy as possible to get the world-class neuro-oncology care you deserve. Our neurosurgeons and other specialists see patients at several convenient locations throughout the region, and we work quickly to begin treatment once you are referred to us. In addition, through our Comprehensive Brain Tumor Center, patients benefit from seeing multiple providers from their oncology team under the same roof in the same appointment. This reduces travel time for patients while allowing your care team to present one well-coordinated treatment plan, so everyone is on the same page.
You'll get personalized care delivered by world-class experts who are highly specialized in oncology.

When you seek spine tumor treatment at MedStar Health, you'll benefit from the care of specialized experts who focus exclusively on treating these types of tumors. Our renowned specialists have expertise in neurosurgery, neurology, radiation oncology, medical and neurological oncology, neuropathology, neuroradiology and orthopaedic surgery, many with fellowship training that underscores their dedication to caring for spine tumors.

Our specialists work collaboratively to determine your best treatment options in a matter of days.

Your team of oncology specialists work together as a team, meeting weekly in Tumor Boards to review and plan personalized treatment that emphasizes your best outcome with the least impact to your quality of life. Because we stay in close communication, you can expect faster, more coordinated treatment. Your compassionate team also includes neurorehabilitation experts, support staff, and other specialists trained to help you navigate any physical, emotional, or mental needs that arise during treatment and recovery.

We offer the safest, most effective surgical approaches, systemic therapies, and radiation technologies.

We have significant experience using the latest treatment options. This level of expertise ensures you receive the right combination of treatment modalities, in the right order. Sophisticated intraoperative neurological monitoring, highly precise radiation, and groundbreaking systemic therapies allow you to benefit from state-of-the-art cancer treatments from the experts who pioneered them.
Clinical trials and research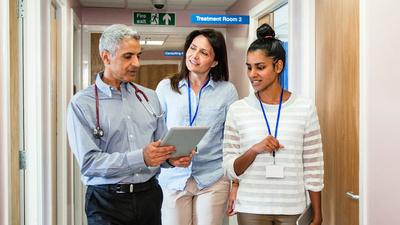 Clinical trials
Clinical trials are beneficial because they allow patients with spine tumors to be some of the first to access new treatment approaches. They also provide valuable information to our researchers and doctors as we continue advancing how these tumors are prevented, diagnosed, and treated.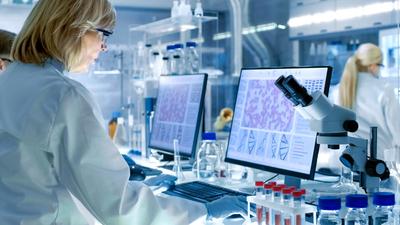 Research
Our research engine is the Georgetown Lombardi Comprehensive Cancer Center, one of the nation's comprehensive cancer centers designated by the National Cancer Institute (NCI). This allows our patients to access groundbreaking clinical trials that may revolutionize the way primary and metastatic tumors of the spine are treated in the future.
Support services
Our entire team of specialists and support staff is here to help you understand and prepare for life during and after treatment. Whatever needs arise, we can help you determine the right next steps to help you fully recover mentally, emotionally, and physically.
Learn More About Cancer Support Services
Genetic counseling
Most primary spinal tumors aren't hereditary, but it's natural to worry about your family's risk if you're diagnosed with cancer. Our board-certified genetic counselors can help you and your relatives understand any genetic predispositions to developing these types of tumors.
Learn More About Genetic Counseling
Personalized rehabilitation
Rehabilitation may play a crucial role in helping you to regain strength, mobility, and independence. Our physical therapists and occupational therapists help patients get back to the things they love through inpatient and outpatient services designed to build strength, decrease pain, and improve endurance.
Learn More About Cancer Rehabilitation
Survivorship
During the next few months and years, you'll see us for regular follow-up care to monitor any symptoms, undergo imaging, and manage any side effects that can arise from treatment itself. Your survivorship plan will be tailored to your unique needs, involving the input of several specialists who can help you live life to the fullest.