MedStar Georgetown Cancer Institute at MedStar Health Bel Air Medical Campus | 21015 | MedStar Health
Welcome to MedStar Georgetown Cancer Institute at MedStar Health Bel Air Medical Campus
The MedStar Georgetown Cancer Institute at Bel Air, located at the Bel Air Medical Campus, combines medical expertise, the latest therapies, and research across the region. The institute brings together advanced cancer care and provides patients with greater access to clinical trials and state-of-the-art technologies closer to where they live and work. Our specialists, many of whom are nationally recognized for their expertise in many specific cancer types and disciplines, cover the full continuum of care – from research, diagnosis, and treatment, to a personalized cancer rehabilitation program.
Every member of our team understands that quality of life, emotional support, and treatment options are key to successfully treating cancer. The MedStar Georgetown Cancer Institute in Bel Air offers comprehensive services to meet the individual needs of each patient and making treatment as comfortable and stress-free as possible.
Why choose us?
When it comes to something as serious as cancer, getting a second opinion is always a good idea. We see patients requesting a second opinion within 48 hours, Monday through Friday. This involves having one of our cancer specialists review your medical reports and test results and then provide a diagnosis and treatment recommendations.
The specialist may confirm what you have already been told, provide additional treatment options, or even provide more details about your type and stage of breast cancer. Even if you've already started or had treatment, it's not too late to get a second opinion.
The center offers a range of amenities that ensure the utmost comfort and care of patients. To help pass the time while receiving treatment, the center offers cable TVs, a VCR/DVD option, warm blankets, and complimentary beverages. On-site parking is free.
We want to hear how your day is going and meet your family. Our registered nurses continue their education to earn national certification in oncology nursing, which requires years of specialized study. Our nurses are proactive to help cancer patients avoid complications and discomfort from symptoms. Nurse practitioners or physician assistants have a direct line to physicians and are licensed to prescribe medications. During your treatment sessions, it's unlikely that you will have to ask for anything. From our nursing staff to our pharmacists to our multifunctional techs and our receptionists, we take pride in seeing that you are comfortable and well taken care of.
Our services
An infusion center providing IV therapy of all types including but not limited to chemotherapy, immunotherapy and iron infusion
Our infusion center is staffed by oncology-certified nurses who play a proactive role in helping cancer patients avoid complications and discomfort from symptoms. We offer a wide range of amenities to ensure that patients receive the highest level of comfort and care during treatment.
The most effective diagnosis and treatment plans require state-of-the-art, cancer-fighting resources. That's exactly what you'll find at the MedStar Georgetown Cancer Institute at Bel Air. From diagnosis through survivorship, we offer expert, compassionate care — close to home.
Visiting us
Located at the Intersection of Plumtree Rd. and Rte. 924.
Hours of operation:
Monday to Friday:
8:30 a.m. to 5 p.m.
Insurance
MedStar Health participates with most major health insurance plans. Please contact your insurance company to make sure your plan is covered.
Patient stories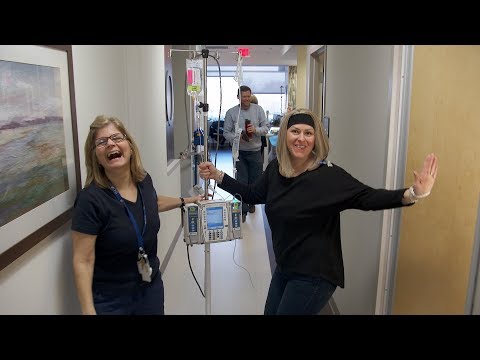 Meet Melissa Belsinger, who sought a second opinion from the experts at MedStar Georgetown Cancer Institute at Bel Air after she was diagnosed with early-stage breast cancer. As a Harford County resident and busy mom, Melissa was able to conveniently navigate her care and meet her medical team close to her home.
Accreditation
MedStar Georgetown Cancer Institute at Bel Air continuously meets the rigorous standards that are required to earn recognition from some of the nation's most highly regarded accrediting bodies. This includes:
Accreditation with Commendation from the American College of Surgeons Committee on Cancer for more than 20 years

Certification from the American Society of Clinical Oncology's Quality Oncology Practice Initiative program

Full accreditation from the National Accreditation Program for Breast Centers

Accreditation from the American College of Radiology