Breast Reconstruction Surgery | MedStar Health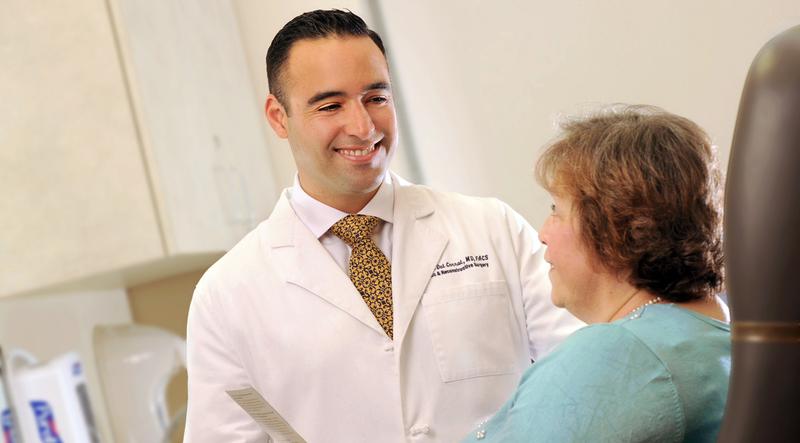 Restoring wholeness through advanced breast reconstruction techniques
To treat or prevent breast cancer, you may undergo breast surgery that removes some or all of your breast tissue, known as a mastectomy. Other women may elect to have breast reconstruction following a lumpectomy, or partial breast removal, even though it's a breast-conserving procedure.
The fight against breast cancer can be emotionally and physically stressful from the start. And after a mastectomy or lumpectomy, some women face additional challenges with their self-esteem, sex drive, and identity. To address these problems, you may choose to have breast reconstruction surgery to restore your sense of self and offer hope for life after cancer.
At MedStar Health, we offer all of the latest breast reconstructive procedures, from breast implants that can be placed immediately following a mastectomy to complicated flap procedures that use your own tissue to rebuild a longer-lasting, more natural breast(s). Many women also come to us to perform revision surgeries to improve the look and feel of previously reconstructed breasts. Our goal is to help you feel like yourself despite what cancer has taken away.
Our approach
Individualized care by the most experienced breast reconstructive team in the region
At MedStar Health, our plastic surgeons are known internationally for developing and performing some of the latest, most advanced breast reconstructive procedures. We perform more microsurgical breast reconstructions than any other health system in the region. In addition, we're the only ones performing complex procedures to prevent and treat lymphedema when lymph node removal is part of breast cancer treatment. We continue looking for new and better ways to perform breast reconstruction after breast cancer, as evidenced by our ranking as the country's second-highest plastic surgery research output.
As a member of your cancer care team, we're available to meet with you from the very beginning of your diagnosis. We'll explain the benefits and drawbacks of all of your reconstructive options based on your body type, health condition, and desired breast appearance. We also work closely with your breast surgeon to determine if and when you may undergo surgery to remove breast cancer and reconstruct your breasts simultaneously.
Types of reconstruction procedures
Fat grafting for breast deformities
Breast cancer surgery or radiation therapy can lead to cosmetic abnormalities in the breast, such as asymmetry, dimpling in the skin, and scarring. Fat grafting uses an individual's to fill the breast after a breast implant or flap reconstructive surgery to enhance the shape and appearance of the breast(s).
Breast reconstruction with implants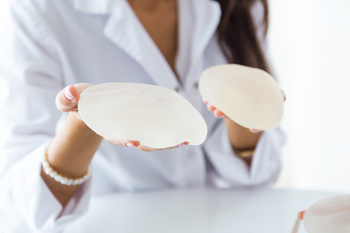 Before or after partial or complete removal of the breasts (a mastectomy), you might consider surgery to reconstruct the original appearance of your breasts. Breast implant reconstruction is one of the most popular techniques available, with a high patient satisfaction rate. In this procedure, we recreate the breast(s) using saline (saltwater) or silicone gel-filled implants.
At MedStar Health, we offer two types of reconstruction procedures that use breast implants:
Balloon-like tissue expanders first expand the skin and muscle to recreate your breast shape. Over the course of a few months, you'll receive saline injections for the expander. Once you reach your desired size, you'll schedule another surgery to remove the expanders and insert the permanent implants.
Direct-to-implant breast reconstruction is one of our most commonly performed procedures. This is thanks in part to the advanced techniques pioneered by our surgeons to help give the highest quality results with only one surgical procedure needed.
Learn more about implant reconstruction.
Breast reconstruction with natural tissue
Thanks to advances in breast reconstruction, we're able to use tissue, skin, and fat from other parts of the body to recreate breasts that look and feel natural. Reconstructed breasts that use tissue from the tummy, back, buttocks, or thighs last for the patient's lifetime and offer fewer risks than breast implants. We can perform these procedures immediately after a mastectomy or years later. Our experienced plastic surgeons can help determine which flap procedure will offer you the best results.
Lymphedema prevention and management
Lymphedema is an uncomfortable, lifelong condition that causes pain and swelling in the arms. While lymphedema is common when lymph node removal is involved in breast cancer treatment, our reconstructive breast surgeons are working diligently to change that.
If you're undergoing lymph node removal or if you developed lymphedema following surgery, you may benefit from one of our groundbreaking lymphatic reconstructive procedures. We can prevent the condition through immediate lymphatic reconstruction or a lymph node transfer or significantly improve your quality of life if you've already developed it. Your care plan will combine these surgical techniques with other measures to prevent and manage lymphedema, including breast rehabilitation.
Frequently asked questions
Does insurance cover breast reconstruction surgery?

Thanks to the Women's Health and Cancer Rights Act (WHCRA) of 1998, all group health plans covering mastectomies are also required to cover reconstructive procedures. In addition, breast reconstruction is covered under Medicare, and in some states, may also be covered by Medicaid. However, not all of your procedure costs may be covered by insurance. Contact your insurance carrier to ensure your coverage.

Do I need a referral to your office?

If you're exploring options for insurance coverage, you may need to request a referral from your primary care doctor, depending on your health insurance plan. First, check with your carrier to see if medical coverage is an option for you and whether a referral is required.

As with any surgery, breast reconstruction presents a few risks. According to the American Society of Plastic Surgeons, these include:

Anesthesia complications
Bleeding
Breast firmness (capsular contracture)
Implant leakage or rupture
Infection
Scarring

How should I prepare for surgery?

Before surgery, you may be asked to get blood tests and take or adjust medications. If you smoke, quitting will help you heal faster and avoid complications.
Looking for expert cancer care?
With multiple locations throughout the region, patients have access to many of the nation's renowned cancer specialists offering high quality care, second opinions and a chance for better outcomes close to where they live and work. Georgetown Lombardi Comprehensive Cancer, one of the nation's comprehensive cancer centers designated by the National Cancer Institute (NCI), serves as the research engine allowing patients access to clinical trials that often lead to breakthroughs in cancer care.
Patient stories
DIEP flap reconstruction gives woman hope after breast cancer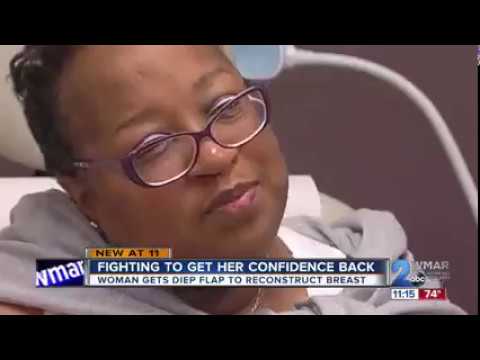 MedStar Franklin Square Medical Center Surgeon Gabriel Del Corral, MD, performs DIEP Flap reconstruction to help women who have had mastectomies after breast cancer. Donna Purcell talks about her experience with Dr. Del Corral following a lumpectomy.
Patient resources
Blog articles

Patient guides

Videos