Lymphedema Management | MedStar Health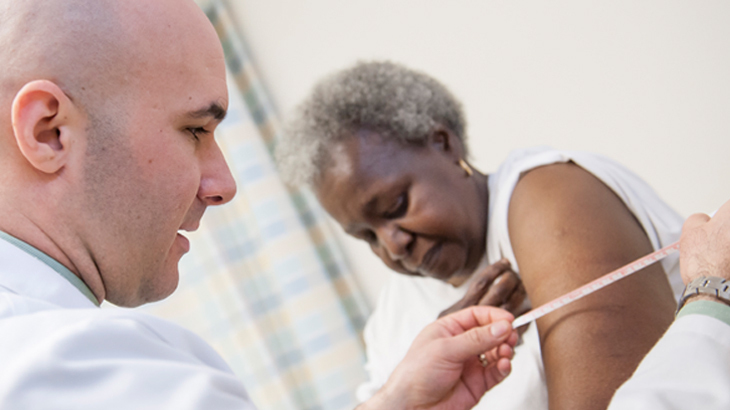 When lymph node removal or damage causes painful swelling, we can help.
The lymphatic system drains toxins and other waste products from your body's tissues. When lymph nodes are damaged or removed, it becomes harder for lymphatic fluid to drain. This can cause fluid to accumulate in the arms or legs, leading to severe, painful swelling known as secondary lymphedema.
In our experience, about 20 percent of patients diagnosed with breast cancer will develop lymphedema after undergoing surgery or radiation. Historically, treatment options focused on helping people deal with the symptoms of the condition, not eliminating the cause. Today, our plastic and reconstructive specialists are pioneers in advanced surgical treatments that alleviate painful symptoms and, in some cases, prevent the condition altogether. In combination with specialized physical therapy services, these treatment options may offer immediate and long-term relief for cancer survivors living with lymphedema.
Our approach
We're leaders in lymphedema management and pioneers in lymphedema prevention.
At MedStar Health, our reconstructive surgeons and rehabilitation specialists work alongside our cancer experts to design comprehensive treatment plans that consider all aspects of care. By using a multidisciplinary approach to treating cancers that often require surgery, like breast cancer, we can take a proactive and thoughtful approach to manage your risk of developing secondary lymphedema.
Our rehabilitation experts specialize in empowering patients to manage primary and secondary lymphedema independently. If lymphedema becomes severe, you may benefit from more advanced treatments, including surgical procedures that are hard to find elsewhere. At MedStar Health, our reconstructive surgeons are internationally renowned for their experience in performing lymph node transfer surgery and lymphovenous bypass. Both procedures require highly-specialized training and tools, which is why they're not available everywhere.
As one of few centers on the East coast offering surgical options to prevent and manage lymphedema, patients come to us from all over the country. In addition, we're training surgeons worldwide on these complex procedures.
Symptoms & risk factors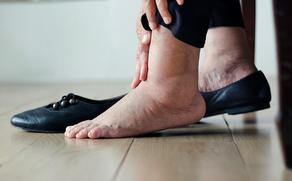 Lymphedema presents as swelling in the affected area, usually in the arms or feet. If swelling occurs after surgery or radiation for cancer, it will appear on the same side as where the cancer was treated. For example, a woman who undergoes a mastectomy on her left breast may develop breast cancer-related lymphedema in her left arm.
Other signs of secondary lymphedema include:
Feeling like the arm or leg is tight or heavy
Pain or redness
Thickened skin
Tighter-fitting shirts, pants, watches, or rings
Not everyone who receives breast cancer treatment develops lymphedema. You may be at an increased risk for developing the condition if you:
Have a large number of lymph nodes removed
Undergo surgery and radiation therapy
Undergo radiation and chemotherapy
Are overweight
Smoke
If advanced, lymphedema swelling may be painful or disfiguring and interfere with daily activities. Patients with lymphedema also may develop skin infections such as cellulitis and lymphangitis.
Prevention
There is no definitive way to prevent lymphedema, but there are certain things you can do to improve lymph fluid drainage after surgery, including:
Regular exercise
Good skin hygiene (wear sunburn, immediately disinfect cuts, moisturize your skin, etc.)
Manual lymphatic massage
Wearing appropriately-fitted compression sleeves
We also offer new, complex lymphatic reconstruction at the time of breast cancer surgery, which has effectively lowered the incidence of lymphedema among our patients. Patients who undergo an axillary lymph node dissection, or lymph node removal, may be candidates for a prophylactic (preventative) lymphovenous bypass. This advanced procedure involves connecting the lymphatic vessels to the venous system to enable adequate drainage. There is no additional recovery time following surgery.
Diagnosis
In most cases, we can diagnose lymphedema based on your medical history and a physical examination. For example, arm (or leg) measurements can indicate a diagnosis, as can a history of lymph node removal surgery.
To differentiate lymphedema from other causes of swelling, such as deep vein thrombosis, heart failure, or kidney disease, your doctor may recommend one or more of the following diagnostic procedures:
Lymphoscintigraphy involves injecting tiny amounts of a radioactive substance (tracers) and using a special imaging machine to see how the tracers travel through the lymphatic vessels. This helps us spot abnormalities, including areas where fluid is accumulating.
Bioimpedance spectroscopy can detect blockages in the lymphatic system. During this non-invasive test, we send an electrical current through tissues to estimate the fluid content of the limb.
Indocyanine green fluorescent lymphography uses real-time fluorescent imaging to visualize how lymph fluid flows through the lymphatic system.
Treatments
Your lymphedema treatment plan will depend on the cause and severity of the condition. Your doctor may prescribe medication or refer you to a physical or occupational therapist specializing in managing lymphedema. If your condition is severe, they may recommend more advanced treatments like lymph node transfer and lymphovenous bypass.
All treatment plans are individualized based on your needs and will include:
Education: Origin of lymphedema, precautions and lifestyle modification, and current management techniques
Pre- and post-surgical assessments: For patients at risk for secondary lymphedema, a rehabilitation physician can perform a pre-and post-operative baseline assessment of current daily functional level, flexibility, strength, and arm measurements
Rehabilitation
Whether you have primary lymphedema or develop it after cancer treatment, our physical and occupational therapists offer comprehensive services to restore your function and help you self-manage the condition. Our specialists are extensively trained in skilled treatment techniques. Proper exercise, massage, bandage wrapping, a pump and patient education are important in treating this condition.
Surgery
If nonsurgical options don't provide relief, our surgical options offer hope for patients who meet specific criteria. Our goal with surgery is to either reconstruct the physical route of the lymphatic system or reduce the impact of swelling, such as through liposuction and other debulking procedures. It's important to note that while surgery is highly effective at reducing swelling, manual therapy and compression are still important elements of ongoing management of the condition.
Vascularized Lymph Node Transfer (VLNT)
Lymphedema develops when fluid can't drain into lymph nodes because they're damaged or removed. To fix this, we perform a procedure called a lymph node transfer which moves healthy lymph nodes from elsewhere in the body to the areas affected by swelling. This procedure is considered microsurgery because it requires highly-skilled surgeons to reconnect blood flow from the transferred lymph nodes to the artery and veins at the site of the swelling using tiny sutures.
Planning and recovery
After the procedure, out-of-state patients can expect to stay in the hospital for two days, while local patients can typically return home on the same day. We recommend completing pre-operative therapy with a certified lymphedema specialist four to six weeks before surgery. Recovery will look similar to the following guidelines:
During the first two weeks, you should
Resume compression immediately
Avoid pressure to the incision site
Avoid lifting, pushing, or pulling more than 10 pounds
After two weeks, you can resume:
Lymphedema therapy (once drains have been removed)
Manual lymphatic drainage and/or use of Flexitouch
After four weeks, you can:

Lift more than 10 pounds
Gradually return to activity
Lymphovenous Bypass (LVB)
Patients with early-stage lymphedema may benefit from a lymphovenous bypass. During this minor procedure, we divide and redirect lymphatic vessels through the nearby venous system to reestablish channels that allow lymph fluid to drain. This is an outpatient surgery, which means most patients go home on the same day.
This procedure can be performed to treat lymphedema, but it can also be used to potentially prevent the condition. If a patient is undergoing a mastectomy, we can often coordinate and perform this procedure at the same time as breast reconstruction.
Planning and recovery:
Before surgery, we recommend completing four to six weeks of pre-operative therapy with a certified lymphedema therapist. This will help to ensure the best results. After surgery, your care team will provide specific instructions, which may include the following guidelines:
During the first two weeks, you should:
Avoid pressure or compression to the incision site
Refrain from lifting, pushing, or pulling more than 10 pounds
Perform manual lymphatic drainage to the incision (but not over the incision site)
Use Kinesio tape
After two weeks, you may resume:
Lymphedema therapy
Compression (avoid tourniquet effect over incision site)
Manual lymphatic drainage and/or use of Flexitouch
After four weeks:
Resume activity as usual with no lifting restrictions
Frequently asked questions
The lymphatic system pumps and filters a clear fluid (lymph) containing blood cells throughout the body. When lymph nodes are injured or removed during a mastectomy or axillary lymph node dissection, it can be more challenging for lymph to flow through the body. This can result in a "traffic jam" or blockage of lymph, leading to swelling. This swelling is called secondary lymphedema.

Less common is primary lymphedema, a condition you're born with caused by problems with the development of lymph vessels.

How quickly will I see results after surgery?

You can expect to see decreased swelling immediately after surgery. The arm may swell again in the future, but the swelling should recede. You will still need to take steps to manage the condition through:

Exercise
Massage therapy
Weight management
Infection prevention

Can surgery cure my lymphedema?

Unfortunately, lymphedema is a lifelong condition, so there is no cure to get rid of it for good. However, advanced surgery paired with physical therapy and self-management techniques can help you manage the condition so that it doesn't disrupt your daily life.
Looking for expert cancer care?
With multiple locations throughout the region, patients have access to many of the nation's renowned cancer specialists offering high quality care, second opinions and a chance for better outcomes close to where they live and work. Georgetown Lombardi Comprehensive Cancer, one of the nation's comprehensive cancer centers designated by the National Cancer Institute (NCI), serves as the research engine allowing patients access to clinical trials that often lead to breakthroughs in cancer care.
When breast cancer survivor Sharon Lanza developed lymphedema 18 years after her mastectomy, other doctors told her she would have to live with it for the rest of her life. Then, a colleague introduced her to Gabriel Del Corral, MD, a plastic and reconstructive specialist at MedStar Franklin Square Medical Center. Watch Susan and Dr. Del Corral talk with WMAR ABC News about the surgery that changed her whole perspective on life.


Patient resources
Blog and news articles
Videos