Breast Cancer Rehabilitation Program | MedStar Health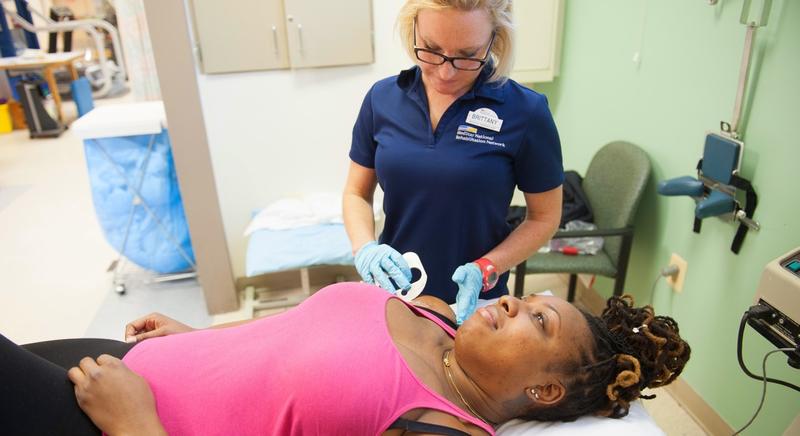 At MedStar Health, our comprehensive breast cancer rehabilitation program is designed to help you feel and move the way you did before cancer.
When people think of breast cancer treatments, they typically think of breast surgery or chemotherapy. Breast cancer rehabilitation is often overlooked, but it plays a vital role in helping you regain strength as you heal. You may benefit from rehabilitation care at any point throughout your journey in battling breast cancer, and we're here for you when you do.

Our team of highly-specialized physiatrists and physical and occupational therapists work collaboratively with your cancer care team to personalize a therapy plan that will help you achieve your goals, whether that involves throwing a ball with your grandchild or returning to work. Our goal is to help:
Ease your discomfort
Restore your range of motion
Improve your physical strength
Minimize or manage your risk of lymphedema
Reclaim your pre-cancer independence
Program highlights
Specialized breast cancer rehabilitation close to home
Whether you were recently diagnosed with breast cancer, are currently being treated for breast cancer, or are a breast cancer survivor, our experienced team can help you address the physical and cognitive side effects of breast cancer treatment. With specialty training in breast cancer rehabilitation, our education and experience enables us to help you overcome challenges associated with cancer treatment and return to the activities you enjoy. Your rehabilitation treatment plan will be tailored to your needs and goals and may involve:
Exercise and fitness programs
Lymphedema (swelling) management services
Pain management
Nutrition counseling
Prosthetics and orthotics
And more
Our rehabilitation experts are dedicated to empowering you to manage any side effects independently. We do this through education that teaches you:
Exercises that can help your body heal after surgery
Posture and breathing exercises
Strategies to prevent lymphedema
Screening methods that can help you detect lymphedema early so you can respond quickly
How to safely and comfortably return to your normal routine
For your convenience, our breast cancer rehabilitation services are located throughout the region at our hospitals and various outpatient offices in your community.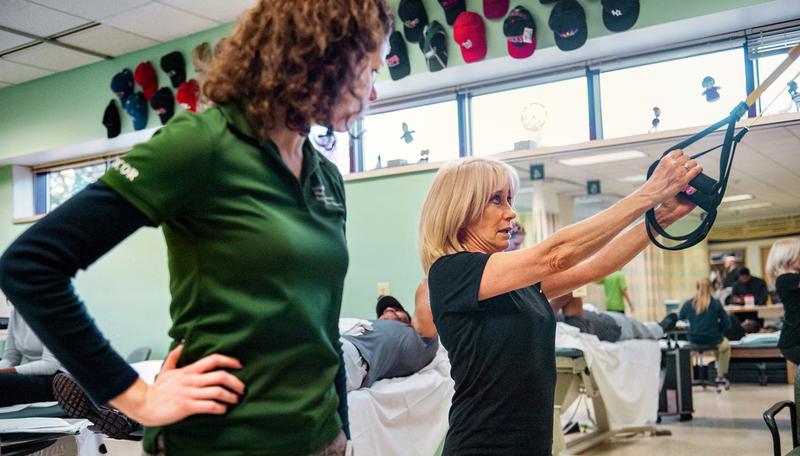 Managing side effects after breast cancer surgery, radiation, and chemotherapy
Surgery can be lifesaving, but if you've undergone a mastectomy, axillary dissection, or reconstructive procedure, you may experience uncomfortable side effects. After breast cancer treatment, it's not uncommon to have pain, swelling, and/or stiffness in the chest or shoulder. Our physical and occupational therapy services will help alleviate discomfort while also helping you return to your highest level of function.

You don't have to wait until after surgery to start rehabilitation care with our physical therapists. Through our breast cancer rehabilitation program, we can meet with you before surgery to get a baseline of your:
Daily function, needs, and goals
Posture
Flexibility and strength
Limb girth measurements
This information can help us proactively prepare your body for surgery and inform your rehabilitation treatment plan after surgery.

Other cancer treatments, like chemotherapy and radiation therapy, can also lead to unwanted side effects, such as fatigue. In addition, some patients undergoing chemotherapy may experience tingling and pain in the hands and feet (called neuropathy) and/or cognitive impairment described as mental cloudiness. Physical and occupational therapy can help to manage these symptoms at any stage of treatment so you feel your best.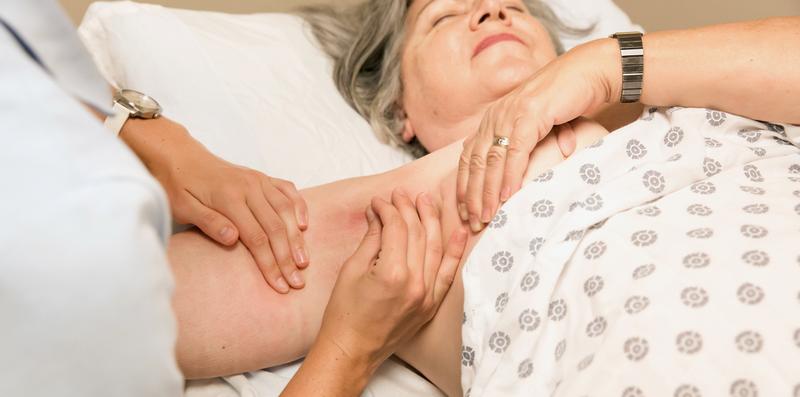 Preventing or managing lymphedema
Nearly 20 percent of patients with breast cancer develop
lymphedema
, which occurs when your lymph vessels can't adequately drain toxins and other waste from your body's tissues. At MedStar Health, our surgeons are pioneers in eliminating the risk of lymphedema through surgical techniques, and our physical therapists take a proactive approach to preventing lymphedema. However, if you develop lymphedema, we are experts in helping you manage the common condition and restore your quality of life using a comprehensive approach that may include:
Manual lymphatic therapy
Gradient compression bandaging of the limb
Fitness programs for flexibility and strength
Aerobic and conditioning exercises
Therapy for frozen or weakened shoulder or other muscle imbalances
Long term management of lymphedema symptoms
Assisting with garment fitting and pneumatic compression pump needs with local vendors as indicated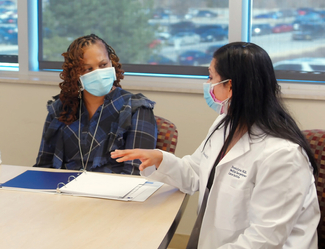 Specialty services to treat you as a whole person
All treatment plans involve exercise, gentle conditioning, and stretching to improve your strength and restore function, balance, and stamina. We also offer an evidence-based strength training program called Strength After Breast Cancer for patients interested in regaining strength to their fullest potential. Because we believe in treating you as a whole person, we offer a range of other specialty services to help the healing process. These may include:
Psychological counseling
Pain management/acupuncture
Scar management
Integrative medicine
Nutrition counseling
Stress management
Prosthetic, clothing, and personal image options
Looking for expert cancer care?
With multiple locations throughout the region, patients have access to many of the nation's renowned cancer specialists offering high quality care, second opinions and a chance for better outcomes close to where they live and work. Georgetown Lombardi Comprehensive Cancer, one of the nation's comprehensive cancer centers designated by the National Cancer Institute (NCI), serves as the research engine allowing patients access to clinical trials that often lead to breakthroughs in cancer care.
MedStar Health Physical Therapy
With more than 50 locations throughout the Maryland, Washington, D.C., and northern Virginia region, MedStar Health Physical Therapy offers convenient, comprehensive, quality rehabilitative care delivered by skilled therapists. Contact us today at 844-91-GETPT.
Patient resources
Patient guides
Blog articles