Bladder Cancer | Symptoms and Treatment | MedStar Health
The bladder is a balloon-like organ that lies in the center of the pelvis. It stores urine created by the kidneys until excreted during urination. Bladder cancer is diagnosed in 50,000 patients annually in the United States, according to the American Cancer Society.
We provide comprehensive care for bladder cancer including:
Chemotherapy and immunotherapy for early-stage treatment

Radical cystectomy with continent urinary diversion (bladder replacement using intestine instead of external drainage system)

Robotic-assisted laparoscopic surgery

Cutting-edge medical oncology and radiation treatment

Palliative services
Symptoms
Symptoms of bladder cancer may include:
Blood in the urine

Pain during urination

Pain in the pelvis
Diagnosis
Your doctor will ask for a complete medical history and will perform a thorough physical examination. Diagnostic tests may include:
Analysis of urine under a microscope to check for blood and possible cancerous cells

Radiological imaging of the entire urologic system, including ultrasound

CT scan

MRI

Cystoscopy with biopsies
Treatment
Fortunately, 80 percent of bladder tumors can be readily treated with endoscopic techniques, which remove the tumors through the cystoscope via the urethra. At times, immunotherapy – a form of the tuberculosis vaccine known as BCG – is instilled in the bladder to treat or prevent recurrences.
However, in 20 percent of patients, the cancer has invaded into the bladder wall, and more aggressive treatment is required. Treatment may involve:
Chemotherapy

Radiation therapy

Bladder cancer surgery

A combination of the three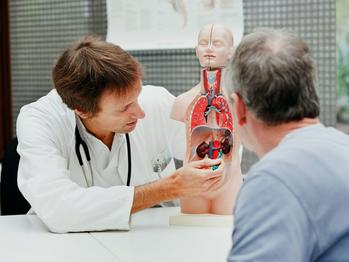 Expert oncology care
Getting the care you need starts with seeing one of our oncologists.