Urologic Cancers | MedStar Health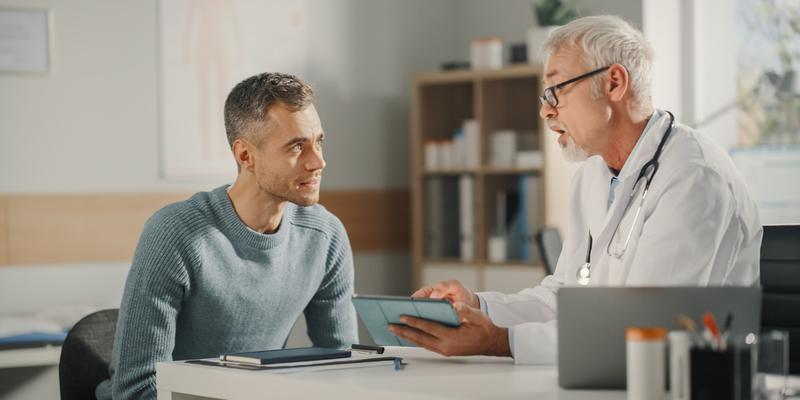 Urologic care for bladder, kidney, testicular, and prostate cancer
MedStar Health is home to cancer specialists with recognized expertise in treating prostate, kidney, bladder, and other urologic cancers. With decades of experience and fellowship-trained robotics surgeons, our team is dedicated to eliminating your cancer while improving your quality of life by minimizing side effects when possible.
Here, you'll find the latest advanced technologies and procedures, including robotic, laparoscopic, and open surgery for some of the most complex cases. In addition, through our research engine, the Georgetown Lombardi Comprehensive Cancer Center, we offer the most state-of-the-art therapies and relevant clinical trials available.
Our approach
Treatment and management plans are determined based on the type of cancer you have and the stage of your cancer when diagnosed. Our team of urologic oncologists (physicians who specialize in urologic cancers) advocate for patient involvement in the diagnosis and treatment process. This allows your care team to work together to tailor a treatment plan that meets your specific needs, including those beyond your physical health.
As with all patients undergoing cancer treatment at MedStar Health, we employ a multidisciplinary approach by building a team of urologists, medical oncologists, radiation oncologists, pathologists, radiologists, and clinical trial specialists. Together, we'll compare the full spectrum of treatment options available based on what's most suitable for your needs, including:
Radiation therapy, including CyberKnife, proton therapy, and others

Traditional open surgery

Support services, including nurse navigators, nutritionists, psychologists, and more

Palliative services to help those with complex cases find relief from the symptoms and stress, improving the quality of life for patients and families
Comprehensive genetic counseling services can help you understand your risk.
Family history of urologic cancer is a known risk factor for patients, but newer research has even connected breast cancer in the family as a risk factor for prostate cancer. Genetic counseling can help assess your risk based on your family medical history of cancers with known correlations to urologic cancers.
Our geneticists will work with you to review your family history, looking for factors that increase your likelihood of developing cancer. Then, we will assist you in developing strategies to manage your unique cancer risk, from lifestyle modifications to more frequent screenings.
Types of urologic cancers
The prostate gland is a walnut-sized organ in the male pelvis that surrounds the urethra (urinary pipe) and produces a fluid that forms part of the semen. Prostate cancer occurs in the prostate gland and is the most common non-skin cancer in men.

We have one of the most comprehensive prostate cancer programs in the region, offering a full range of treatment options from active surveillance to complex robotic surgeries. Because we perform a high number of robotic prostatectomies—and we were the first to offer numerous advanced radiation therapies—our experience leads to excellent outcomes with fewer side effects for our patients.

The bladder is a hollow organ in the pelvis with flexible, muscular walls. Its primary function is to store urine before it leaves the body. Bladder cancer occurs when malignant cells form in the tissues of the urinary bladder, typically the urothelium (the lining of the bladder). Bladder cancer is the fourth most common cancer in men and the eighth most common cancer in women.

Our urologists use blue light cystoscopy to improve detection and identification of bladder tumors, which may be difficult to see using traditional white light cystoscopy.

The way we treat bladder cancer generally depends on which layers of the bladder tissue are involved. Treatment options may include minimally invasive options, such as endoscopic therapies, or invasive procedures like intravesical therapy.

The kidneys are two bean-shaped organs, each about the size of your fist, located on each side of the spine, behind the abdominal organs. The kidneys' function is to filter blood and produce urine, which is then transported to the bladder by the ureters.

Kidney cancer occurs when malignant cells form in the tissues of the kidneys. It's among the ten most common cancers in both men and women, with the most common type of kidney cancer being renal cell carcinoma.

Treatment options will depend on the cancer stage but may need to include surgery to remove the tumor or, in advanced circumstances, the entire kidney. Treatment may also include immunotherapy and medications that act on specific receptors or enzymes to help destroy cancer cells.

The testicles are male reproductive organs that produce male sex hormones and sperm. They are located inside the scrotum, under the penis. Testicular cancer is primarily diagnosed in young adult males between the ages of 15 and 35. However, compared with other types of cancer, testicular cancer is rare. The stage and symptoms of testicular cancer at the time of diagnosis will determine treatment options. Treatment for testicular cancer typically involves removing the affected testicle.
Looking for expert cancer care?
With multiple locations throughout the region, patients have access to many of the nation's renowned cancer specialists offering high quality care, second opinions and a chance for better outcomes close to where they live and work. Georgetown Lombardi Comprehensive Cancer Center, one of the nation's comprehensive cancer centers designated by the National Cancer Institute (NCI), serves as the research engine allowing patients access to clinical trials that often lead to breakthroughs in cancer care.
Why choose us
Because we partner with the Georgetown Lombardi Comprehensive Cancer Center, the only comprehensive cancer center in the region designated by the National Cancer Institute, we offer the latest available treatments based on groundbreaking research. We don't have to wait for these findings to be published in medical journals⁠—we're often leading the investigations and clinical trials in real-time.
This evidence-based medicine and research extends beyond our academic facilities, giving you access to the most advanced technology and expertise in community-based settings. As a result, you can find the latest treatment options close to home, making it convenient and easier to get the best care available.
Coordinated, multidisciplinary care leads to better outcomes.

At MedStar Health, your care team involves a variety of experts across different specialties so we can address every physical or emotional need you may have. Here, your team includes physicians who specialize in treating urologic cancer with surgical, radiation, and medical oncology. In addition, your care may involve input from:

Their surgical and oncological colleagues in other specialties
Physician assistants and nurse practitioners who focus on urologic cancer care and can help you navigate your appointments
Nurses who understand your cancer
Physical therapists
Genetic counselors
Enterostomal therapists
Clinical researchers
Specialists in palliative care
And more

You can feel confident knowing that our multidisciplinary team of experts meet weekly to approach your care from every angle. Our singular goal is to treat your cancer, which means we bring in experts from other specialties to help build the best plan for you. We will also bring in experts to help maximize your success, whether that means boosting your nutrition or offering genetic counseling due to your unique family history.

We treat unique patient populations with special considerations.

MedStar Health is committed to treating the most unique and diverse populations, which means we are prepared to treat patients with very specific physical, religious, and ethical needs.

We offer bloodless surgery for patients who refuse transfusions by helping to physically prepare them to eliminate the risk of transfusion. We also accommodate obese patients using robotic surgery, complementary nutritional treatments, larger beds, and longer equipment.

Another unique group we serve are patients with autosomal dominant polycystic kidney disease or massively enlarged kidneys. Many of these patients end up on dialysis and have a higher risk of kidney cancer. We provide an easier path to transplant by removing the affected kidney. We track this problem closer than many hospitals and health systems, including genetic profiling for children of patients with the disease.
Patient resources
Links
Videos