Urogynecology | Pelvic Floor Disorders | MedStar Health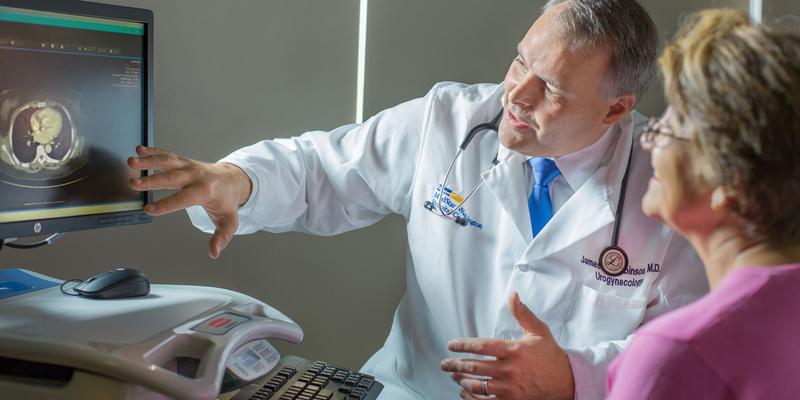 Female pelvic medicine
What is a urogynecologist?
A urogynecologist is a physician who specializes in the care of women with pelvic floor disorders. Urogynecology/reconstructive pelvic surgery is a subspecialty in the field of obstetrics and gynecology.
The National Center for Advanced Pelvic Surgery (NCAPS) at MedStar Health provides comprehensive care for women with pelvic floor disorders. We are a national center of excellence, with the most experienced team in the region providing care for women affected by these conditions.
The pelvic floor plays an important role in supporting internal organs, including the uterus, bladder, and bowel. Sometimes pelvic floor muscles become weak after childbirth or due to other medical conditions.
When that happens, you might experience urine leakage (urinary incontinence), stool leakage (fecal incontinence), an overactive bladder, constipation, or other pelvic floor issues. These conditions are common in aging but should not become the status quo.
Research shows that one in three women over the age of 45 will experience a pelvic floor disorder in her lifetime

You don't have to live with these conditions

Our specialists can offer you a diagnosis and medical treatment for pelvic floor disorders related to childbirth and other medical conditions
Exceptional expertise
If you are living with an uncomfortable or painful pelvic floor disorder, MedStar Health urogynecologists and Minimally Invasive Gynecologic Surgeons (MIGS) are here to help. We have expertise in the latest minimally invasive vaginal, robotic, and laparoscopic reconstructive surgical techniques, as well as abdominal reconstructive surgery.
Over 95% of our surgical repairs are outpatient and minimally invasive with special emphasis on nerve-sparing approaches.
This means a faster recovery for you, so you can get back to your normal routine, pain-free. We work with you to decide the best plan of care, often beginning with conservative treatment including behavioral modification, medications, pessaries or other support devices, neuromodulation, acupuncture, pelvic floor muscle exercises, Botox(R), or other injections and energy-based therapies.
Symptoms
While both men and women have pelvic floors, women are more likely to experience issues. Common symptoms a person may experience include:
Urinary issues: Including urinary incontinence, a strong urge to urinate, or painful urination

Pressure: Especially in the pelvic region or rectum. Some, especially women facing a pelvic organ prolapse, may experience a heavy feeling in the pelvis or a bulge in the vagina or rectum

Pain: Including pain in the lower back, pelvic region, genitals, or rectum. Women may also experience pain or discomfort during sexual intercourse

Constipation: Dry, hard bowel movements or going fewer than three times per week

Muscle spasms: Typically experienced in the pelvis
Causes
Issues occur when the pelvic floor muscles are weakened. Common causes may include:
Childbirth

Obesity

Heavy lifting or straining

Aging

Genetics

Previous pelvic surgery or radiation treatments
Conditions we treat
Bladder disorders
Painful bladder syndrome/interstitial cystitis

Difficulty voiding

Recurrent bladder infections
Pelvic support disorders
Relaxed vaginal outlet

Childbirth injury

Management of vaginal and pelvic mesh complications

Painful bladder/interstitial cystitis
Vaginal conditions
Vulvar disorders (lichen sclerosus, vulvar dystrophy, vulvodynia/vestibulitis)

Genitourinary syndrome of menopause and vulvovaginal atrophy, with particular interest in survivors of estrogen dependent cancers (breast, uterine, ovarian)

Vaginal atrophy

Pain with intercourse
Abnormal pelvic bleeding
Abnormal pelvic bleeding can refer to either bleeding other than a menstrual period, or an unusually heavy period.
Heavy menstrual bleeding can be related to abnormal growths such as polyps or fibroids, hormonal imbalances, bleeding disorders, or precancerous or cancerous growths.
Our multidisciplinary team looks at all the possible causes of heavy menstrual bleeding in order to make an accurate diagnosis and tailor a treatment plan for you.
Fibroids
Also known as uterine fibroids or leiomyomas, fibroids are common benign tumors that develop in the uterus. Fibroids cause excessive menstrual bleeding, pelvic pain, and frequent urination. Though they are benign, they can cause discomfort and pain.
The treatment depends on your age, the location of the fibroid, and how rapidly it is growing. Our physicians are experts in diagnosing and treating uterine fibroids.
Ovarian cysts
Ovarian cysts are small, fluid-filled sacs that develop in the ovaries. They are more common during child-bearing years.
Cysts are typically benign and rarely indicate the presence of another disease. They can sometimes disappear on their own but they can also rupture, cause bleeding or pain. In more serious cases, surgery may be necessary.
Endometriosis
Endometriosis is the condition where tissue similar to the lining of the uterus is found elsewhere in the body, usually in the pelvic region. Endometriosis can cause significant pelvic pain.
Laparoscopic (key-hole) surgery using small incisions and microinstruments can be performed to remove the abnormal cells. This is often followed by medical management and other ancillary treatments to address secondary causes of pain.
Chronic pelvic pain
Long-term pain in the pelvis requires a multidisciplinary approach for care. At Medstar Health, experts in gynecology, gastroenterology, radiology, physical therapy, and other disciplines work together to determine the cause and then optimize medical and surgical management.
Other common gynecologic conditions treated by minimally invasive gynecologic specialists
Pelvic adhesions

Hormonal imbalances

Precancerous or cancerous growths

Asherman's syndrome (scarred uterine lining)

Infertility related to fibroids, endometriosis, and adhesions

Transgender hysterectomy
Nonsurgical treatment options for pelvic floor disorders
Injections for incontinence and bladder control problems.
"Bulking agents" (calcium or silicone-based) can be injected into the urethra to treat stress incontinence

Botulinum toxin (Botox®) can be injected into the bladder muscle to treat overactive bladder and urge incontinence

Doctors can do both procedures with a local anesthetic, and the procedure is performed on an outpatient basis or in the office
Medications
Medicine can be prescribed from certain incontinence problems and other conditions.
Vaginal pessary for prolapse
These are soft, removable devices that support areas affected by a prolapse. These can be placed during an office visit.
Pelvic floor muscle training
These exercises, also called Kegel exercises, can help improve symptoms of prolapse. They involve squeezing and relaxing the pelvic floor muscles. They can improve symptoms, but cannot correct more severe prolapse.
Nerve stimulation
Nerve stimulation similar to acupuncture can be used to treat overactive bladder.
Surgical treatments
Incontinence surgeries
Surgery can work effectively to treat incontinence that occurs because of pressure on the bladder.
Sling procedures: The surgeon uses your own tissue or places a "hammock" to support the urethra

Bladder pacemaker: A device is implanted to treat overactive bladder and difficulty urinating
Prolapse surgeries
These surgeries repair the prolapse and build pelvic floor support. The options vary depending on which organs are prolapsed. Some options include:
Repairing the vaginal wall

Supporting the rectum or small bowel

Supporting the bladder

Removal of the uterus

Surgery for bladder control
Urogynecologic and minimally invasive gynecologic treatment
Hysterectomy
A hysterectomy is an operation to remove the uterus. This procedure may be necessary for a variety of reasons, including painful uterine fibroids, a prolapsed uterus, cancer of the pelvic region, or endometriosis. A hysterectomy is often a last-resort option, after other treatment options have not been successful.
Depending on the reason for the hysterectomy, either a portion of the uterus will be removed, or it will be removed entirely. Almost all hysterectomies performed by our team are done without incisions (vaginally) or with keyhole incisions (laparoscopically/robotically) as outpatient surgeries.
Hysteropexy
This procedure refers to uterine suspension or uterine-sparing surgery to repair prolapse. When a normal uterus has slipped out of place, the uterus can be suspended back into place and does not have to be removed. 
Pelvic reconstruction
Some patients need pelvic reconstruction surgery after a previous surgery to correct a urogynecologic condition.
Perhaps you had surgical mesh placed and are experiencing complications. In any case, if you are experiencing symptoms such as persistent prolapse, urinary incontinence, or pelvic pain, you may be a candidate for further evaluation. Our urogynecologists have vast experience performing procedures using minimally invasive approaches such as transvaginal, laparoscopic, and robotic approaches.
Risk-reducing surgeries
Risk-reducing surgeries are those performed because of a genetic predisposition for a disease. There are multiple mutations, including the BReast CAncer genes (BRCA genes), that make the risk of gynecological cancer much more likely. We can perform the recommended risk reducing surgeries in a minimally invasive, outpatient setting.
Excision of endometriosis
Using a laparoscopic or robotic approach, the abnormal cells are removed from the underlying tissue, not burned. This is difficult surgery, requiring a skilled and experienced surgeon, as the endometriosis is often found over or attached to important pelvic structures. Our surgeons employ nerve-sparing excisional techniques and specialize in managing the most complex and deeply infiltrative disease.
Fibroid treatment
For many years, the most common form of treatment for fibroids was a hysterectomy (surgical removal of the uterus). Recent advances in medical technology and surgical techniques have led to the development of less invasive treatments that allow a woman to keep her uterus.
Learn more about fibroids and fibroid treatment here.
Robotic surgery
A world of possibilities
Robotic-assisted surgery has created a world of possibilities for surgeons — and for you. During robotic surgery, a surgeon uses a computer to control and guide robotic "arms" with small instruments.
With the use of a small camera and special surgical tools, surgeries are being done with a higher degree of precision than ever before.
Our surgeons use robotic surgery to treat conditions including:
Pelvic organ prolapse

Uterine fibroids

Endometriosis

Ovarian cysts

Abnormal uterine bleeding
Robotic surgery allows for a wider range of motion than the human hand offers and, combined with our highly trained surgeons' knowledge and experience, often makes minimally invasive surgery possible.
Benefits of robotic surgery
Smaller incisions

Less scarring

Less pain/discomfort

Quicker recovery

Protection of surrounding tissue in the area of operation

The ability for surgeons to reach otherwise hard-to-reach areas

See case study