Stomach Cancer (Gastric Cancer) | Symptoms & Treatments | MedStar Health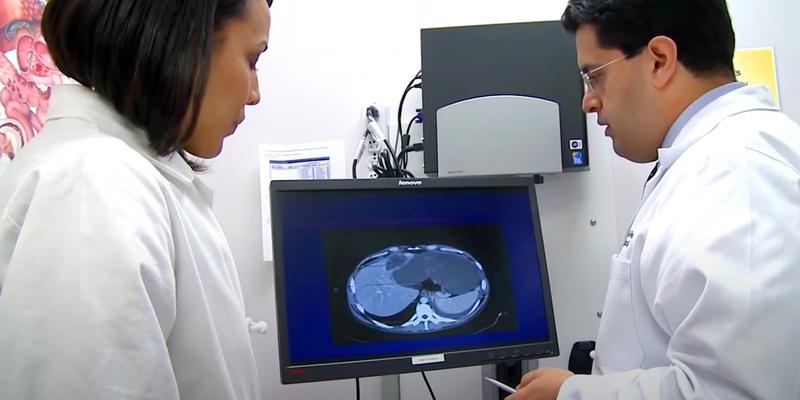 A team approach ensures accurate, timely diagnosis and effective treatment for stomach cancer.
At MedStar Health, we combine the best in research, personalized medicine, and patient-centered care to treat men and women with stomach cancer. We believe finding your best treatment options involves collaboration among experts in different disciplines, including gastroenterology, pathology, radiology, and surgical, radiation, and medical oncology. This team approach ensures you benefit from the collective knowledge of specialists leading their respective fields.
Also called gastric cancer, stomach cancer occurs when a tumor grows in the stomach. In the early 1900s, this cancer was the leading cause of cancer death in the country. Today, survival rates are much higher, thanks to advances in staging and treatment. It's important to seek prompt treatment after you've been diagnosed.
Unlike other cancer centers, we have a team exclusively focused on diagnosing and treating gastrointestinal cancers, including this type of cancer. This specialization allows us to conduct and translate research into clinical care that directly benefits our patients. Through our connection to the region's only National Cancer Institute-designated comprehensive cancer center, our patients have access to clinical trials that aren't always available in other settings. These trials provide opportunities for patients to receive the latest innovative approaches to treatment.
Symptoms and risk factors
Early signs of stomach cancer may be confused with other health conditions.
It's easy to miss early symptoms because they are common for other, less-serious health conditions, like acid reflux. These may include:
Abdominal pain
Heartburn
Nausea
Vomiting
Weight loss
Feeling full after small meals
Once it spreads, it can also cause additional symptoms, such as:
Bloody stool
Jaundice (eyes and skin turns yellowish)
Trouble swallowing
Build-up of fluid in the abdomen (ascites)
If you experience any of these, consult with your primary care doctor. They may refer you to a gastroenterologist for diagnostic testing.
Many risk factors are outside of your control.
A risk factor increases your chances of developing a disease. You cannot control all of your risk factors for this disease. For example, men are more likely to develop stomach cancer than women. And certain conditions elevate your risk, including:
Presence of H. pylori

: These stomach-dwelling bacteria can be treated with antibiotics. While not everyone who develops this cancer has H. pylori bacteria, those who do may be at increased risk.

Certain inherited diseases

: Diseases such as hereditary non-polyposis colon cancer (HNPCC), Lynch syndrome, and familial adenomatous polyposis (FAP), may be associated with this type of cancer.

Pernicious anemia

: A severe lack of red blood cells can lead to this type of cancer.

Absence of acid production

: Lack of sufficient acid in the stomach can contribute to the development of this cancer.

Gastric polyps

: Certain types of gastric polyps are more likely to develop into cancer.
Screening and prevention
You may lower your risk of cancer by maintaining a healthy weight.
There are some risk factors you can control. Smoking and heavy alcohol consumption increases your risk for developing this cancer, so you can lower your risk by avoiding use. You may also be at an increased risk for gastric cancer if you eat salty or smoked foods. In contrast, eating a healthy diet, including lots of fruits and vegetables, can lower your risk. A nutritious diet can also help you achieve and maintain a healthy weight, which is important for cancer prevention.
But this cancer can't always be prevented. And unless you have a high risk, we don't typically recommend routine screening for gastric cancer. However, if you have an inherited condition or several risk factors that increase your odds of developing it, like having Lynch syndrome, you may benefit from a screening test using endoscopy. This can help you catch the disease early when there may be more treatment options. If you are at an increased risk, we encourage you to talk to your doctor about the pros and cons of screening. You may benefit from a referral to our Gastrointestinal Cancer Prevention program, where a team of specialists will help you understand and manage your cancer risk.
Diagnosis
An accurate diagnosis will help us determine your best treatment options.
If you may have this cancer, your primary care physician will recommend that you meet with a gastroenterologist or surgical oncologist. Our team of gastroenterologists and surgical oncologists take great care to make an accurate diagnosis for each patient and carefully evaluate any symptoms with the following diagnostic tools and procedures:
Medical history: We will ask you about your background, previous surgeries, and any family history of stomach cancer.
Physical examination: We will perform a detailed physical exam to determine whether you have a stomach tumor and if it has spread anywhere else in your body.
Diagnostic procedures: You may undergo any of the following:

Biopsy: This procedure allows your surgeon to carefully examine the cells of the tumor under a microscope to determine whether it is cancerous.
Endoscopy: In this procedure, your gastroenterologist will place an endoscope, which is a thin camera with a special light, into your stomach. With the endoscope, your surgical oncologist can locate the tumor and remove cells from it for a biopsy.
Endoscopic ultrasound: This is a specialized test that gastroenterologists use to determine specific details about the tumor, including how thick it is and whether the cancer is spreading to nearby lymph nodes.
CT scan: These are tests your gastroenterologist uses to create a computerized picture of other organs, such as your liver and lungs, to determine if your cancer is spreading.
PET scan: This diagnostic scan is considered on a case-by-case basis depending on the results of other diagnostic tests. A small amount of radioactive substance is used to characterize the metabolic activity of cells in different organs during a scan. This can sometimes help identify additional sites of cancer.
Barium swallow (Upper GI series): This test involves swallowing a silver-white metallic compound called barium. The liquid coats the esophagus and stomach before taking X-rays to help us spot abnormalities.
Laparoscopy: If your gastroenterologist determines that you have a stomach tumor, he or she will refer you to a surgical oncologist for further evaluation. The surgical oncologist will place a special camera in the abdomen to inspect the entire area for cancer through a surgical procedure called a laparoscopy. Laparoscopy determines whether the cancer is spreading and helps avoid additional surgical procedures.
Some of these tests also help us stage your cancer, which helps us understand:
How deep the tumor is embedded in the lining of the stomach
If cancer has spread to nearby lymph nodes
If cancer metastasized (spread to other parts of the body)


Types of cancer
Most stomach cancers begin in the lining of the stomach wall (called adenocarcinoma).
Adenocarcinoma is the most common type of stomach cancer. It begins in the stomach lining (mucosa). There are also rare forms of cancer that begin in the stomach. The following types of cancer make up less than ten percent of stomach cancers:
Treatments
Your treatment will be personalized to your specific cancer type, size, location, and stage.
Your multidisciplinary team will include a surgical oncologist, medical oncologist, and radiation oncologist, as well as experts in gastroenterology, radiology, pathology, and other specialties. We meet weekly on tumor boards to carefully evaluate your condition and determine the most effective form of treatment for you.
Surgery
After diagnosing and determining that it has not spread to other organs, your surgical oncologist will likely recommend that you have surgery. The extent of the surgery will depend on where your tumor is located and whether it has spread to the surrounding lymph nodes.
In very early stages, some patients can undergo an endoscopic mucosal resection. During this outpatient procedure, a highly-skilled gastroenterologist may use an endoscope (long, flexible tube). Specialized instruments are passed through an endoscope (lighted flexible tube) tube to remove cancerous areas in the stomach lining.
Unfortunately, most patients are diagnosed with more invasive cancer in the United States. For patients who have cancer in the middle section of the stomach and what we call the distal part of the stomach, we generally remove around 70 percent of the stomach (partial gastrectomy). Patients who have cancer in the beginning of the stomach or involving the esophagus may need their entire stomach removed (total gastrectomy). In this instance, we connect the small intestine to the esophagus so you can continue eating, although your eating habits will change. If lymph nodes are affected, we will remove those as well.
Preparing for and recovering from surgery
Because surgery generally involves removing part or all of the stomach, patients will need to make adjustments in their diet both before and after treatment. We encourage patients to meet with our dietitian before treatment so they understand what to expect. Patients can also meet with our social worker, who will help them manage any other needs and concerns before, during, and after treatment.
Following surgery, our dietitian will continue to support you as you make necessary changes in your diet and eating habits, such as eating smaller, more frequent meals. Your team will monitor your progress every three months for the first two years following surgery. We will repeat your endoscopy and CT scan to make sure the cancer is not coming back.
Chemotherapy
Major studies suggest that chemotherapy either with or without radiation may add to the benefits of surgery. Chemotherapy, which is cancer medication that you receive through your veins, can attack tumor cells in the body that surgery and imaging cannot detect. Depending on your cancer's size, stage, and location, chemotherapy may be given at different times:
Before surgery (neoadjuvant) to shrink the tumor before surgery
After surgery (adjuvant) to prevent recurrent stomach cancer
As the primary treatment if cancer has spread and/or cannot be surgically removed
Your cancer team will carefully evaluate the most effective form of treatment for you. We'll also proactively help you manage any side effects that may accompany treatment.
Immunotherapy and targeted therapy
Tumor molecular profiling, or tumor genomic and protein analysis, is increasingly important to consider when treating cancers. This is especially true for advanced stomach cancers where there are FDA-approved targeted therapies for patients whose tumors have specific mutations.
Emerging therapies use targeted agents that can attack cancer cells in tumors with certain proteins or gene alterations. These drugs may be used alone or in combination with chemotherapy, depending on the cancer's characteristics. For example, patients with advanced stomach cancer may benefit from immunotherapies, which can boost the body's response against cancer cells.
Many patients report that the side effects of some of these drugs, such as immunotherapies, are milder than those associated with chemotherapy. We regularly participate in clinical trials that uncover new drugs and combinations. Your medical oncologist may recommend a trial if they think it can help to enhance your treatment or quality of life.
Learn More About Targeted Therapy
Learn More About Immunotherapy
Radiation therapy
Radiation therapy uses intense energy beams or particles to kill cancer cells. External radiation is delivered outside of the body and is the main type of radiation used to treat gastric cancer. At MedStar Health, we offer state-of-the-art radiation technology to deliver precise radiation while preserving as much healthy tissue and organs as possible.
Whether or not your treatment includes this type of therapy depends on the stage of your cancer and whether or not it can be removed with surgery. Some patients benefit from radiation in combination with chemotherapy (chemoradiation) or by itself following surgery. In other instances, radiation can help relieve symptoms when you cannot undergo surgery.
Looking for expert cancer care?
With multiple locations throughout the region, patients have access to many of the nation's renowned cancer specialists offering high quality care, second opinions and a chance for better outcomes close to where they live and work. Georgetown Lombardi Comprehensive Cancer Center, one of the nation's comprehensive cancer centers designated by the National Cancer Institute (NCI), serves as the research engine allowing patients access to clinical trials that often lead to breakthroughs in cancer care.
Why choose us
We believe that a multidisciplinary approach is the best way to treat patients with stomach cancer. Our team includes experts from a wide range of fields, including:
Gastroenterologists
Fellowship-trained surgical oncologists
Medical oncologists
Radiation oncologist
Pathologists
Radiologists
Genetic counselors
Nurse navigators
Dietitians
Working as a true team, we meet regularly to discuss each of our patients in great detail so we can develop and manage the best treatment plans. This ensures you receive seamless, coordinated care, benefiting from the variety of experience and talent we bring together.
Our research program is well-respected and provides patients access to the latest treatments through clinical trials. The Georgetown Lombardi Comprehensive Cancer Center is the research engine behind some of the most promising therapies available for treatment today. We are leading and publishing papers on many of these studies, which allows us to quickly translate them to patient care. Your care team may recommend a clinical trial that offers safe, effective results through a treatment before it's available at other cancer centers.
We're invested in helping you live a full life during and after treatment. We're not just experts at treating your cancer. We're also compassionate people who are here to help you cope with your diagnosis and the impact it has on you physically, mentally, emotionally, spiritually, and financially. That's why we provide comprehensive services aimed to help you and your loved ones feel supported, encouraged, and cared for.
Clinical trials and research
Clinical trials
Clinical trials are research studies that test new options that may prolong survival or improve quality of life. We offer numerous opportunities for patients to receive the latest therapies before they become the standard of care, including novel targeted therapies, immunotherapy drugs, and combinations of chemotherapy and radiation.
Research
We're part of The Ruesch Center for the Cure of Gastrointestinal Cancers at the region's only comprehensive cancer center designated by the National Cancer Institute. There, our doctors and scientists are relentless in pursuing safer, more effective ways to treat stomach cancer and other GI cancers.
Support services
We believe the right support at the right time can help to minimize your stress and uncertainty. We provide comprehensive services and programs designed to care for your physical, emotional, mental, and spiritual needs so you can focus on healing.
Learn More About Cancer Support Services
Genetic counseling
A small percentage of these cancers are caused by inherited gene mutations. If someone in your family carries this mutation, you may benefit from genetic counseling. Our genetic counselors can help you understand your cancer risk and help you manage it through an individualized approach.
Learn More About Genetic Counseling
Personalized rehabilitation
We offer comprehensive rehabilitation services to help you feel like yourself again after treatment. Stomach surgery and/or cancer treatment can affect your appetite, strength, balance, concentration, and more. We'll develop a treatment plan that will help address your unique concerns, including managing pain and nausea as you return to your life.
Learn More About Cancer Rehabilitation
Survivorship
You may feel a combination of different feelings at the end of your treatment. It's common to experience both relief and stress simultaneously as you prepare to transition back to home life, work, and the community with the risk of recurrence in the back of your mind. We're here to help ease that transition through help with nutrition, follow-up care, counseling, and other support services that can help you successfully navigate survivorship.